By Sabine Siebold and Natalia Zinets
KIEV, Feb 21 (Reuters) - Ukraine's President Viktor Yanukovich announced concessions to his pro-European opponents on Friday, including a plan to hold early elections, but it was unclear whether the opposition would accept such an EU-mediated deal to end a violent crisis.
Russian-backed Yanukovich, under pressure to quit from mass demonstrations in central Kiev, promised a national unity government and constitutional change to reduce his powers, as well as the presidential polls.
He made the announcement in a statement on the presidential website without waiting for a signed agreement with opposition leaders after at least 77 people were killed in the worst violence since Ukraine became independent 22 years ago.
"There are no steps that we should not take to restore peace in Ukraine," he said. "I announce that I am initiating early elections."
EU mediators trying to broker a compromise said the opposition was seeking last minute changes, but they still expected a deal to be signed on Friday. There were fist fights in parliament as the political tension mounted.
The sprawling nation of 46 million with a shattered economy and endemic corruption is at the centre of a geopolitical tug-of-war between Russia and the European Union.
The German and Polish foreign ministers were in Kiev to promote a political compromise to end the bloodshed amid a stand-off between riot police and anti-government protesters who have occupied a central square for nearly three months.
Poland's Radoslaw Sikorski tweeted that he and Germany's Frank-Walter Steinmeier were going to meet representatives of the street protesters to discuss the draft agreement.
Ukraine was at a "delicate moment", Sikorski said on his Twitter account, adding in an apparent message to opposition leaders: "All sides need to remember that compromise means getting less than 100 percent."
A table was set up for a signing ceremony in the presidency building with nameplates for three opposition leaders.
Whether grassroots activists who want Yanukovich out now will accept such a gradual transition was uncertain.
"This is just another piece of paper. We will not leave the barricades until Yanukovich steps down. That's all people want," said Anton Solovyov, 28, an IT worker protesting in the central Independence Square.
Earlier, police said in a statement that anti-government militants fired on security forces near the square, scene of a three-month-old protest vigil. However, there was no confirmation of such an incident and no report of casualties.
The square, known as Maidan or "Euro-Maidan", appeared peaceful, with thousands of demonstrators chanting anti-government slogans interspersed with patriotic singing.

Armed police briefly entered the parliament building while lawmakers were holding an emergency session but they were quickly ejected, opposition leader Arseny Yatsenyuk said.
Ukraine faces the risk of civil war or even a break-up, and rage has spread even into the parliamentary chamber. Members exchanged punches when speaker Volodymyr Rybak tried to adjourn proceedings.
Opposition deputies were angered because it would mean delaying a possible vote on a resolution pressing for constitutional changes to restrict the president's powers. The speaker left the chamber and debate continued.
If signed and implemented, the deal would be a setback for Russian President Vladimir Putin, who has made tying Ukraine into a Moscow-led Eurasian Union a cornerstone of his efforts to reunite as much as possible of the former Soviet Union.
Putin appointed his own envoy to the talks at Yanukovich's request on Thursday but it was not clear what role, if any, Russian officials had in the negotiations.
Polish Prime Minister Donald Tusk cautioned that there was only a tentative accord so far. "The agreement has not yet been reached. What's been settled is the agreement's draft," Tusk told reporters in Warsaw.
French Foreign Minister Laurent Fabius, who was involved in the mediation effort earlier in the night, said the opposition needed to consult.
"The opposition wants to consult with some of its members, which is entirely understandable," he told Europe 1 radio. "In this sort of situation, as long as things haven't really been wrapped up, it's important to remain very cautious."

After 48 hours in which the fate of Ukraine was fought out in the square, Yanukovich was rapidly losing support.
The deputy chief of the armed forces resigned and opposition deputies in parliament voted to overturn severe anti-terrorist laws enacted by Yanukovich's government this month and ordered security forces back to barracks.
In another sign of the severity of the crisis, ratings agency Standard & Poor's cut Ukraine's credit rating for the second time in three weeks on Friday, citing the increased risk of default.
S&P said latest developments in the crisis made it less likely that Ukraine would receive desperately needed Russian aid. Ukraine cancelled a planned issue of 5-year Eurobonds worth $2 billion, it told the Irish Stock Exchange where the debt would have been listed. Kiev had hoped Russia would buy the bonds to help it stave off bankruptcy.
Russia's economy minister said Moscow was still undecided on the next $2 billion installment and was awaiting clarity on the government in Ukraine.
The health ministry said 77 people had been killed since Tuesday afternoon, which meant at least 47 died in Thursday's clashes. That was by far the worst violence since Ukraine's independence.
On Thursday, EU foreign ministers meeting in Brussels imposed targeted sanctions on Ukraine and threatened more if the authorities failed to restore calm.
In further diplomatic efforts, U.S. President Barack Obama spoke to German Chancellor Angela Merkel who in turn discussed Ukraine with Putin. Moscow has strongly opposed what it sees as Western interference in Moscow's sphere of influence in Ukraine. (Additional reporting by Richard Balmforth, Alessandra Prentice, Vasily Fedosenko and Pavel Polityuk in Kiev, John Irish in Paris and Francesco Guarascio and Adrian Croft in Brussels; Writing by Paul Taylor; editing by David Stamp)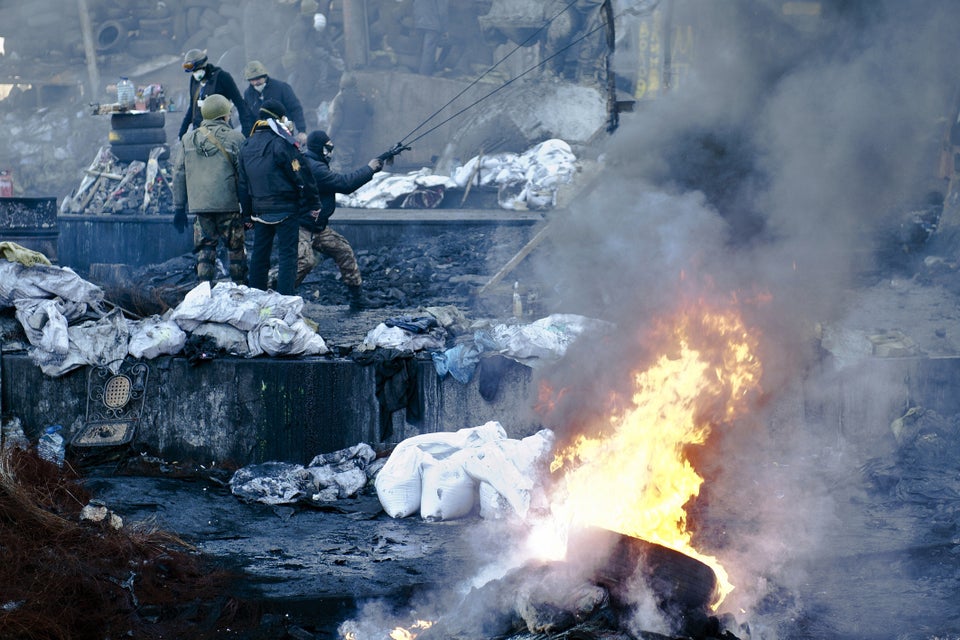 Ukraine's Protests Reignite
Popular in the Community