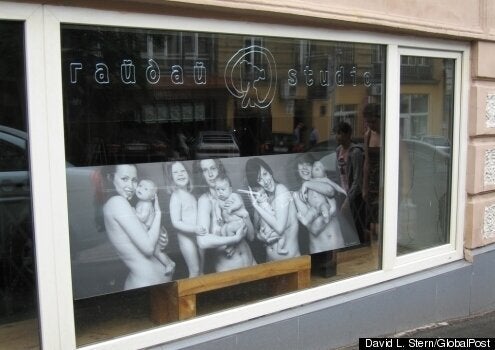 David L. Stern | GlobalPost
KIEV -- Igor Gaidai considers himself an artist, who, among other things, produces erotic photography that glorifies the beauty of the feminine form.
In his photo studio and gallery in the center of the Ukrainian capital, he displays his various projects, including one called "Saman," which hearkens back to a "pre-Christian era" when "witches" roamed the earth. In it, naked women are depicted in various poses with brooms, as if in mid-flight, and are meant to glorify "the power of feminine energy, beauty and wisdom." His main display window also exhibits four young nude mothers, partially covered by their equally nude infants.
In recent days Gaidai may have become an outlaw.
In a flurry of moral protectionism, Ukraine's parliament, the Verkhovna Rada, overwhelmingly agreed last month to beef up the country's law on pornography, outlawing its "possession" in addition to "its sale, distribution and manufacture." Signed last week by President Viktor Yushchenko, the addition to the criminal code has caused many observers to fear that a crackdown against all erotic materials may soon follow.
The culture wars have arrived in Ukraine -- albeit with a post-Soviet twist. The pornography law closely followed another new piece of Ukrainian legislation attempting to eradicate immoral living. Casinos, slot machine halls and bookmaker offices were closed practically overnight in June, when deputies voted to enact an immediate ban on all gambling-related activities.
"We want every Ukrainian family not to have a porno mag in the bedroom dresser, but a Bible," said Viktor Shvets, chairman of the parliament committee that drafted the pornography law.
Shvets says that the legislation's purpose is to prevent the accumulation of large quantities of pornography with the intention to then sell it. Deputies also originally intended to target child pornography, said officials with close knowledge of the law, but "got a little carried away."
Despite the terseness of the 38-word text that was passed -- or perhaps because of it -- many struggled to understand the law's actual intent. It came as news to many, for example, that the sale and distribution of pornography has already been banned for some time in Ukraine.
More of a problem is that "pornography" is not defined in the criminal code. According to Shvets, a special commission of experts must be assembled to determine exactly what pornography is every time an arrest is made.
The law's vagueness is actually the point, said Gaidai. "The text gives the government the ability to act as it wants," he said. "This is a step back into the Middle Ages."
(Some news reports and blogs claimed that the legislation outlawed all pornography, except that needed for "medicinal purposes." The phrase is not anywhere in the original text, however.)
Political observers say that the new laws are an attempt to score easy populist points in the run-up to hotly contested presidential elections in January. Prime Minister Yulia Tymoshenko immediately seized upon the gambling law, which her party co-authored, claiming that she was protecting the population and asking citizens to call a hotline if they discovered any underground gambling houses.
"This is a classic political stunt," said Volodymyr Fesenko, director of the Penta political think tank in Kiev, adding that a small percentage of the population takes advantage of gambling and pornography, while bans are popular among the poor, elderly and religious.
Or as Igor Samoylov, general director of the Avalon entertainment center and casino in Kiev puts it, referring to the gambling law: "This was a sanctimonious decision."
The gambling law mirrors a similar one that took effect in Russia July 1, moving gambling halls from cities to Las Vegas-like centers in investment-needy regions in the Russian hinterland.
But the Russian legislation, adopted back in 2006, allowed businesses a grace period to adjust and close down; in Ukraine it was just a matter of days. Valerii Pysarenko, one of the Ukrainian law's authors, says that the harsh terms were necessary to rip up by the roots an "epidemic on the level of AIDS or tuberculosis."
"Russia's experience showed us that a transitional period doesn't work -- it didn't facilitate the building of the special zones," he said.
Pysarenko claimed that 70 percent of those visiting gambling halls are "youth." What's more, the government earns only 2 percent in taxes from what he says is a $5 billion a year industry. Anywhere from 70 to 90 percent of the businesses are working in the shadow economy, he added.
Gambling proponents concede that the industry has negatively affected the country's poor, but say that this is primarily the fault of the government, which inadequately controlled the growth of slot machine halls, the main culprit. More to the point, they say, the law has closed a legitimate and legally-working line of business, throwing more than 200,000 people out of work in the middle of a debilitating economic crisis.
"A civilized state would try to change the situation and regulate it -- not close it down completely," said Aleksei Konshin, director of the Aurum casino, which shut its doors on June 11.
Just over a year ago Konshin achieved his life's goal after 18 years in the casino business when he opened his own establishment, modeled on an English private club. All the fixtures were state of the art: furniture from Italy, roulette wheels from England, walnut wood fixtures, all surrounding a plush marble fireplace. He says he invested more than $3 million of his own money, which he hoped to earn back in three years. Now it is all lost. He did not have outside investors. "Thank God -- I'm much more relaxed," he said.
"The government delivered a knockout punch. It was like a meteor dropping from the sky," Konshin said, standing in the middle of the deathly silent gaming room. "It's as if you are playing blackjack and the dealer suddenly grabs all your cards and money and says 'That's all.'"
Calling all HuffPost superfans!
Sign up for membership to become a founding member and help shape HuffPost's next chapter