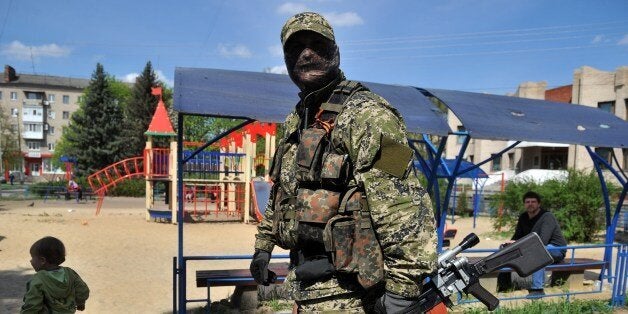 By Pavel Polityuk and Alastair Macdonald
KIEV, April 23 (Reuters) - Ukraine's government relaunched a security operation to crack down on pro-Russian armed groups after an Easter pause on Wednesday and said it had the backing of the United States.
Prompted in part by the discovery of the body of a Ukrainian politician who appeared to have been tortured, officials in Kiev decided to renew what they call an "anti-terrorist operation" against separatist militias who have seized control of about a dozen public buildings in eastern Ukraine.
But it was unclear what steps, in reality, Kiev could take to restore its authority in the mainly Russian-speaking east, without wrecking an international deal, signed last week in Geneva, designed to defuse the stand-off.
The crisis over Ukraine, now in its fourth month, has dragged Russia's relations with the West to their lowest level since the Cold War. A further escalation could lead to damaging economic sanctions, and raises the risk of a disruption to the Russian gas supplies on which Europe depends.
"The security forces are working on the liquidation of illegal armed groups," in the east of Ukraine, First Deputy Prime Minister Vitaly Yarema told reporters.
"The corresponding activities will be carried out in the near future, and you will see the results."
The Kiev government, which took power after Moscow-backed President Viktor Yanukovich fled the capital in a row over whether to strengthen ties with Europe, appeared to have been emboldened by Tuesday's visit of U.S. Vice-President Joe Biden.
He brought a package of aid and urged Russia to curb the separatist militias in the east.
"We have obtained the support of the United States, that they will not leave us alone with an aggressor. We hope that in the event of Russian aggression, this help will be more substantive," Yarema said.
The United States and NATO have made clear they will not intervene militarily in Ukraine. But the Pentagon said it was sending about 600 soldiers to Poland and the three Baltic states for infantry exercises, to reassure NATO allies.
The Kiev government and its Western supporters accuse Moscow of using covert agents to foment unrest in eastern Ukraine. Moscow denies that, and says people in the east rose up spontaneously against a government in Kiev which, it says, is illegitimate and aligned with far-right nationalists.
Russian Foreign Minister Sergei Lavrov said Moscow would respond if its interests, or the interests of Russian citizens were attacked.
"Russian citizens being attacked is an attack against the Russian Federation," he said according to excerpts of an interview with Russia Today news channel.
Russia justified its intervention in Crimea earlier this year by saying it had to defend Russians living there. In eastern Ukraine some people hold Russian passports.
The European Union said Russia should use its leverage to ensure an immediate end to the violence in eastern Ukraine.
Lavrov said Moscow has no influence over the pro-Russian militias in eastern Ukraine. He said he suspected Washington was directing the Kiev government's response to the crisis.
Russian gas giant Gazprom has said it will turn off supplies to Ukraine next month unless Kiev pays its outstanding debts. That would have a knock-on effect on deliveries to Europe, because much of the gas shipped westwards has to pass through Ukrainian territory.
Ukrainian Energy Minister Yuri Prodan said Russia had proposed a ministerial meeting on Thursday with Ukraine and European officials in Slovakia to talk about gas but the European Commission said Energy Commissioner Guenther Oettinger was not expected to attend any talks.
The crisis in Ukraine began when Yanukovich, under pressure from Moscow, pulled out of a planned cooperation agreement with the EU. Pro-Western protesters took to the streets and Yanukovich fled after bloody clashes.
As a caretaker leadership of pro-Western protest leaders took over the government in Kiev, the Kremlin sent its forces into Ukraine's Crimea Peninsula, and shortly after annexed the region. Moscow said it acted to protect local people who were being persecuted by Kiev's new rulers, while the West called it an illegal land grab.
In Slaviansk, a flashpoint eastern Ukrainian city controlled by pro-Russian armed men, the de facto local leaders ordered residents to brace for an offensive by security forces loyal to Kiev, but there was so far no sign of any operation on the ground.
Ukraine's poorly resourced forces had previously shown little sign of taking on the gunmen who started occupying towns and public buildings two weeks ago. The offensive may not lead to much more action but could fuel recriminations between Moscow and Kiev about who is failing to honor the Geneva deal.
Mediators from the Organization of Security and Cooperation in Europe, tasked with helping the sides implement the accord, were in eastern Ukraine trying to encourage illegal groups to disarm. There was no sign yet they were backing down.
In areas under the separatists' control, there was growing evidence of arbitrary rule by self-appointed local officials, backed up by heavily-armed militias, and of violence being meted out against opponents.
Kiev's decision to resume its security operation in the east was prompted in part by the discovery of two bodies in a river near Slaviansk. One resembled Volodymyr Rybak, a member of the same Batkivshchyna party as Ukraine's acting president.
A video released on a local news site, gorlovka.ua, purported to show Rybak being confronted by an angry crowd outside the town hall in Horlivka, where he was a councillor.
In the footage, Rybak can be seen being manhandled by several men, among them a masked man in camouflage, while other people hurl abuse.
After several minutes, Rybak appears able to walk away. The Interior Ministry said he was seen being bundled into a car by masked men in camouflage later that day. His body, and that of a second man, was found on Saturday in a river near Slaviansk.
In Slaviansk itself, the militia is holding three journalists, including one U.S. citizen, Simon Ostrovsky, who works for the online news site Vice News.
The separatists say they themselves are victims of violence and persecution by the Ukrainians authorities and illegal armed groups which, they say, support Kiev.
A senior U.S. official said Secretary of State John Kerry told Russia's Lavrov in a telephone call on Tuesday that Washington would impose new sanctions on Russia if tensions did not de-escalate in eastern Ukraine.
This would be in addition to the visa bans and asset freezes already imposed by Washington and Brussels on a list of Russian and Ukrainian officials. These measures were imposed after Russia's annexation of Crimea.
The Russian government has scoffed at the sanctions imposed so far, and said it would withstand any further measures that are imposed. But investors in Russia are jittery. Shares in Moscow were down for a third straight day.
"Most traders are skeptical, as the U.S. government and Russia keep on blaming each other for failing to de-escalate the crisis in eastern Ukraine after the Geneva meeting," Alexandr Maksimov, an analyst at AForex investment house, wrote in a note.
EU diplomats said the bloc was holding off from imposing further sanctions until it sees whether the Geneva deal works.
The EU has been more cautious than the United States in imposing sanctions on Russia, with some member states worried about antagonizing a country supplying a third of Europe's gas. (Additional reporting by Natalia Zinets and Richard Balmforth in Kiev and Nigel Stephenson in Moscow; Writing by Christian Lowe; Editing by Anna Willard)
Calling all HuffPost superfans!
Sign up for membership to become a founding member and help shape HuffPost's next chapter
BEFORE YOU GO
PHOTO GALLERY
Separatists Tighten Control On East Ukraine