DONETSK -- The queue stretched for one and a half kilometers. It is hard to wait in a traffic jam when you are running away from war. When people in Semenivka heard the fighting was coming to their hometown, most of them decided to flee. One year later, Semenivka looks like the fairyland of mice, riddled with buildings like swiss cheese castles.
"All our belongings were destroyed. We don't have bed linen, we don't have a fork, we don't have a spoon."
Natalya Beskorovana's words, a 35-year-old from Semenivka, condense the everyday reality of the majority of Ukrainian refugees or internally displaced persons.
While the fighting in Ukraine is placed in some sort of quarantine in the East, life in other parts of the country is moving along almost undisturbed. Peace and war are enjoying a more than strange cohabitation, so the true impact of the conflict is far from being obvious. The numbers can take many people by surprise: at the of end of June 2015, one year after the war started, there were over 1.35 million internally displaced people in Ukraine, ranking the country 9th worldwide in terms of IDPs. There are over 900,000 refugees to the neighboring countries and the estimated number of people in need of humanitarian aid reaches 5 million. People face shortages in food, health services, shelter and medicines, which are in worryingly low supply in Ukraine.
"We used to have animals before the war, pigs, chickens and ducks. And a vegetables garden. How can I explain it to my child that we don't have anything anymore?" Natalya Beskorovana complains.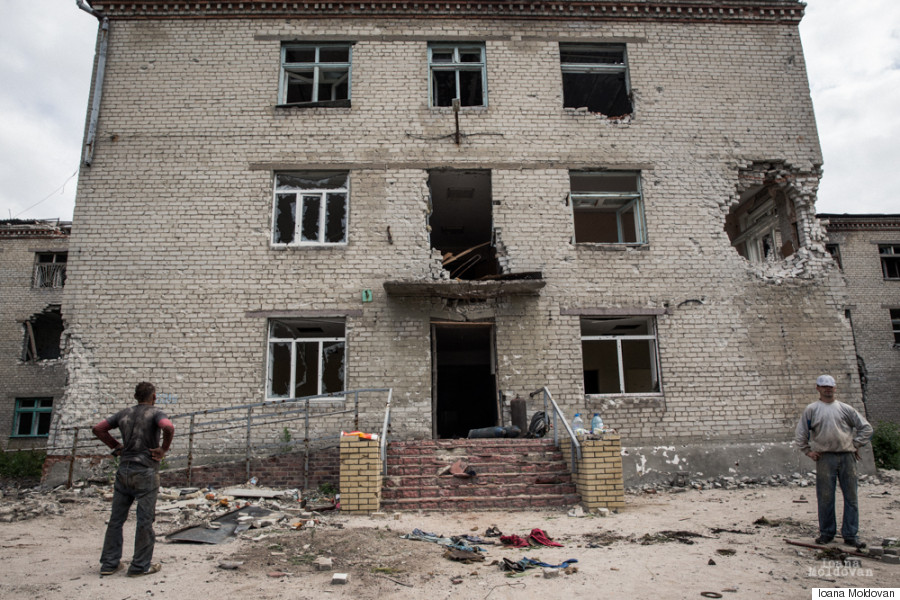 Semenivka, Donetsk Oblast is one of towns that has been severely damaged as a result of separatist forces being pushed back by the Ukrainian army after two months of occupation.
* * * World's unseen refugee crisis
At the UNHCR distribution center in Kramatorsk, a town about 100 km north of Donetsk that was last shelled in February this year, the stacks await like every other morning. Outside, some 20 people line up in the sun to get their turn at blankets, bed linen, candles, pots, diapers and some clothes. But only if they carry the document proving they really are IDPs.
In order to get the IDP status and thus be eligible for some benefits from the state and from humanitarian organizations, people need to register with the Ukrainian social protection department. Actually receiving it may take months. The process faces many other challenges as well. Short distance displacement is one: people move from their destroyed home, but because they do not leave to a different administrative unit than the one specified in their internal passport, they cannot become IDPs. Another is when the conflict moves: there are areas around the frontline which the government does not recognize as territories not under its control and does not include them in the official decree stating the origin towns where IDPs come from, so people running from these areas can't receive the status and benefits. It is also the case for students and unaccompanied minors, who cannot register without the presence of their legal guardian.
"Of course we need more help; we hope for displacement benefits and money for the child, as now we are really in need," says Oksana a 32- year-old from Kirovske, Donetsk Oblast.
She is holding the hand of her 7-year-old daughter, Anastasia, and carrying Maxym in her arms. Maxym is only 3 months. She was sick at the time she was close to deliver, so Oksana could not leave Kirovske, Donetsk Oblast earlier to come give birth here, in Kramatorsk. Now, she has to go to court to apply for Maxym to be admitted as a Ukrainian citizen, as he was not born on Ukrainian territory. It is the only way they can receive the post-birth benefits. She remembers how she found out she was pregnant:
"The first time we went to the basement to shield ourselves from the shelling, I felt sick. This is how I realized I was going to be a mother again. We spent three weeks and a half in the basement. After that, the gas, water and electricity were cut in the city."
Now, Oksana and her family live in a one room rented flat. It is all they can afford. The rent has gone up big time, but there are also many cases of locals renting their flats to IDPs for free. They only have to pay for the utilities.
Further in the queue, Iryna Pridhodko finds the strength to joke about the situation:
"I want to marry a foreigner and move to a different country. I am kidding -- she feels the need to point out -- I love Ukraine."
The young 29-year-old woman arrived in Kramatorsk on Nov.1, 2014 after the big explosion in Donetsk. In order to go back and visit her mother who stayed in Donetsk, she needs a frontline crossing pass. She paid 1,000 hryvnia and got it in two days, when the official way can take up to one month, maybe even more. Iryna's patriotic feelings are very strong. She cannot understand how people back home can hate Ukrainians so much:
"I had some problems with friends who stayed in Donetsk. When I went outside for a walk with my kid, there was nobody on the street I could talk to, because we have contradictions in our views. It is very unpleasant for me to listen when they say that in Ukraine all people are bad. I have never heard people in Ukraine saying that all living in occupied territories are bad. Some people there really hate Ukrainians. I even had arguments with my parents as well. This was not the case before this conflict started."
"Of course there are arguments between people," says Andrej Nicolaevich, a civil activist. "Families got separated due to divergent opinions on this matter."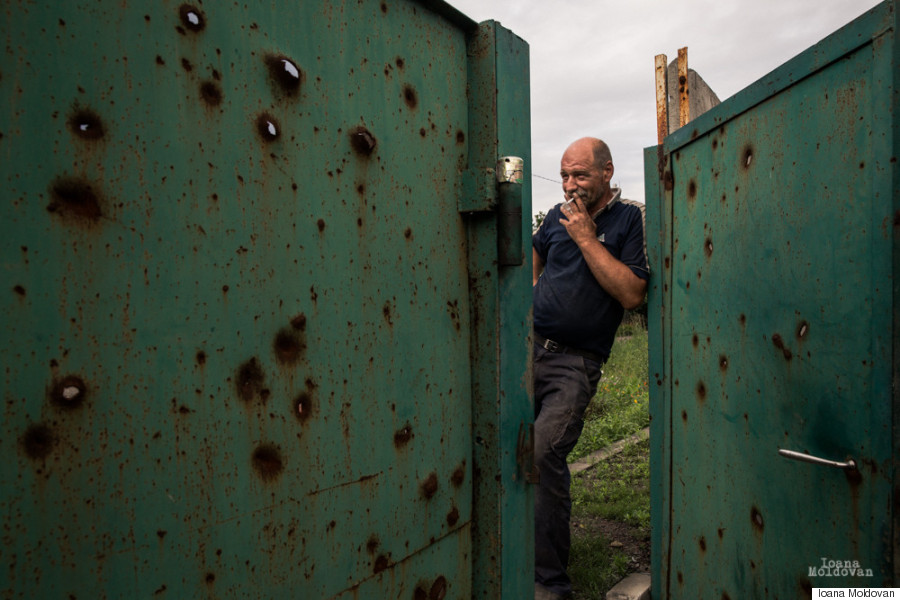 Viktor, 49, left his house in Semenivka, Donetsk Oblast when the heavy fighting started. When he came back, it was all ruined.
People in Semenivka argue about rebel fighters' tombs. On the side of the road, where separatists were killed, some people placed crosses and other religious symbols. Others wonder if it is alright to have such "monuments" for them. "Of course, people were killed. But they were not ordinary people, they were separatists," some locals think.
At the end of an almost deserted street, a cloud of dust starts taking shape. The gravel makes way for the bicycle wheels. A man in his late 40s hops down and props his bicycle against a green metallic gate. Its green color is spotted by black and rusty holes. Recent ones. Behind the gate, a broken armchair reigns in what once was Viktor's living room.
"I have left when the fighting broke out," he said. "When I came back, it was all ruined."
The separatist forces occupying Semenivka for two months dug their trenches right in front of his home, some 200 meters away. With Ukrainian army positions set 2 kilometers away on the same direction, his house was directly in the line of fire.
"The situation was quite good under the rebels," Viktor recalls. "There was order and they only occasionally asked for some clothes. We were not waiting for anybody to liberate us, we don't want anybody."
There is some bad blood as well between Oksana Korchma and the army. The 45 year-old then living in Myrnoe, a suburb of Slavyansk, is convinced the shelling that destroyed her house came from the Ukrainian army's positions. And imagine this: it happened just three days before the city was liberated on July 5, 2014.
"Such a pity, just three more days and the war would have been over. During those two months of occupation, we lived in a peaceful place. Nothing happened," Oksana sighs thinking about last year's events.
Oksana and her husband have 10 minors in their care, three are their own children and seven are adopted. When the shelling started, she was in her nightgown. They went to the basement to take cover and did not even realize the house above them was burning.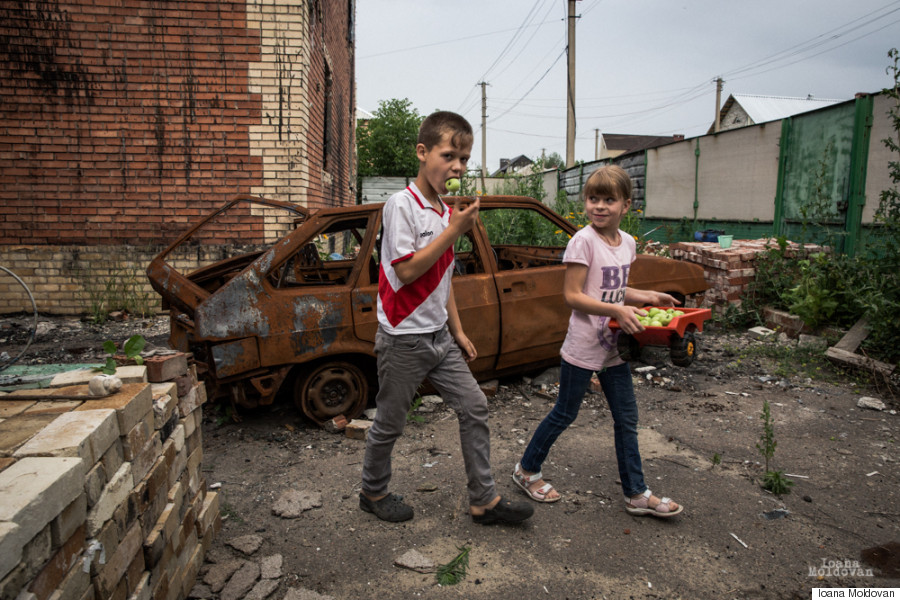 On July 2, 2014, three days before the city of Slavyansk was liberated, the house of Oksana Korchma was burned. She and her husband take care of 10 minors, out of which seven are adopted.
"It is miracle we are alive. Sadly, the house is destroyed, but we are happy to have survived. Our dog is also alive, but our parrots died."
Oksana recalls the terrifying moments following them getting out of the basement, how she had to walk barefoot through the mined field, in her nightgown, holding the family dog in her arms fearing the mines. * * *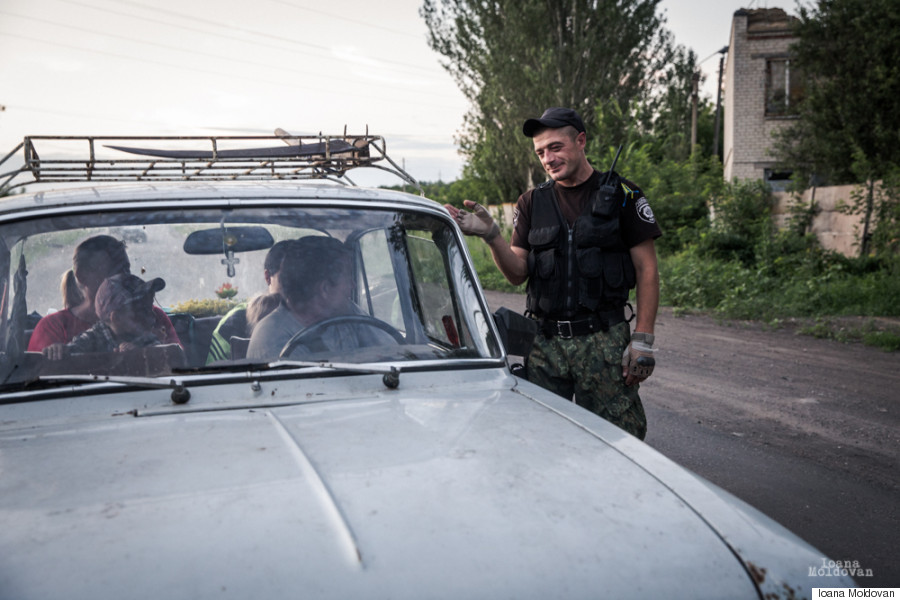 People passing through a military checkpoint near Slavyansk, Donetsk Oblast. The number of military checkpoints in eastern Ukraine increases more and more as you approach the front line.
The town with twice as many IDPs as locals
The ideological arguments between people are not the only ones tearing families apart as a result of this conflict. Olga Ovsyanykova's husband stayed back in Donetsk while the family fled to Svyatohirsk. He has a job there, working at a railway station and it is the only way he can make some money to support his family, Olga and their epileptic daughter, Tanya. In Donetsk, they lived very close to the airport, the epicenter of fighting. When the water and electricity were cut, Olga decided to take her daughter to a safe place. They first went to Syedove in the southern part of Donetsk region, close to the Azov Sea, then to Novoazovsk before settling in Svyatohirsk.
Svyatohirsk is a small town, 30 kilometers north of Slavyansk. In better days, it used to be a resort town. Not so much these days. Now, almost all the strangers in the town are IDPs, not tourists. Mayor of Svyatohirsk for eight years, the independent Alexandr Dzyuba says that his town hosts over 10,000 IDPs, while the population is 5,000 people. During tense periods with intense fighting in the East, there were more than 15,000 displaced here. Dzyuba believes that the reasons for which IDPs choose this town is because Svyatohirsk has never been occupied and there's an orthodox monastery here, an important factor for many, in the mayor's opinion.
The Svyato Uspeska (Holy Mountains) Lavra is an orthodox monastery under the Moscow Patriarchate. It is also the place where many IDPs were given shelter. Elderly Galea, 78, from Avdiivka is one of them. Head covered and clad in long skirt-dresses, as required by the monastery's code, Galea rests on a bench during her evening walk. The old woman lost her husband shortly after the fighting in Avdiivka started. His health severely deteriorated because of the shelling and he died. She feels good in the monastery, has free food four times a day, the people are hospitable, she does some work in the kitchen, but she misses home.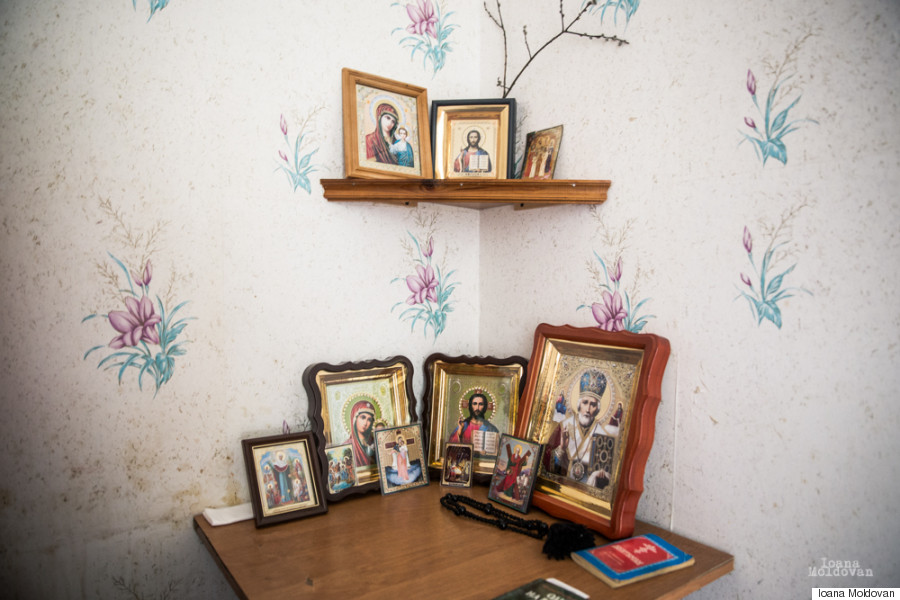 The orthodox monastery in Svyatohirsk provides shelter for refugees. The resort town, with a population of 5,000 people is now home to 10,000 IDPs (according to the mayor).
"I've spent 60 years of my life there. All my memories are from that place. All my things stayed there. I just miss the place I have lived in."
Not all her memories from Avdiivka are pleasant though. The most recent ones, with her younger 13-year-old nephew flat on the floor, completely afraid of windows breaking and walls moving because of the shelling, are certainly not among them.
It is terribly hot in the tiny two-room apartment that Olga and her daughter now occupy in the Holy Mountains collective center for IDPs. Boiling steam relentlessly comes out of the electric kettle Olga is using every time she needs to cook something. Tanya is obsessively pulling on each and every member of the orange plush teddy bear she holds in her arms.
"It is next to impossible to find a job here. The unemployment rate is so high. Besides, I could not even hold on to a job as I need to stay and take care of Tanya."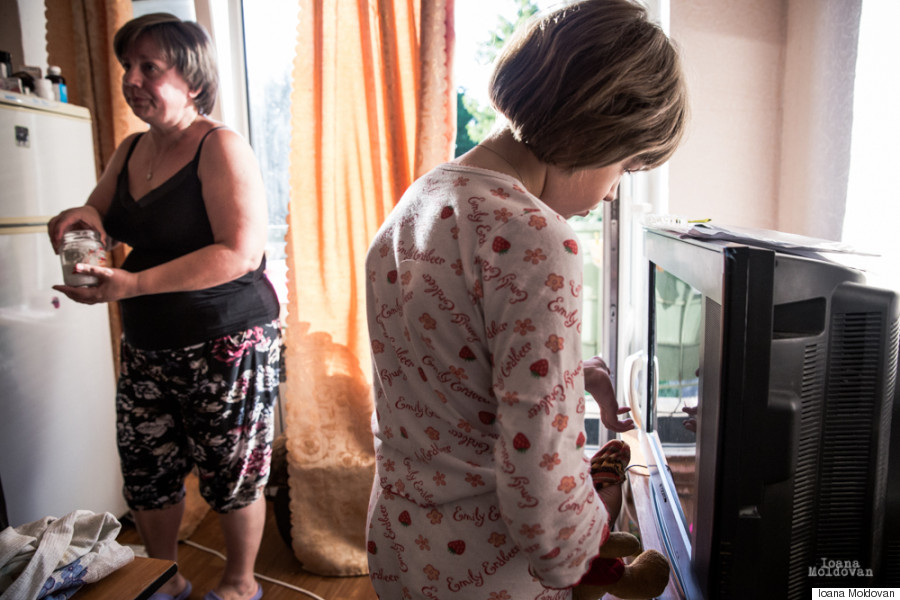 Olga Ovsyanykova and her daughter Tanya, in their two-room apartment in the Holy Mountains collective center for IDPs in Svyatohirsk.
Svyatohirsk, as a resort town, has no plants, no productive units that can create jobs. There are only shops. Many locals leave the city in search of a better future in other towns. So the only opportunities for IDPs are the temporary summer jobs.
The needs of the internally displaced are changing with time passing. In the beginning, they only needed safety, shelter and some food. Now, one year into the conflict, the challenge of integrating them in the communities they found refuge in arises. But how far this can go does not have only economic implications related to the possibility or lack of possibility to create new jobs, but also political implications. What comes to mind is whether integrating the IDPs could symbolize giving up on Donbass.
For the time being, locals have a rather positive attitude towards the IDPs.
"It is ok with me. I feel sorry for those people who had to leave their homes. They find themselves in an unusual and very difficult situation," says Valentyna, a young local woman working in a grocery store.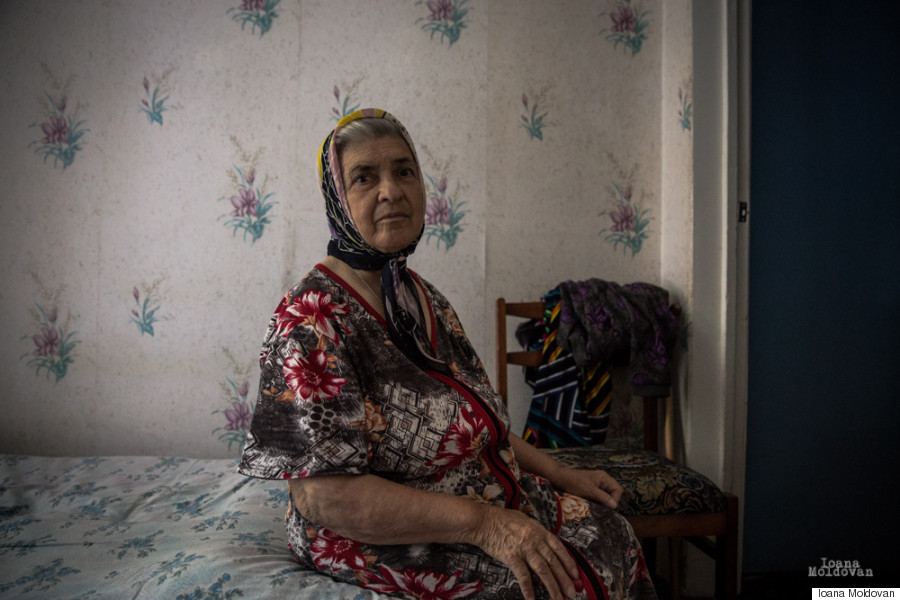 Valentyna Chupikova, 78, in her room at Holy Mountains monastery in Svyatohirsk. She came here from Avdiivka, 14 km from Donetsk, after the huge shelling that took place on Jan. 25, 2015.
Iryna thinks alike. She is a 43-year-old housewife, born in Donetsk but married in Svyatohirsk
"These people are scared. They have to come here where it is safe and quiet, they have no other choice."
How these relationships between the locals and IDPs will evolve if the conflict is prolonged, how will competing for jobs feel in towns already struggling with high unemployment rates, remains to be seen. Meanwhile, the Ukrainian solidarity is something to look up to.
"It was good in Ukraine when it was Ukraine," Iryna adds in a nostalgic tone.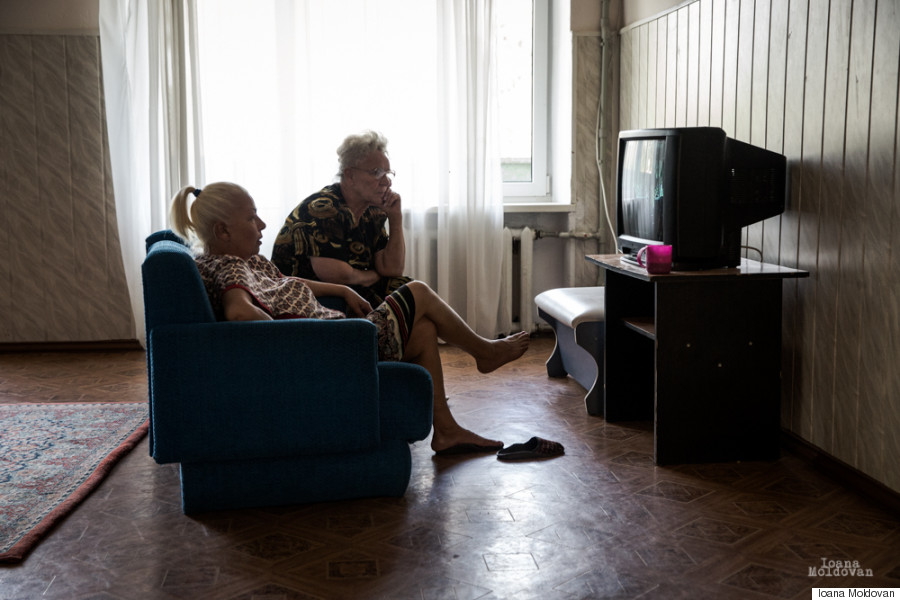 Ukrainian IDPs watching TV in a collective center in Sviatohirsk. Around 150-200 people live now in this center.
Hoping for the return home
The psychological effects of this war are obvious. And they're not only apparent in Kramatorsk kindergarten -- shelled twice -- where children are ducking to the floor when they hear loud noise. They're also apparent in the tales of families who lost everything and are being constantly mentally challenged. Thousands of families have fled their besieged towns, moved among strangers and now they are confronted every day with the choice of whether to start fresh, rebuild their life in this new place or wait for the war to be over and the possibility to return home.
For some, though, the return home depends not only on the war ending, but also on its outcome. It is the case of Julia Lomakina, a 39-year-old IDP working as a volunteer at the UNHCR distribution center in Kramatorsk.
"The only case in which I could return home to Donetsk after the war is over is if it is still Ukrainian territory. It is the only way. I don't understand the values of Donetsk People's Republic and I can't live with them."
The majority of the displaced want Donetsk and Luhansk regions to stay in Ukraine. Others though, fed up with war and homesick, end up saying this is not important anymore:
"Of course we want to stay in Ukraine. We were, are and want to be Ukrainians. But we just want peace, and if it will be different, it does not matter, because we just want to have bright blue sky and no shelling. I want to go back home, not to Russia, but home," says elderly Galea from Avdiivka.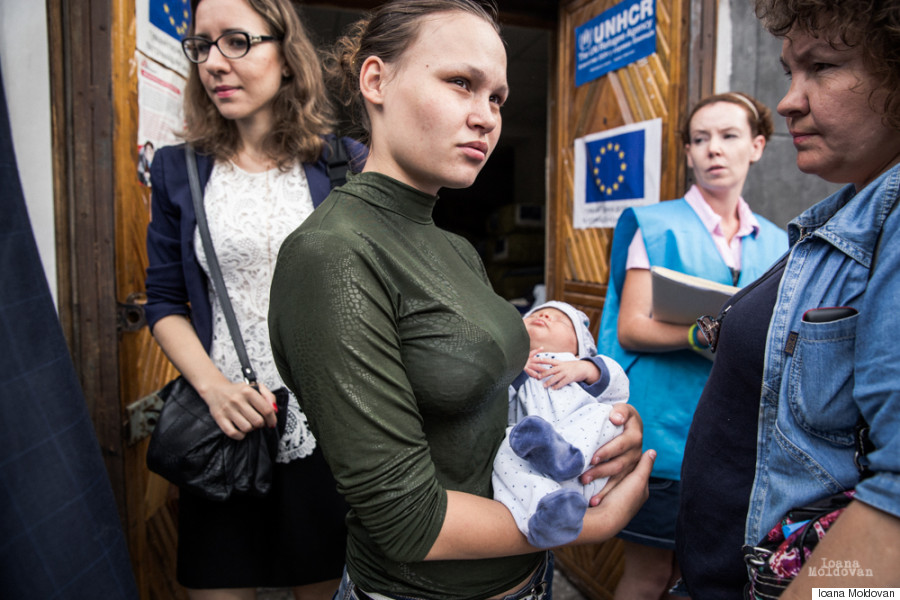 Oksana, 18, in front of the UNHCR distribution center in Kramatorsk. She ran away from Krasnyi Luch, Luhansk Oblast and plans to raise her 1.5 month-old child in Kramatorsk.
Olga Ovsyanykova is homesick too. She says "I miss my home" with sorrow in her voice and starts to cry. Olga hopes and even believes that the two regions will be again in Ukraine.
"Russia doesn't need us. If you compare to Crimea, they needed Crimea. They took it, but gave people pensions, benefits, citizenship. They showed they are ready and willing to embrace them. As for Donetsk and Luhansk, they don't need us."
Calling all HuffPost superfans!
Sign up for membership to become a founding member and help shape HuffPost's next chapter