WASHINGTON -- As Russian forces storm through Crimea, Washington lobbying firms representing both the pro-Russian and pro-European factions in Ukraine are watching closely. The political proxy war they've been waging for years is turning into a real-life battle.
Since 2011, K Street has become a major battleground for Ukrainian political groups. Individual politicians, business-backed nonprofit groups and powerful oligarchs have paid millions to D.C.-based lobbying firms to represent their interests in Washington, according to a Huffington Post review of lobbying disclosures and interviews with lobbyists.
Now lobbyists with major clients in Ukraine and Russia are growing increasingly concerned about the potential for bad PR for their firms. "Everyone with clients involved in the standoff is preparing a plan to pull the ripcord [and terminate lobbying agreements] if things get way out of hand in Ukraine," said a registered lobbyist who represents foreign countries, but not specifically Ukraine or Russia.
But they don't really want to do that. Pulling the ripcord could mean millions of dollars in lost revenue for some of Washington's best-known lobbying shops. So a number of firms are busy repositioning themselves and their clients to engage with whatever new government takes shape.
When former Ukrainian Prime Minister Yulia Tymoshenko was thrown in prison in late 2011 on what her supporters -- and many in the West -- believed were trumped-up political charges, her husband, Oleksandr Tymoshenko, quickly hired major K Street players to lobby Congress on her behalf.
Yulia Tymoshenko made a fortune in the Ukrainian energy sector, rumored to be worth billions of dollars, and she is widely known as the "gas princess" in her home country. Over a two-year period, the law and lobbying firm Wiley Rein was paid more than $900,000 to help keep Tymoshenko's case front-and-center in the minds of Washington lawmakers, who in turn put pressure on Ukrainian officials to release her.
Last month, on the same day that Ukraine's then-president, Viktor Yanukovych, was impeached, Tymoshenko was released from prison. She was let go due to a parliamentary vote that essentially changed the law so that her alleged "crimes" were no longer criminal. The lead lobbyist on her account at Wiley Rein, former Rep. Jim Slattery (D-Kan.), said his firm's work played "an important role" in conveying how strongly the United States opposed Tymoshenko's imprisonment.
"I always saw this as a human rights case, and I think members of Congress on both sides of the aisle saw it the same way," Slattery told The Huffington Post. "We worked on this for more than two years, and we did everything we could to encourage members of the Senate and House to take an interest in her case." Slattery said that he and his colleagues also met regularly with State Department officials.
As Yulia Tymoshenko's daughter emerged as one of her biggest advocates, Slattery and his team helped arrange meetings for Eugenia Tymoshenko on Capitol Hill, where she pleaded her mother's case directly to lawmakers. "We even had the opportunity to introduce her briefly to President Obama, who expressed his support for her mother," Slattery said.
Now that Tymoshenko is out of prison, there are signs that she may be planning a political comeback. Slattery said he expects to meet Thursday in Dublin with Tymoshenko and her team "to talk about the future."
Asked whether he had plans to work on her potential presidential run, Slattery said he was "open to future possibilities," but stressed that his primary mission had always been to help secure Tymoshenko's release. Going forward, he said, "I will work with people in Ukraine to ensure a united, free, democratic and independent Ukraine. But I won't be working with anybody who is trying to deliver Ukraine to Russia."
While Tymoshenko's gas fortune funded Slattery's advocacy, her chief political opponent, the recently ousted Yanukovych, had his own big money backers. And in the late spring of 2012, six months after Tymoshenko hired Wiley Rein, a nonprofit group sympathetic to Yanukovych hired its own lobbying guns in Washington.
The European Centre for a Modern Ukraine, a group funded by Ukrainians who backed Yanukovych, hired two of the best recognized firms in Washington: the Podesta Group, run by uber-lobbyist Tony Podesta, and Mercury/Clark & Weinstock with founding partner former Rep. Vin Weber (R-Minn.), an influential Republican and most recently an adviser to Mitt Romney's 2012 presidential campaign.
The European Centre for a Modern Ukraine describes its mission as building ties between Ukraine and the European Union and strengthening U.S.-Ukrainian connections. But that mission became much more complicated late last year, when their man, Yanukovych, rejected a trade agreement with the EU in favor of closer ties to Russia. After protesters in downtown Kiev were mowed down by snipers in late February, Yanukovych fled the country, leaving his riches and corruption in public view. He has been staying in Russia ever since.
An email to the managing director of the European Centre for a Modern Ukraine was not returned Wednesday.
But Tony Podesta said that when Yanukovych rejected the EU trade pact in November, he also parted ways with the center's backers, whom Podesta said come mainly from "the business community."
Yanukovych "switched sides away from the purpose of the center," Podesta told HuffPost. While "the situation in Ukraine continues to change, the supporters of the center haven't changed," he added, nor have the goals of his firm's work. In 2012 and 2013, the center paid Podesta's firm more than $1 million for lobbying services.
Weber, the Mercury partner, did not respond to a request for comment.
There's a fourth big American player in the Ukraine influence game: Russia's image in the U.S. is managed by the New York-based firm Ketchum Inc. As tensions have risen over the presence of Russian troops in Crimea, Ketchum has found itself on the hot seat.
In 2013, Ketchum was paid nearly $7.5 million to represent Gazprom, Russia's state-controlled natural gas company, according to federal lobbying forms. The firm made another $3.5 million last year to lobby directly for the Russian Federation, bringing its total Russian lobbying haul in 2013 to nearly $11 million.
Both the White House and members of Congress were drafting language Wednesday that would impose economic sanctions on Russia if it does not de-escalate its presence in Crimea. For lobbyists, that kind of threat against one of its clients typically prompts swift action on Capitol Hill. But aides to top House lawmakers on Wednesday said they were unaware of any lobbyists for Russia overtly seeking meetings to pitch the country's case.
That doesn't mean Russia wasn't lobbying Washington. The Russian government's newspaper, Rossiyskaya Gazeta, sponsored a six-page "paid supplement" on Wednesday in The Washington Post, titled "Russia: Beyond the Headlines." The supplement amounts to a six-page ad filled with flattering stories about U.S.-Russian cooperation. A spokesman for Ketchum did not respond to questions from HuffPost Wednesday.
Luke Johnson contributed reporting.
Before You Go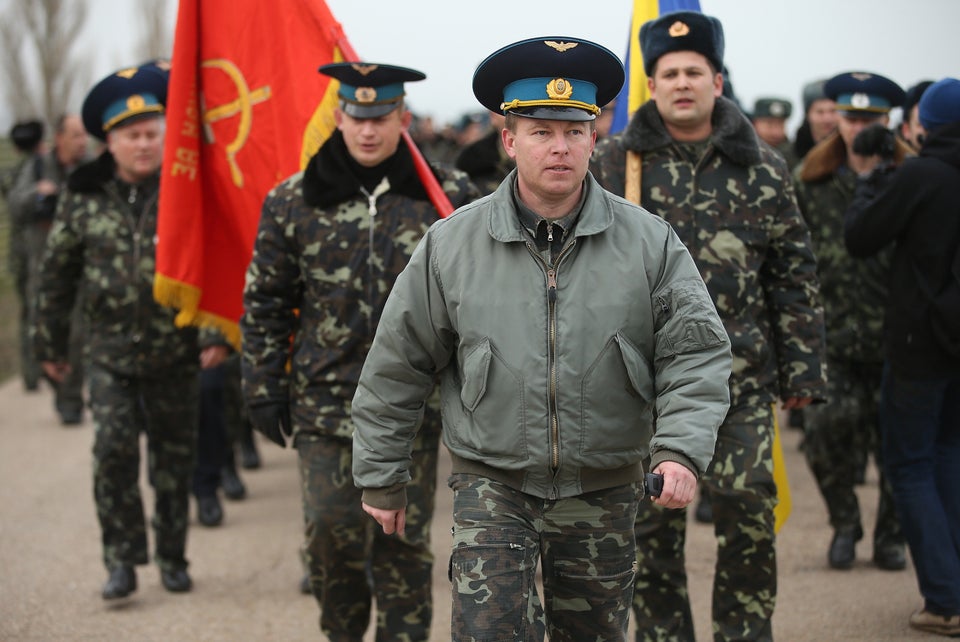 Russian and Ukraine Standoff
Popular in the Community