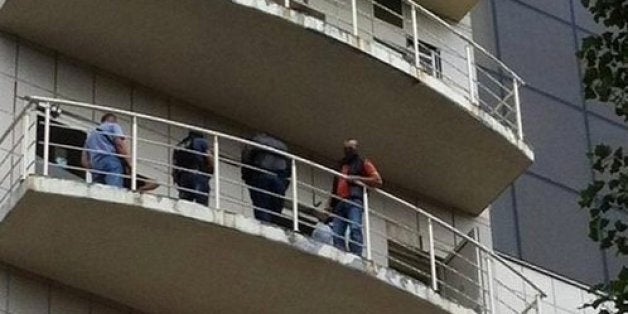 The Ukrainian Security Service (SBU) broke into the office of a Kiev-based digital newspaper on Thursday, physically trapping reporters and ultimately shutting down the website.
Vesti News's editor-in-chief Igor Guzhva wrote on his Facebook page Thursday that the news outlet had been raided by SBU, according to a translation by Russia Today. The SBU reportedly took all servers, kept staffers in a "hot corridor" and shut down the website completely.
Guzha said that the purpose of the raid was "to block our work."
"Journalists are not being let into their office," Guzhva wrote. "Those who were already inside at the moment of the raid are being kept in the building and are not allowed to use cell phones."
The newspaper shared images of the raid on its Instagram account:
Guzhva said that this is the second time in just six months that the SBU has tried to "intimidate" its editors. He added that he is unsure of the reason for the raid, but suspects that it might have to do with a story the website recently published on the SBU chief's daughter.
The ongoing crisis in Ukraine has resulted in a major threat to press freedom in recent months. A May report from the Organization for Security and Co-operation in Europe (OSCE) found approximately 300 instances of violent attacks on the media in Ukraine since November.
Related
Popular in the Community