After a protest march turned into clashes with riot police on Tuesday, Ukrainian forces tried to storm the square where opposition activists have held fort since last November. Protesters fought back by lighting a "ring of fire" of burning debris around Independence Square. The battles left at least 25 dead, including nine police officers, according to The New York Times.
The deadly violence has disturbed world powers, with the European Union threatening sanctions against the Ukrainian government, and Russia denouncing the protesters as dangerous radicals bent on a coup attempt. President Barack Obama said Wednesday that "there will be consequences" if the violence gets worse, and blamed Ukraine's government for the crisis.
As the fire-bombs and stun grenades fly, both sides accuse each other of escalating the violence with deadlier weapons. In disturbing footage, both sides appear to have also used vehicles as battering-rams against their opponents on the streets of Kiev on Tuesday.
In one video, an APC (armored personnel carrier) drives up into a line of protesters who are drumming and holding a banner of Ukrainian intellectual Yuriy Shevelyov. Immediately, Molotov cocktails appear to fly towards the vehicle and it goes up in a ball of flames.
The video then moves to scenes of the burning vehicle and a seemingly injured security officer trying to flee. What appears to be a second APC is seen retreating from the square as fireworks are hurled toward it.
The video appeared on the YouTube page of Ukraine's far-right group Pravy Sektor, with a link back to a Ukrainian videographer in Kiev who posted it on his Facebook page.
"The attack on Independence Square began shortly before 8 p.m., when police officers tried to drive two armored personnel carriers through stone-reinforced barriers outside the Khreshchatyk Hotel on the road to the square. The vehicles became bogged down and, set upon by protesters wielding rocks and fireworks, burst into flames, trapping the security officers inside one of them and prompting desperate rescue efforts to save those caught in the second vehicle, which managed to pull back from the protesters' barricade."
Amateur footage in another video, linked to by Radio Free Europe, appears to show the same incident from above, with a clearer picture of troops ramming the protesters' front line.
According to Ukrainian TV, protesters are also using vehicles in the street battles rocking Kiev. A video posted on the 112.UA news agency purportedly shows protesters driving a truck into a battalion of riot police, and chasing fleeing officers.
Brutal violence continued to loom dangerously on Wednesday, as the Ukrainian government warned that protesters had captured hordes of weapons from state facilities, and Acting Defense Minister Pavlo Lebedev told the ITAR-Tass news agency he had dispatched a paratrooper brigade to Kiev.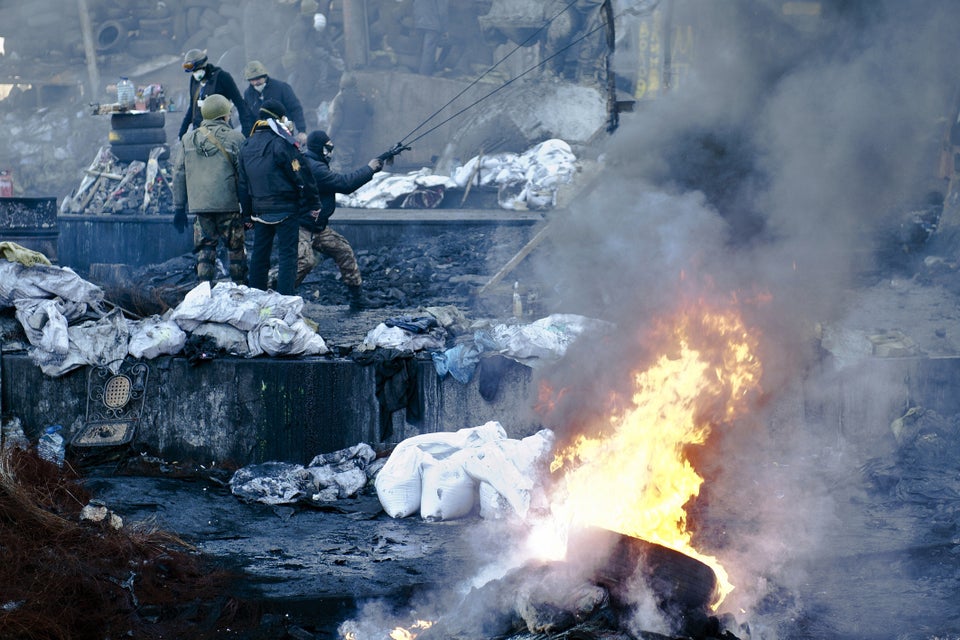 Ukraine's Protests Reignite
Popular in the Community