In the final weeks of 2013, the nascent Ukrainian protest movement, dubbed EuroMaidan, was met with a brutal crackdown by the Ukrainian riot police forces. But at one poignant protest just before 2013 drew to a close, demonstrators eclipsed the bloodshed with one powerful action: They held up mirrors, forcing policemen to look themselves in the eye.
These wounds show just how much these protestors have endured in the name of their cause:
The Dec. 30 protests responded to this unspeakable bloodshed with more enduring power than any act of physical violence.
The stand-off has continued into the New Year: On Jan. 12, thousands of EuroMaidan protestors congregated on Kiev's central Independence Square once more. On Jan. 11-12, EuroMaidan organizers also held a National Forum of EuroMaidan NGO's in the city of Kharkiv, during which activists' meetings were interrupted by smashed windows and tear gas, according to the Kyiv Post.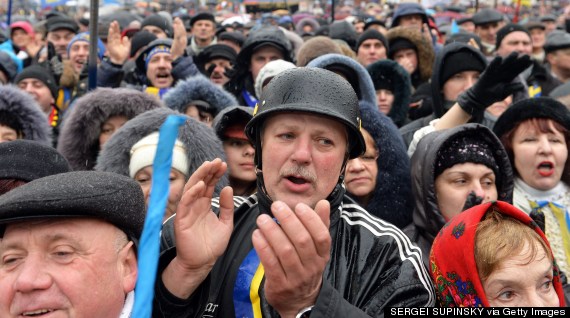 This week, Huffington Post blogger Oleksandr Feldman, President of the Ukrainian Jewish Committee and founder of the annual Kiev Interfaith Forum, eloquently discussed some of the ominous, violent and anti-Semitic shadows threatening to corrupt the EuroMaidan movement. Whether the movement succumbs to those forces, or maintains the strength and wisdom demonstrated above remains to be seen.