Eastern Ukraine has seen a deadly spike in violence in recent weeks, as shelling and fighting between Ukrainian soldiers and pro-Russian rebels have killed dozens. On Wednesday, the Ukrainian government also alleged that Russia launched a new series of cyber attacks against the country's infrastructure.
The surge in Ukraine's ongoing conflict with Kremlin-backed separatists comes as the government in Kiev is concerned over Russian escalation and questioning what kind of support it can expect from President Donald Trump's administration.
Although Nikki Haley, the U.S. ambassador to the United Nations, condemned Russia's role in the fighting earlier this month and U.S. cabinet secretaries called Thursday for the Kremlin to comply with an international peace accord on Ukraine, Trump's rhetoric of better ties with Russian President Vladimir Putin still has Ukrainians worried.
When Fox News host Bill O'Reilly asked Trump earlier this month if he took the surge in Ukraine's conflict as an insult ― because it came within 24 hours of his phone call with Putin ― the president described the situation in vague terms.
"No, I didn't, because we don't really know exactly what that is. They're pro-forces. We don't know if they're uncontrollable? Are they uncontrollable? That happens also. We're going to find out. I will be surprised, but we will see," Trump said in response.
Russia, meanwhile, has continued to take a hard line on Ukraine and its claim on Crimea, which it invaded and annexed in 2014. Russia shut down Trump's claim this week that Moscow would hand the Crimean peninsula back to Ukraine, with a spokeswoman for Russia's foreign ministry telling reporters on Wednesday that the Kremlin was not open to discussion on the matter.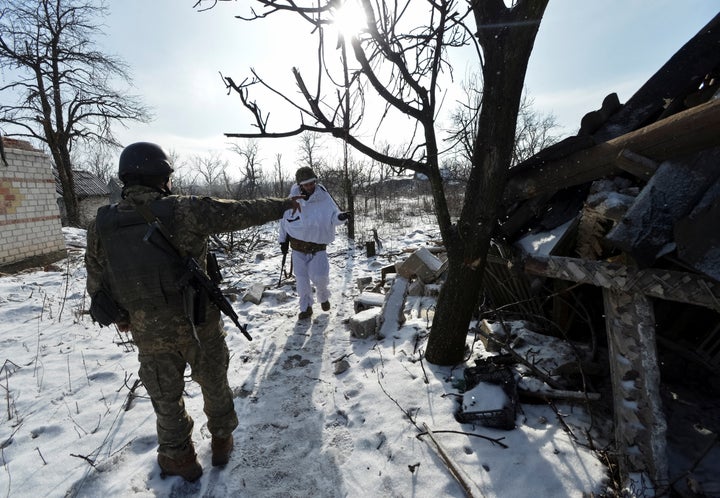 Moscow has also rejected any blame for the rise in violence in eastern Ukraine. The Kremlin alleges that Ukrainian army advances in late January are responsible for the increased violence, while officials in Kiev accuse Russia of planning this offensive and supplying the separatists with fuel and munitions.
The fighting has taken its toll on civilians as it reached the towns of Avdiivka and Mariupol. Hundreds were evacuated from Avdiivka earlier this month as shelling destroyed homes and endangered lives. At least 20 villages in rebel-held eastern provinces also lost electricity, according to the U.N. refugee agency, leaving civilians to deal with freezing temperatures without power.
An international mediator announced on Wednesday that the two belligerent sides had reached a deal to remove heavy weaponry from the front lines of the conflict by Feb. 20., so some are hoping the fighting will begin to de-escalate.
But despite this, the conflict is likely to remain a persistent problem for any possible detente between the U.S. and Russia. Officials in Trump's administration have spoken out strongly against Russia's role in the conflict, and Ukraine will figure heavily in the question of whether Trump can fulfill his talk of better ties with Russia.
Popular in the Community