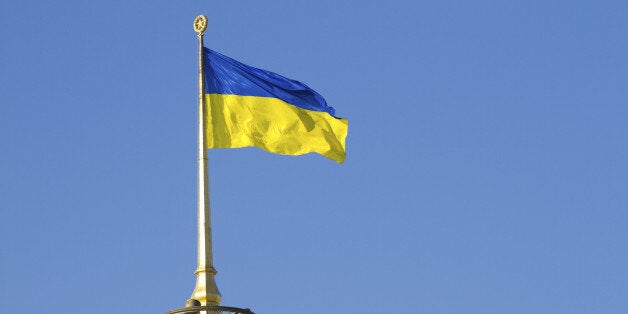 Though it's not commonly known, Ukraine's LGBT community played a significant role in the Maidan revolution which toppled the unpopular government of Viktor Yanukovych some two years ago. Careful not to upset or alienate conservative nationalist elements at the Maidan, LGBT protesters made a tactical decision not to promote their cause openly. According to EU Observer, the LGBT community refrained from brandishing its own slogans and banners lest it provoke homophobic violence. The Observer remarks that "during the revolution, the LGBT community behaved courageously, but also pragmatically: it didn't champion the rights of the gay minority in order not to split Maidan into liberal and illiberal factions."
In the wake of Maidan, however, many within the LGBT community feel betrayed by the very revolution which they helped to spearhead. In Ukraine, all the current talk is about repelling Vladimir Putin and Russian-backed separatists, rather than adhering to liberal-minded values. It's a rather ironic coda to the Maidan, which was initially driven forward by pro-Western and progressive aspirations. Judging from recent events, however, it would appear that Maidan's liberal credo was rather superficial and merely skin deep.
Recently, many conservative Ukrainians seem to be falling back on a common refrain: don't resort to criticism of our country's internal politics, for such "divisive" tactics will only serve to embolden Vladimir Putin. Though these claims rely on a dubious and false equivalency, such arguments seem to be gaining some traction, as my own experience may attest. What is more, political elites have desperately sought to outmaneuver the LGBT community by playing the nationalist card. "We Don't Have Time" for LGBT
It's bad enough when right wing nationalists espouse homophobic views, but arguably even worse when such sentiments are sanctioned at higher levels. According to activists, authorities have told the LGBT community that the government is unable to introduce significant hate crime or discrimination legislation right now due to Ukraine's "critical situation of conflict with Russia." A recent National Public Radio report reinforces the sense of such retrograde forces at work. The report quotes one activist who declares "the public discourse [in Ukraine] has said, 'Look, you are not important right now. We cannot discuss gay issues...Stop talking about it.' It's all about the war."
Ukrainian excuses on the LGBT question reached ridiculous new heights in advance of a planned Pride march in Kiev this past summer. Prior to the event, activists sought to meet with Mayor Vitaly Klitschko in order to secure vital police protection. Outrageously, Klitschko refused while concocting absurdist far-fetched explanations. It wasn't the right time to hold Pride, the mayor claimed, since Ukraine was in the midst of war and the public didn't have a clear grasp of homosexuality.
Providing police protection to the Pride march, the mayor said, would furthermore represent a needless "provocation" toward Russia, a country which has very strict anti-LGBT laws. In making such pronouncements, Klischko echoes the mindset of other conservative politicians. For some time, Russia has pushed its own anti-Western propaganda which focuses on Europe's so-called tolerance of "sexual perversions." Indeed, Kremlin media even refers to Europe as "Gayropa." Rather than criticize or lambaste such primitive rhetoric, Ukrainian authorities have reacted defensively. Apparently, Kiev is concerned lest it draw attention to LGBT rights which would only serve to help Russian separatists whilst alienating domestic conservative groups.
For the LGBT community, securing armed protection is hardly some type of unnecessary or idle pastime. In 2012, the local authorities similarly withdrew their promise to protect participants at Pride celebrations. Later, organizers were obliged to cancel the parade out of security concerns. The following year, Pride went ahead but only under heavy police guard and the proceedings lasted a mere hour. In light of the adverse security environment, Klitschko moved to cancel Pride in 2014.
While concerns over public safety are surely warranted, the mayor failed to demonstrate any understanding of the LGBT community, remarking that the parade essentially amounted to a mere "entertainment event" rather than a vehicle designed to promote human rights. With no support emanating from the mayor's office, and fearful at the prospect of far right street violence, organizers were similarly forced to cancel their parade.
It looked like history would repeat itself once again, but at long last security was provided this year when Klitschko relented and agreed to provide a 1,500 police escort. Even so, the parade took place within an atmosphere of fear and intimidation. Feeling anxious, LGBT activists distributed flyers on how to protect oneself from beatings and gas attacks during Pride. It turns out such fears were not unfounded: unidentified assailants threw stones and smoke bombs during the event. After attackers hurled nail-studded firecrackers, one policeman was sent to hospital. In the end, the march only lasted a mere 20 minutes. It seems likely the assailants were affiliated with so-called Right Sektor, a group which had threatened to provoke hostilities prior to Gay Pride.
What's Causing Homophobia?
On the surface at least it's pretty easy to point the finger at right wing street toughs, the group which is most directly responsible for homophobia in Ukraine. Indeed, attacks on the Pride march were hardly an isolated incident, with anti-LGBT violence committed by nationalist groups recently increasing. Since the Maidan revolution such groups have grown ever more powerful. It's reportedly gotten so dangerous for LGBT activists that some have even sought diplomatic asylum in the U.S.
A video experiment conducted in Kiev illuminates the depths of the problem. In an effort to test the waters, two gay men strolled down the streets in broad daylight, hand-in-hand. The pair then sat down on a bench on Khreschatyk, a central street near Maidan square. Rather ominously, a gang of young men quickly encircled the two and asked the men if there were patriots. Moments later, the gang squirted pepper spray in the gay men's faces and kicked the couple.
As if that were not enough, it also seems that right wing nationalists were responsible for launching an attack on the Zhovten or October Theater in November, 2014. Zhovten is Kiev's oldest theater and a favorite among art buffs. During the annual Molodist film festival, Zhovten opted to show a new French film about a married man who dresses up as a woman. About a hundred members of Kiev's LGBT community showed up for the screening. Twenty minutes into the movie, a loud noise like exploding firecrackers --- probably an incendiary grenade --- sent people scrambling into a panic. Though fire engines later showed up, much of the theater was destroyed in a blaze.
Fortunately, there were no casualties but the incident sent a chilling message to the LGBT community. Later, two men were apprehended and admitted that they had aimed to disrupt the event out of contempt for gay people. Two days later, Right Sektor again tried to shut down another LGBT film screening. Though certainly troubling, these incidents are hardly isolated: as early as 2009, prior to the Maidan revolution, Kiev art gallery Ya was set on fire following the presentation of a gay literary anthology.
While no one is letting right wing nationalists off the hook, blaming these groups for the rise in homophobia misses the point. Gay rights activists, in fact, have questioned police commitment to keep them safe. Though the security forces captured arsonists involved in the Zhovten blaze, officials were unable to prosecute the individuals for hate crimes since Ukraine lacks legislation which specifically protects people based on sexual orientation. In the event, the authorities wound up prosecuting the perpetrators based on mere hooliganism.
Moreover, in the wake of this year's Gay Pride fiasco, police failed to bring all suspected attackers to court. Some have expressed doubt that the official investigation will yield any positive result, and LGBT activists have even floated the idea that law enforcement might have been complicit in the attacks, noting that right wing toughs display an uncanny knack of locating gay pride marches at the spur of the moment, despite last minute changes.
Role of Political Elites and Orthodox Church
Meanwhile, Kiev's political elite has been reluctant to criticize the far right which is seen as patriotic in the fight against Russian-backed separatists. Members of the LGBT community argue that politicians have helped to foster an air of "impunity" toward right wing extremism which has only served to embolden fringe elements. Take, for example Mayor Klitschko, a former hero of the Maidan revolution. When asked how he would respond to the Zhovten attack, Klischko answered blandly that human rights were a good thing but he would not "stand up for gays and lesbians."
It's not just politicians who are stoking tensions, gay activists say, but also the Orthodox Church. Ominously, Right Sektor has warned that "gay propaganda is destructive and doing harm to our Christian nation, we can't allow that." Such sentiments were born out by left wing political activist Denis Gorbach. Speaking to me last year in Kiev, Gorbach commented that the Ukrainian Orthodox Church has displayed backward and retrograde ideas. "They have their own agenda which is socially conservative, racist against blacks and all non-Slavic peoples [though they wouldn't have any big problems with Germans or British], anti-Semitic and homophobic," Gorbach said. Still Not Fully European
Recent developments, including attacks on Gay Pride and the Zhovten Theater in Kiev, have left a bitter taste with many LGBT veterans of the Maidan. Though one of the goals of the revolution was to promote a more egalitarian society, many Ukrainians continue to exhibit deep prejudice against gays and lesbians. Rather jarringly, Maidan even compares negatively to Turkey when it comes to treatment of LGBT people. In fact, during popular protests in Gezi Park against the government of Recep Tayyip Erdogan, participants openly embraced LGBT groups.
It would appear that Ukraine likes the idea of being a part of Europe, but is reluctant to embrace many underlying Western European values. "It's worth recalling," notes EU Observer, "that the Euromaidan began because the former regime declined to sign an association treaty with the EU and was about to somersault Ukraine into the Russian world." Nevertheless, Ukrainian politicians are only willing to move the country so far. A recent article in Foreign Policy magazine quotes one gay man who remarks "there are some people who just want to join 'Europe' without changing their values and without understanding what it all means. But if people really want to change our country, the change has to start within them and their relationship to others."
Going to Extreme Lengths to Preserve Prejudice
Not only is Ukraine opposed to LGBT equality, but the country's political elites will go to great lengths to preserve homophobia. Though the new government has placed great importance on joining the so-called Schengen zone [a club of EU nations which allows for visa and passport-free travel], the Ukrainian parliament recently scuppered any such eventuality when it blocked legislation which would have banned discrimination against LGBT people in the workplace.
Previously, the EU had warned Ukraine that it must amend its own antiquated labor code which failed to prohibit discrimination against gay folk. In the Ukrainian parliament, only 117 legislators voted for changes demanded by Brussels, while nationalists and populists resoundingly defeated the measure with 343 votes. The vote sent a chill through the local LGBT community, which already feels threatened and abandoned. In a recent survey, a whopping 65 percent of Ukrainian gays said they faced infringements on their rights, including verbal abuse, intimidation and loss of employment or even direct physical violence.
In light of many of the historic failures of the Maidan, many within the LGBT community may wonder if and when another revolution will eventually spearhead the protection of their own rights.
Calling all HuffPost superfans!
Sign up for membership to become a founding member and help shape HuffPost's next chapter