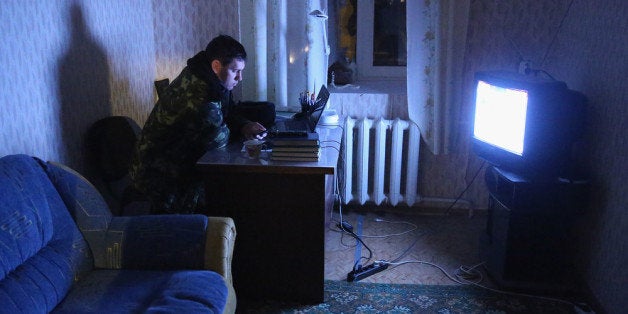 (Repeats with no change to text)
By Peter Graff and Alissa de Carbonnel
KIEV/SEVASTOPOL, Ukraine, March 4 (Reuters) - Two days before Russian forces began the operation to seize Crimea, somebody threw two Molotov cocktails through the window of Black Sea TV.
"It was a warning to us, so that we would stop," recalls Alexandra Kvitko, editor-in-chief of the only independent television station in the southern Ukrainian region. "But we continued."
Less than a week later, with Russian troops fully in control of the peninsula, Black Sea TV was cut off from broadcasting on Monday. It still reaches cable and satellite viewers - Kvitko estimates less than a third of its normal audience - but on Tuesday the authorities cut off the power.
The staff set up a small generator and are feeding old movies to cable viewers, but the studios and editing machines the channel uses to prepare its news reports are cut off. Reporters are still out on the streets, but they doubt they will be able to produce the evening news.
It is punishment for daring to broadcast a reality different from the only one accepted by the pro-Russia authorities in Crimea, says Kvitko.
"There is propaganda, on the Russian channels and government channel of Crimea, which says that ultra-nationalists are coming to force everyone to speak Ukrainian," she said.
"It is under firm control of the local authorities and engaged in propaganda. It says the army troops are not occupiers but protecting us, although it is not clear protecting whom from whom. It says the Crimean authorities were elected properly, Yanukovich is still president.
"We broadcast that the authorities in Kiev are legitimate and that the Crimean authorities were not elected legitimately."
Specifically, Black Sea TV questioned the credentials of the new pro-Russian Crimean leader, Sergei Aksyonov, installed last Thursday in a closed session of the regional parliament, on a chaotic day that was only later revealed to be the start of Russian military intervention.
At the time, the parliament building was in the hands of armed men, and no journalists were allowed inside to verify whether enough lawmakers were present to make a quorum.

Russia's military operation in Ukraine has been accompanied by a particularly assertive media campaign. At home, Russian broadcasters, nearly all of which are firmly controlled by the Kremlin, describe a Ukraine totally unrecognisable to anyone with access to independent, Western or Ukrainian news. Moscow's broadcasts also reach Russian-speaking parts of Ukraine.
As described in Russian news reports, Ukraine is being overrun by gangs of anti-Russian fascist thugs. Moscow has even asserted that hundreds of thousands of Russian-speaking refugees have fled a "humanitarian catastrophe" in Ukraine, a claim for which no evidence has been found.
"This is all an information war. They are telling their people that there is a huge outflow of refugees. Did you see any boats of refugees out there?" said Ukrainian Major Alexei Nikoforov, deputy head of a marine base in Kerch, the eastern tip of the Crimea a 30-minute ferry ride from the Russian shore.
"There is no bloodshed, no Tatars with knives."
Washington has described the putative threat to Russian speakers as a "trumped-up" case to justify Moscow's invasion.
Foreign media have not found evidence of any serious danger for Russian speakers. An early vote in Kiev to reduce the official status of the Russian language was quickly dropped. While there are far-right groups among the coalition that toppled pro-Russian president Viktor Yanukovich, they appear to be a small minority.
But stories of threats are widely believed in Russian-speaking parts of Ukraine, particularly in Crimea.
"I have spoken Russian all my life. When I go to the pharmacy, I won't even understand my prescription," said worried pensioner Alla Batura, 75, in Sevastopol.
The state-controlled message has also helped turn Crimeans against Ukrainian and foreign media crews. Aksyonov, the pro-Russian leader, was shown on television describing Western media as working for spy services to foment revolution.
"Whenever I watch TV or look at news online, I want to smash in the reporter's face," said Mikhail, a businessman who turned a reporter's questions against him, whipping his telephone out to film at a pro-Russian rally outside a Ukrainian navy base, where Russian troops have besieged Ukrainian forces.
"Why are you journalists lying? Where does your Russophobia come from?"
Tension ran high outside another Ukrainian military base in Feodosiya, where a crowd of more than 200 people massed around the gates calling for the Ukrainian troops to surrender.
A cameraman from Ukraine's INTER TV who approached to try to film the scene was mobbed by an angry crowd who shouted "Traitor!" and chased him away.
"Journalists are turning everything inside out. It's all being shown inside out, as if this were an occupation. It's not. We are celebrating," an unshaved burly man in a black leather jacket and baseball cap said, waving away journalists.
Kvitko said her 15 journalists were still on the streets filming, but it was not clear if they would be able to compile their evening news report without electricity in the studio. Her staff receive constant threats.
"We are afraid. Of course we are afraid. But we still work for the people of Crimea," she said. (Additional reporting by Andrew Osborn and Natalia Zinets; Editing by Will Waterman)

Popular in the Community