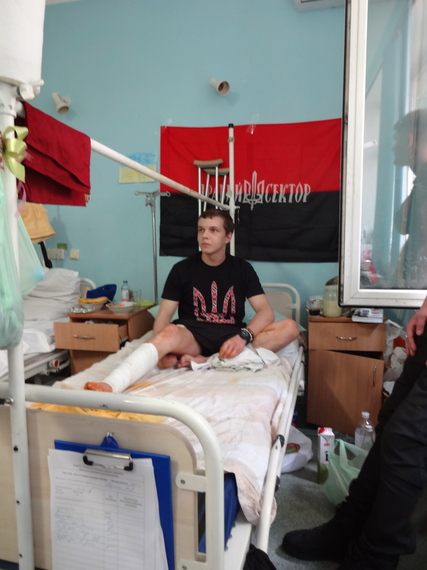 Young Maley in a Kiev hospital bed recovering from shrapnel wounds in war against Russia
KIEV, UKRAINE Days after Russia took over Crimea last year, Ukrainian teenager "Maley" contacted his local army recruitment office to sign up. His calls went unanswered for weeks, so he went to the front with his grandfather's hunting rifle and a brass plate bought by his mother taped to his chest as protection. He joined one of the dozens of volunteer battalions that have made history by holding the line against the Russian incursion.
"I went to save my country," he said in a recent interview in a Kiev hospital. He was wounded after the army medic behind him stepped on a landmine and lost both her legs. "She wasn't paying attention. I'm going back."
Ukraine has been abused by Russia since declaring independence from the Soviet Union in 1991 and has staged two revolutions -- one in 2004 and another in 2014 - to get out from under Russian puppets. After the last one fled back to Russia, the country's army was virtually defenseless and the Russian incursion has only been stopped thanks to tens of thousands of volunteer soldiers and tens of thousands more citizens working tirelessly to raise money for medicines, equipment and to serve in non-combat roles. They busk for donations or erect tents on town squares to solicit financial help and raise the war's profile.
If it wasn't for the volunteer fighters, concluded Italian military think tank Istituto Affari Internazionali, the Russians would be at the Dnipro River by now, swallowing half of Ukraine. "In the spring and early summer [of 2014], volunteer battalions took the first blunt of a war that the Ukrainian security was unprepared to sustain. Under-equipped and light-armed, they held the front, thus giving the Ukrainian authorities the time to regroup and organize a defense," read its March report "Heroes or Villains: Ukraine's Volunteer Battalions."
Ukraine is important. With a population of 45 million, it has been a coveted prize for centuries. The Kremlin considers it part of Greater Russia but Ukrainians take a different view.
They now defend themselves on a shoestring, and may be the first country in history to have survived thanks to amateur soldiers and crowd funding. Despite their valiant efforts, it's a geopolitically important war the world has forgotten and the west is not supporting with weaponry out of fear about Putin.
So far, Ukraine has lost 9 percent of its territory in a year, 6,200 people have died, 30,000 have been wounded and 1.3 million refugees have fled the occupied lands. And one year ago, July 17, Russian missiles shot down a Malaysian Airlines passenger jet over Ukraine airspace, killing 298 passengers.
"The struggle in Ukraine is more serious than ISIS," said John Herbst in an interview in Kiev. He's a former U.S. Ambassador to Ukraine and Uzbekistan and Fellow at the Atlantic Council in Washington.
"It's very simple. Any military thinker looks at a threat -- what is the capability of the damage? Putin wants to change the peace established in 1991 and after World War II," Herbst said.
By the time the populace rose up in 2014, then Crimea was seized, the Russian citizen who ran Ukraine's military had gutted operations and sold off its newest equipment to African and Middle Eastern dictators. According to Dmitry Gorenburg, with Harvard's Davis Center for Russian and Eurasian Studies, Ukraine had 80,000 troops and fewer than 1,000 artillery pieces, but its combat-ready force was a mere 6,000.
The volunteer brigades helped stop the advance and are highest in the polls among the public. Last fall, six battalion leaders were elected to its Parliament, called the Rada. Not surprisingly, some extremists have infiltrated certain battalions (and been cut off from training aid by the U.S. and Canada) but "there are only a few bad apples," said Canadian Defense Minister Jason Kenney in an interview in Lviv.
Ukrainians, who aren't asking for boots on the ground, launched the world's biggest volunteer war effort. Typical is a massage therapist who helped raise money for a fully equipped army ambulance for the war, thanks to relatives in Belgium and Germany who staged fundraising events. Others are donating medicines, money to support the families of volunteer soldiers and equipment to the beleaguered and ill-equipped regular army. One donor raises funds in Canada to pay for the medical expenses of wounded volunteers who aren't covered as regular army soldiers are.
Most unique, however, is the creation of Ukraine's "geek" army.
"We had no access to international technology. The Ukrainian army was non-existent and there was a 10-year plan to destroy it from inside," said David Arakhamiya in an interview in Kiev. He and his family were refugees from another Putin war, in Georgia, and settled to begin a new life in Ukraine several years ago.
After Crimea fell, Arakhamiya left his job as the CEO of an IT outsourcing firm in Ukraine and helped convince 350 software engineers and architects to work full-time for at least one year as volunteers with Ukraine's Ministry of Defense.
"After the 2014 violence in the Maidan, I had to get involved to save the country from [Ukrainian] dictators and now we have to save it from the biggest dictator in the neighborhood," he said.
"The Ukrainian army has 150 generals, a ridiculous number. There was no efficiency, no connection. After one year of war, the head of engineering and the head of the air force didn't know what one another had or could do. One group could need cars or radios that might be sitting in a warehouse and nobody knew. It was Soviet style inventory using paper," he said.
He and his volunteers are digitizing inventory, procurement policies to eliminate corruption and costs and inventing or modernizing its meager stash of weapons. Most uniquely, they built and operate a nifty website -- called peoplesproject.com -- where interested donors from around the world can scan a shopping list of projects and causes for donors and use their credit cards to make donations. Millions have been raised so far.
Currently, the site shows that 70 percent toward a $274,000 project to provide NATO first aid kits for soldiers has been raised, most of $88,000 to provide stem cell therapy for burn victims and nearly all of the $100,000 needed to buy a surveillance drone from Poland. Other projects include providing bomb shelters for troops, armor for tanks, funds for specific volunteer battalions or mobile hospitals and rehabilitation clinics.
The West is not selling weapons to Ukraine so 10 teams from its "geek army," who are technology and aviation experts have been making 40 drones a month, using available software and cameras, and parts bought from China. Scientific institutes in the country have helped with aerodynamics and volunteers have developed encryption devices to protect communications in the field and a radio communications system that allows frontline commanders to direct the movements of soldiers using a tablet.
Ukraine is one of the world's biggest arms exporters and by January retooled and turned its focus on churning out artillery, weapons and vehicles for itself. Most of the volunteer brigades now work with the army and this year, Ukraine will draft 50,000 men to serve in the military for one year, but is asking their employers to pay their salaries as a contribution to the war effort.
Ukraine must be weaponized, or given debt relief to weaponize itself. Last year, the country spent as much in interest payments on debts caused mostly by exorbitant Russian gas prices, as it spent on its own defense. Ukrainians must pay seven times more for gasoline than the Russians.
Sen. John McCain (R-Arizona) went to Ukraine last month and 40 bipartisan congressional leaders plan trips this month to promote help. "This is shameful that we will not provide [the Ukrainians] with weapons to defend themselves. They are fighting with 20th century weapons against Russia's 21st century weapons. That's not a fair fight," McCain said at a news conference on June 20 in Kiev.
But one of the great ironies of this warfare is that Putin has done more to reconstitute a proud Ukrainian nation than any of its questionable leaders have in 20 years. His aggression, and the domestic corruption, is a rallying cry for the country and its volunteers. The rot must be removed as well as the Russians or their influence.
It's also ironic that the U.S. is not militarily involved.
"Does the U.S. only help oil countries?" said an exasperated Natalie Jaresco, Ukraine's finance minister and an American from Chicago who is a volunteer, too, of sorts after leaving a lucrative position to clean up the country's fiscal mess. "Ukraine has got a democracy here, and is not trying to get one. If this fails, there is no reason to try and do democracy any place else."
Published in Miami Herald 19, 2015
Calling all HuffPost superfans!
Sign up for membership to become a founding member and help shape HuffPost's next chapter