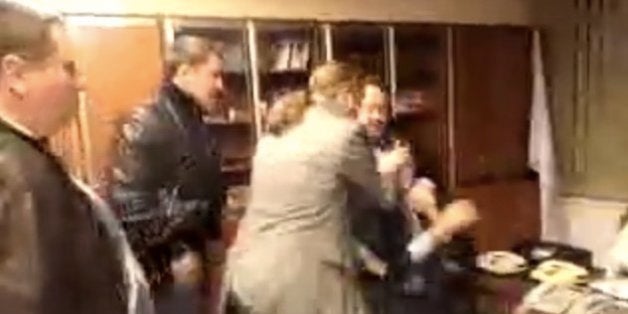 Oleksandr Panteleymonov, the acting head of Ukraine's state television stations, had his office in Kiev invaded by members of the Svoboda Party—a nationalist party whose presence in the country's new government has been a source of great controversy—on Tuesday. They proceeded to assault him and force him to write a resignation letter. The men included Igor Miroshnichenko, an elected member of the Ukrainian parliament. The BBC said they were livid after Panteleymonov decided to broadcast a ceremony from the Kremlin.
The Guardian reported that "Miroshnichenko is a member of the new parliamentary committee on freedom of speech," and that "He said afterwards he did not believe he had done anything wrong but was prepared to be investigated."
"This assault on freedom of expression must be immediately investigated and those responsible must be prosecuted. Anything less will only open the door to further attacks against media professionals and activists," Heather McGill, the group's Ukraine researcher, said. "The acting Ukrainian authorities must waste no time in demonstrating that basic human rights are protected in Ukraine and that nobody will face discrimination because of their political views or ethnic origin."
Ukraine's acting prime minister, Arseniy Yatsenyuk, also criticized the attack, saying, "These aren't our methods. A country that is entering the [European Union] will profess the basic principles and values of the European community."
Calling all HuffPost superfans!
Sign up for membership to become a founding member and help shape HuffPost's next chapter