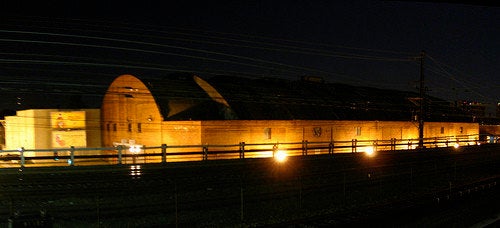 WASHINGTON -- Uline Arena, an under-used property adjacent to the Union Station rail yards with a serious history but no clear future, may be converted into a movie theater.
Elizabeth Price, who until recently served as president of the NoMa Business Improvement District, spilled some juicy gossip about the arena to The Washington Post, saying that at the International Council of Shopping Centers convention in Las Vegas the past two years, she met with several theater companies very interested in the NoMa market and Uline Arena in particular.
Uline Arena, which is owned by District-based Douglas Development Corp., is currently being used as an indoor parking lot. In May, it was also the setting for "Swampoodle," an outside-the-box play inspired by the District's long-gone, eponymous Irish neighborhood, which featured ghosts, vaudeville dancers and jugglers.
This is all a far cry from the Uline's former glory. In 1964, the Beatles played their first U.S. concert at the arena when it was better known as the Washington Coliseum. Before that, it was called Uline Ice Arena, and through the 1940s was home to the Washington Lions, a now-defunct ice hockey team. Its storied past earned it a spot on the National Register of Historic Places in 2007.
This past June, Uline's current lease-holder, Taweke "Bennie" Alemayehu, told TBD he plans to host more events like "Swampoodle" in the future.
However, in the same article, Linda Murray, artistic director at D.C.-based theater group Solas Nua, which co-produced Swampoodle, said that Douglas Development is known for dragging its heels. It took about a year to secure the company's approval to use Uline Arena. Others with proposals for the space, including Philippa Hughes of the Pink Line Project, experienced similar problems, according to TBD.
WATCH: The Beatles Perform At The Washington Coliseum