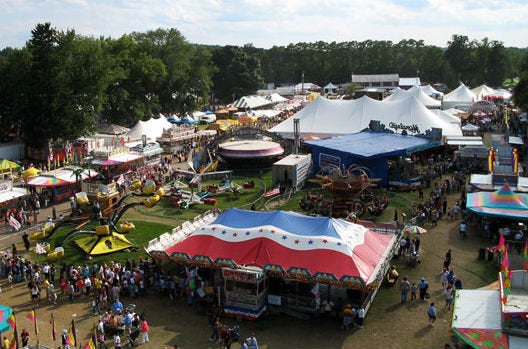 The Ulster County Fair in New Paltz, New York, was established in 1886. Every year it draws about 50,000 people over six days to the county fairgrounds nestled upstate. The county of Ulster boasts the Catskill Mountains and was the site of the famous Woodstock music festival. Ulster County is still largely rural, making its fair a true country experience. As part of a Huffington Post Travel series on state and county fairs, here is our guide to making the Ulster County Fair as fun and rewarding as possible.
Fair History
The Ulster County Fair is a Hudson River Valley rite of passage. Held annually in late summer, the event has
as a one-day small-town fair in Ellenville, New York, featuring horse races and agricultural exhibits. By the mid-1880s, the small country fair had become a regular event, promoting farming, animal husbandry and family fun. In 1886, the event formally became the Ulster County Fair, presented by the Southern Ulster Agricultural Society. Over the years, the fair has changed location, duration and size, but it still has the same goal: to give folks a good time while fostering an interest in agriculture.
Famous 4-H Milkshakes
Today, the fair includes
,
, competitions and, of course, deep-fried food. Expect long lines at the
, where 4-H Teen Council members whip up fresh shakes throughout the day.
Agrarian Events
Most of the
are agrarian, from pony shows and pig races to draft horse and tractor pulls. There are demonstrations by master gardeners, chainsaw shows and lots and lots of livestock. There is a horse-show ring and a cattle ring, where many of the events take place. Dog and dairy shows are also among the numerous events that span the greater part of a week.
Live Music
Live entertainment includes country, Southern rock and folk music from around America -- and sometimes the globe, as with Australia's McClymonts in 2011. The entry fee of $15 per person for age 4 and up covers entertainment, so there are no pricey add-on tickets needed to enjoy the music. Past headliners include Gov't Mule, the Bellamy Brothers and Joe Diffie.
Admission And Rides
The $15
also includes the fair's wide variety of rides. The Ulster County Fair always offers about 20 of them, including big-kid rides such as the Zipper and Starship, family rides such as the Ferris wheel, a kiddie-ride area and a petting zoo. The cost of entry covers everything except for food, vendor items and carnival games. To save even more, visit on opening night -- aka Carload Night -- when patrons pay a flat fee for entry for everyone that fits in the car (just make sure everyone is wearing a seat belt). Opening night also features fireworks.
Senior Discounts
Fairgoers age 60 and older (with ID) get free admission on Senior Citizens Day from 10 a.m. to 4 p.m. In addition to all of the regular fair events, the day starts with senior-oriented entertainment, including the popular Senior Citizens Fashion Show. Work it, Grandpa!
Baby Pageant
The Ulster County Fair also features a baby contest, where parents are encouraged to show off their bundles of joy. The winning baby boy and girl each receive a $50 prize.
The Ulster County Fair features some exciting carnival rides, as seen in this amateur video.
What's your favorite Ulster County Fair memory?