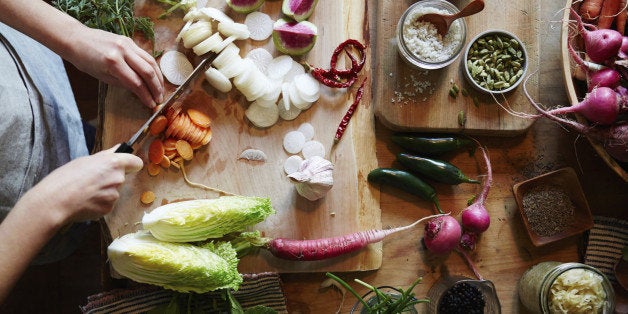 Nod your head if you're guilty of any of these, dinner isn't on the table because you had to work late, your son had soccer practice that went over, you lock your keys in the car at the grocery store picking up items for dinner, or you simply don't feel like it. I see you nodding your head, I find myself nodding my head at a couple of these myself. What has us nodding our head isn't the lack of effort, it's the lack of planning.

If we planned our meals to better match our weekly schedules we would find ourselves around the dinner table enjoying dinner more often with our family. Sound like something you would want to know more about? Luckily for me, I learned the secret early on in motherhood. And, I want to share everything I know with you. Curious what the secret is? Freezer cooking! Freezer cooking saves you time, money, and your sanity. Do you seem to be lacking in any of these areas? I want to help you.
For me, the early years of motherhood and babies always seemed to make life a little more complicated. At the time, I was one of those nervous mamas; I feared not doing something right, not getting it all done, not making dinner, not fulfilling my job as a stay at home mom. The pressure was insane. Looking back, I did it to myself. Though my husband wanted to stay on a schedule with our meal times, I was the one who made things complicated. It wasn't until a couple years ago I realized, whether dinner was ready at a certain time or not, it would all be alright.
I have always referred to the hour before dinner time as the bewitching hour. If something is going to go wrong, it is going to be then. Whether it be the baby crying, a neighbor stopping by unexpectedly, your mom calling, you're tired and don't feel like cooking, you forgot something you now need for dinner, someone in the house ends up sick. It truly never fails that this is the bewitching hour, agreed?
I began my journey in the freezer cooking world when our first daughter was less than a year old and I was looking for a way to no longer stress over making sure I was feeding my family a nutritious meal to include the nights where it felt nothing was going right. Plus, I was looking for a way for us to save money on the small budget we had for groceries. My sister told me all about freezer cooking, even sent me a book to help me get started. I read the book for cover to cover. The book had lots of recipes and some useful information on the how-to side of it.
By the time our second daughter came along and my husband's schedule didn't allow him to always be home at dinner; I wasn't sure how I was going to make this whole mama thing work. She wanted attention non-stop. Everything seemed harder. I honestly am not too sure what I would have done had I not been someone who prepared freezer meals.
Fast forward many years, now we all get in the kitchen and together do some batches of freezer cooking. Who knew something I once did as a way to save my sanity would turn into such a great bonding time for my family. I am so grateful for the time I get to spend cooking with everyone in the kitchen. And, it is my prayer that when our girls are older and have their own families; they, too, will find peace in knowing dinner is always in the freezer.
Now are you wondering what my story has to do with helping you? Well I have created the tool you need to get you moving in the right direction. The direction of freezer cooking. Are you worried that you don't know the first thing about it? Don't worry, that's what The Ultimate Guide to Freezer Cooking is all about. It teaches you everything you need to know about freezer cooking all the way from planning your meals to the containers you will use.
Want to know more? Check out this link to get started in your new adventure of saving time and money by freezer cooking. I can't wait for you to start!