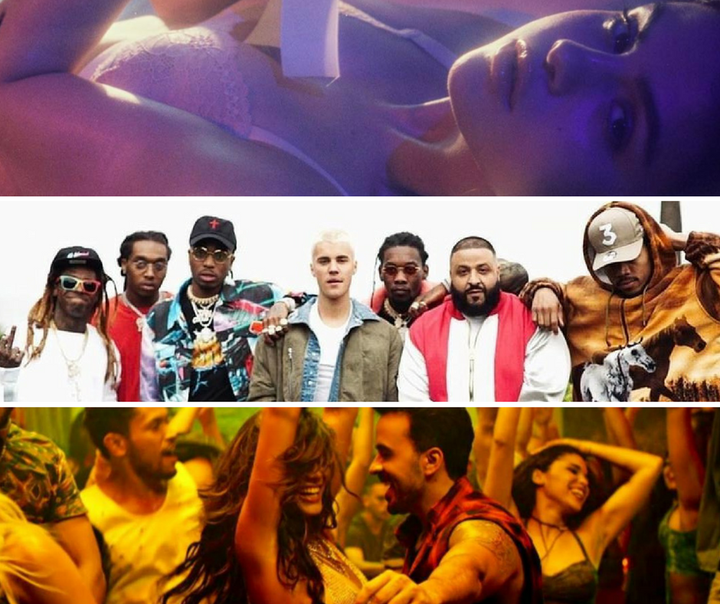 Summer is almost officially here, which means it's time to grab that swimsuit, hit the beach and break out the tunes.
The good news? Several possibilities have already surfaced this year ― with some more likely to reach the summer-song status than others. In other words, yes, the race is on. And nestled in between the popular singles are musical gems that aren't overplayed, but deserve to be heard.
The team over at HuffPost Entertainment rounded up both in this handy guide ― all for your listening pleasure. By no means is this a comprehensive list.
Behold, the tracks we have on repeat right now ... Maybe one of these will represent summer 2017, or perhaps will simply become your summer jam.
"Cut to the Feeling" - Carly Rae Jepsen
Shut it down. Contest over. Carly Slay Jepsen (the preferred spelling) came back in a big way this summer to save pop music from Ed Sheeran. Is it one of the 250 songs she wrote for her iconic album "Emotion"? Yes. Was it released to promote some animated film about ballerinas we'll never see? Absolutely. But "Cut to the Feeling" is the kind of song that makes you strut down the sidewalk like you're in competing in an "America's Next Top Model" finale. With a chorus that demands to be belted and *shock* an actual build, this undeniable bop will have you asking why all your faves have been doing it wrong.
"I'm the One" - DJ Khaled ft. Justin Bieber, Quavo, Chance The Rapper, Lil Wayne
There are a few rules that the annual Song of Summer needs to follow without exception:
It must be incredibly well-known.

The Song of Summer is never the best song of the season, but it is the best of the most famous songs of the season.

It must be predominantly basic,

with a little something on the side for the music nerds.

It must be written in a major key

― ideally the key of C or G ― and make people smile.

It must be playable at an outdoor BBQ,

while passable on the dance floor at night.

It must include a bass line that bounces to and fro,

allowing for easy dancing.

Moms need to like it,

and they need to make it known they like it after a couple drinks too.

It must be intergenerational,

including both members of the new guard and members of the old guard.

It must be created by its makers to be the Song of Summer.

There are no accidents in the music industry. There are only cynical money grabs.

And by the final day of Summer, the entire world must never want to hear it again.
Thus, the song of the summer is "I'm The One," by DJ Khaled and featuring Justin Bieber, Quavo, Chance The Rapper and Lil Wayne. And it's not close.
"Humble" - Kendrick Lamar
I heard a small child yelling along to this song late into the night as I waited for a bus that seemed like it would never come. "Be humble!" this young person screamed in an adorable high pitch. "Sit down!" (Of course absent from this kid's sing-along was the interspersed and repeated "Hol' up, bitch" between those lines.)
Songs of summer need to be extremely ubiquitous, danceable and fun for the whole family. "Humble" is very much those first two things, but only questionably the third. Given Kendrick Lamar's immense rapping ability, it's also beyond unlikely that the wedding dance floors this summer are going to be able to keep up with Lamar to shout along in joyous unison.
So in this increasingly fractured culture where any large consensus is increasingly hard to achieve with each successive year (2016 didn't have a definitive song of summer), I'd argue that "Be humble!" / "Sit down!" will at least be the "musical lyric of the summer." Besides, of course, simply being a great part of a great song on a great album.
"Bad Liar" - Selena Gomez
The song of the summer must invite endless listenability at increasing volumes. A swishy chorus (not to be confused with "Swish Swish," heaven forbid) helps, too. With that in mind, I give you "Bad Liar," a sleek jive that borrows the bass line from Talking Heads' "Psycho Killer." Opening with gentle claps that blossom into twinkling cascades of sensuality, the production value remains cool and understated. Many pop stars are in the running for the year's crown, but none of the others turn "serpentine" into a verb or craft a rhyme using the words "actuality" and "reality." Selena is our summer-anthem queen.
"Despacito" - Luis Fonsi, Daddy Yankee ft. Justin Bieber
The last time a track sung mostly in Spanish topped the pop charts was more than 20 years ago ―in 1996 with Los Del Rio's "Macarena." That changed this year with the release of Luis Fonsi and Daddy Yankee's "Despacito," featuring Justin Bieber. The reggaeton beat is undeniably catchy. And it doesn't hurt that the video is downright fun, making us excited about summer romance and a memorable night out. This song will likely top many songs of the summer lists — with good reason. It's already a massive global hit, and it's on track to define summer 2017.
"Slow Hands" - Niall Horan
This groovy track from former One Direction member Niall Horan doesn't exactly conjure images of bopping in jean shorts at a sticky-hot BBQ like all good songs of the summer should. Still, it is a delightfully edgy and seductive pop track that will get stuck in your head and make you shout "SLOW! HANDS!" at unsuspecting passersby as you perspire on public transit and contemplate exactly what Horan means when he says "sweat dripping down our dirty laundry."
"Holding On" - The War on Drugs
If you haven't listened to their album "Lost in the Dream" over and over again since 2014, then you're missing out on the magic that is The War on Drugs. The rock, Americana vibe this indie group gives off is mysterious, addicting and passionate. Their new single, "Holding On," has those same qualities, and is sure to be a tune you'll play on repeat while sipping an ice cold beer in your yard or on the beach.
"Shape of You" - Ed Sheeran
"Shape of You" is the type of song that hooks you right from the beginning. As soon as that marimba beat starts, it's hard to tune it out. It's a little bit sexier for Sheeran ― it was written with Rihanna in mind, after all ― and it's definitely not as deep or romantic as "Thinking Out Loud," but it sure is catchy and it's probably not going anywhere for the next few months.
"Most Girls" - Hailee Steinfeld
I think everyone was a little nervous, upon hearing the name of this single, that it would be another addition to the all-too-familiar narrative of women tearing down other women. "Au contraire," says Hailee Steinfeld (but not literally), blessing us plebes with a thoroughly danceable track about feeling "good in your own skin." Whether you're rocking out in tiny dresses or sweatpants, Ms. Steinfeld salutes you.
"Passionfruit" - Drake
Admittedly, Drake won't be the song of the summer contender most likely to inspire top-of-your-lungs sing-alongs; his newest single, "Passionfruit" (with Zoë Kravitz chiming in on the vocals!) is more laid back than that. It's quintessential Drake: a super-sincere breakup anthem that'll get stuck in your head for days. Paramore thought it was catchy, anyway; the group performed a cover that takes it up a notch, but doesn't manner to capture the expressive, beachy vibes of the original, which made it to No. 8 on Billboard Hot 100.
"Human" - Rag 'n' Bone Man
OK, so this isn't necessarily your typical song of the summer, but it's a great track nonetheless. Released in 2016, "Human" has only recently made its way onto the U.S. charts. It has a solid hook with a raw sound ― backed by excellent production ― and topped off with Rag 'n' Bone Man's powerful voice. "Human" is a song that's here to stay, and it comes without any major bells and whistles. And that's refreshing. We're only human after all, right?
"Stay" - Alessia Cara + Zedd
There are a few reasons this track is a strong contender for Song of the Summer. First, it features Alessia Cara, who's been on the rise since her anti-party anthem "Here" was released in 2015. Second, it was produced by Zedd, who's pretty much everywhere these days, churning out bops like "I Want You to Know" and "Starving." Finally, it's got that EDM-infused sound that appeals to the masses (but, thankfully, isn't by The Chainsmokers) and it's catchy as hell. During a recent trip, I also heard it on the radio about a hundred times in the span of three days. If that doesn't scream Song of Summer, I don't know what does.
"Malibu" - Miley Cyrus
Gather 'round and let's talk about Miley Cyrus' latest reinvention for a hot sec, if only because my personal summer anthem, Carly Rae Jepsen's iconic "Cut to the Feeling," has already been covered here. Since we last truly heard from Cyrus, with 2013's "Bangerz" album that produced "Wrecking Ball," she has become the human iteration of a grassy church picnic day in July. In other words, something we might call "pleasant, if slightly unsettling." Or, as The New Yorker characterized it, "creepy." In any case, Cyrus' new safe-for-work schtick, an apparent product of her impending marriage to one of the Hemsworth clan, has produced a bouncy little tune, "Malibu," in which the singer comes off like a more gravelly Bethany Cosentino circa 2010. Fittingly, for Song of the Summer consideration, it is about the beach. And California. A beach in California, even. In her breezily simple lyrics, Cyrus admires the sky, the water and the fish, observing the heat and graciously sparing us deeper thoughts about "what I can't understand." If you turn on the radio this summer, you will hear "Malibu" within the hour, but it's not so bad.
"Don't Take the Money" - Bleachers
Jack Antonoff, who's been behind some of your fave pop jams from "1989" and the more recent "Melodrama," recently put forth his own full-length. The pretty OK sophomore effort "Gone Now" doesn't quite hit all the high notes, nor can it successfully soundtrack a pool party on its own — but Antonoff's lead single, "Don't Take the Money," surely can bolster a party playlist in the summer months. Co-written with Lorde, the song is peppy as all get out, and will make you feel like the hot season might never end while pumping it through your earbuds.
"Feels" - Calvin Harris, ft. Pharrell Williams, Katy Perry & Big Sean
This new Calvin Harris song sure does scream summer. It has a beachy and summery vibe that makes you just want to sit back and chill by the pool ― and maybe bop around a bit, too. On top of that, "Feels" features an all-star lineup. This single may be a late contender, but seeing as how summer is only now upon us, perhaps the timing is just right. Does it give you all the feels?