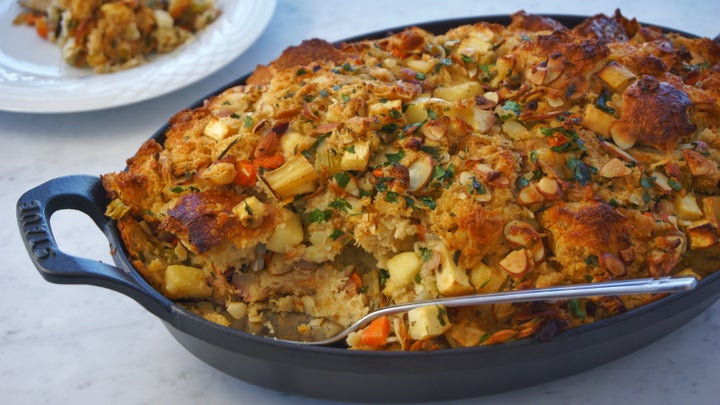 I don't know about you, but when it comes to Thanksgiving, I'm a side-or-die kind of guy. A beautiful turkey is great, but it just isn't complete without all the accoutrements doused in a glug of gravy. I'm talking green bean casserole, mashed potatoes, sweet potatoes with marshmallows and, of course, the holy grail of holiday sides: stuffing. It's one of the most comforting, carb-heavy dishes that I eat every year with fervor as if someone is going to take it away from me.
This will be my third year hosting Thanksgiving, and each time it gets a little bit bigger, blending families and holiday traditions. My sister-in-law is a vegetarian, so with the exception of the turkey and gravy, every single side dish I make is sans meat. It's been a stimulating challenge to shed the easy crutches of adding chicken stock or bacon to a dish to build flavor. Instead, I take other routes, using brown butter to add complexity to Brussels sprouts or caramelizing root vegetables for hints of smoky sweetness.
This stuffing recipe is an adaptation of the version I grew up with. My mother would rip up whole wheat sandwich bread and soak it in bouillon cubes reconstituted in apple juice before tossing with sautéed veggies, chopped apples and slivered almonds. While I absolutely adored it (I know it sounds kind of weird, but don't you knock my mom's stuffing), I decided to give this recipe a bit of an upgrade.
Here are my four commandments to help you reach your full stuffing potential:
1. In the words of the omnipotent Oprah, "I love bread." Play around with the types of bread you use for your stuffing, since the bread itself can impart flavor on the final product. I adore sourdough for a bit of tang but like to balance it out with country bread so it isn't too sour. Just be sure to toast it in the oven to dry it out, allowing it to absorb the liquid easier.
2. Veg out. Sautéed vegetables should be the base of any stuffing, fortifying it with tons more flavor. I start with the classic mirepoix of carrots, celery and onion, then I throw in whatever else is on hand. My recipe adds parsnips to the mix, which imparts lovely earthy notes that I've grown to crave in my stuffing.
3. Sweeten the deal. You don't need to have a sweet tooth to find the joy in adding sweet components to your stuffing. Apple cider and chunks of apple add rich caramel notes that accentuate the sweetness of golden vegetables and toasted bread. I mean, you're already putting marshmallows on your sweet potatoes, so what's a little added natural sugar?
4. It's all about texture. Nothing is worse than mushy stuffing. That's the main reason I don't stuff my bird ― I want as much surface area in a casserole dish to help it get golden brown and crisp. However, you don't have to stop there. Sliced almonds (or any nut of your choosing) add the most pleasant crunch mixed through your dish.
Now that you're armed with a flawless recipe, this Thanksgiving it's time to get a taste of the right stuff(ing).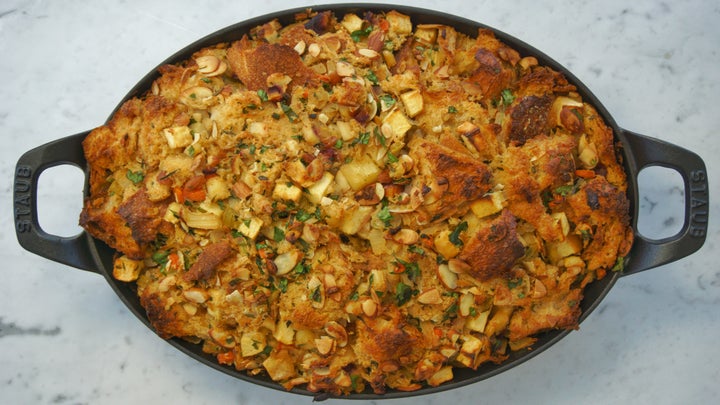 The Ultimate Thanksgiving Stuffing
Prep Time: 25 minutes, plus cooling time
Cook Time: 1 hour and 5 minutes
Total Time: 1 hour and 30 minutes, plus cooling time
1 pound peasant bread, torn into 1-inch pieces

1/2 pound sourdough bread, torn into 1-inch pieces

1 stick butter

2 medium yellow onions, finely chopped

2 medium carrots, finely chopped

2 celery stalks, finely chopped

2 parsnips, finely chopped

4 garlic cloves, minced

1 cup white wine

2 cups apple cider

1 cup vegetable stock

1 cup sliced almonds

1/2 cup minced parsley

2 tablespoons minced rosemary

1 tablespoon minced thyme

3 eggs, beaten

1 Honeycrisp apple, chopped

Kosher salt and freshly ground black pepper, to taste
1. Preheat the oven to 250 degrees Fahrenheit. Combine the peasant sourdough bread pieces on a sheet pan and bake until dry and crisp, 15 to 20 minutes. Let cool. Raise the oven temperature to 350 degrees.
2. Meanwhile, melt the butter in a large skillet. Add the onions, carrots, celery and parsnips, and cook until softened and lightly caramelized, 8 to 10 minutes. Add the garlic and continue to cook until fragrant, 2 minutes. Deglaze the pan with the wine and cook until evaporated, 2 to 3 minutes. Remove from the heat and let cool.
3. In a large bowl, toss the toasted bread with the vegetables and the remaining ingredients. Transfer to a 9-by-13-inch baking dish. Bake until golden and set, 50 minutes to 1 hour. Remove from the oven and let cool slightly, then serve.