 LAS VEGAS -- If there was a single category of products that dominated the 2012 Consumer Electronics Show in both volume and hype, it was Ultrabooks (capital U, if U please). Coined by Intel as mart of a marketing push, the term is a newish, very much a la mode term for "Ultra"-portable, "Ultra"-light laptops running Microsoft Windows and built around new, low-power Intel chips.
The Ultrabook was the highlight of many of the world's top PC-makers' press conferences and keynotes at this year's CES. Companies like HP, Dell and Lenovo each outed their takes on the new class of device, taking pains to emphasize both the weight ("It's less than X pounds!") and the thinness ("It's less than X millimeters thick!") of their respective Ultra-revolutionary, Ultra-new Ultrabooks.
Several manufacturers claimed superlatives in the budding Ultrabook field as they announced their infant Ultrabooks to the world. Acer declared its Aspire S5 the "world's thinnest laptop," measuring less than 0.6 inches at its thickest point; HP trumpeted its Envy 14 Spectre for its "unparalleled use of glass," coating black or silver glass over almost every section of its slick new Envy Ultrabook; Lenovo celebrated its first business Ultrabook with the Thinkpad T430u, the first Ultrabook marketed to enterprise users and corporate travelers. In a category as new as Ultrabooks, these superlatives are sure to be defeated as time goes on and Ultrabooks begin to define themselves as a more recognizable class of devices.
Intel and its chips directly unite all of these new machines, but it is the shadow of Apple that looms over many Ultrabooks, and not just in the design department. Though several entries do take stylistic cues from the Apple MacBook Air's teardrop form factor, what is more striking with Ultrabooks is how well the specs compare with full-fledged notebook PCs, just as the MacBook Air compares favorably with the MacBook Pro. In late 2011, the thinner and lighter MacBook Air began to approach its older brother the Pro in processing speed and memory, while retaining its slim body and svelteness; it proved that a laptop perfectly suitable as a primary computer -- not just a netbook with limited capability, but a genuine notebook -- could be as light and trim as the featherweight Air.
Ultrabooks continue that trend on the PC side of the notebook battle and introduce themselves as direct competitors to the MacBook Air. Indeed, Ultrabooks are similar in weight and thinness to the Air, though they run the still-dominant Windows OS, while the Air runs Apple's Mac OS X. Operating systems aside, where all of these Ultrabooks will really attack the Air is in the dollars category: The cheapest MacBook Air is an 11-inch machine that starts at $999; almost all of the Ultrabooks featured in our slideshow (below) are 13-inch laptops that cost well under $1,000. The great exception here is, unsurprisingly, the Ultrabook that has garnered the most buzz on the floor here in Las Vegas: HP's Envy 14 Spectre, the Gorilla Glass-glazed, 13-inch premium laptop that starts at $1,400. Given its price, and the chorus of praise for its deisgn, the HP Envy 14 Spectre might find itself in a big buck, slim laptop war with Apple's MacBook Air from here on out.
Though the Envy 14 Spectre may have gotten the crowds talking, it was certainly not the only one people were talking about. The Ultrabook, as a new sector of consumer products, attacking the Air both from below by undercutting its price and head-on with bold new designs, seemingly arose from nowhere here at CES 2012. Below, we've compiled all of the Ultrabooks introduced, with pictures, specs, and pricing and availability where available. Ultra-enjoy!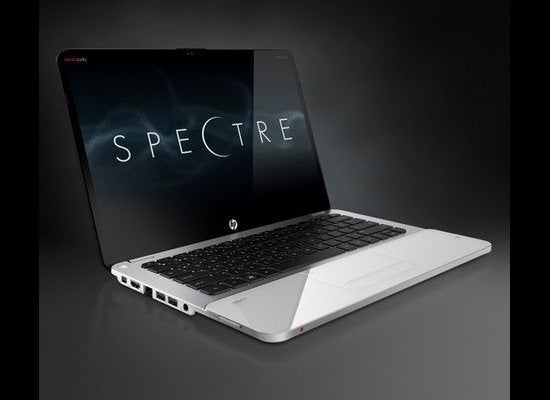 Ultrabooks At CES 2012
Related
Popular in the Community