Support and Encouragement
I have never run, whether a 5K, a half-marathon, a marathon or ultra distances, without the support and encouragement of my family. I was pregnant with my son when I ran my third 10K - the 1990 L'eggs Mini-Marathon in NYC. My two year old daughter, who was at my first 5K, stretched with me before the start of the L'eggs Mini-Marathon, and waited for me with my husband at the finish asleep in her running stroller. When my son was six months old I ran my first half-marathon - the 1991 Philadelphia Distance Run. My sheer exhaustion evaporated when I saw my husband and children at the finish cheering me on.
As I progressed to running ultramarathons, they progressed with me as my pacers and crew.
My husband's unconditional love and patience have kept me going at every race. Now that we're empty-nesters, Jon has been elevated to sole pacer and crew. He alone drains my blisters, duct-tapes my blistered toes and feet, helps me peel my sweaty and dirty clothes and put on a fresh set of running clothes, feeds me, replaces dead batteries in my headlamp, lends me his FitBit while recharging mine, ices and massages my feet, and reassures me when I'm cranky and semi-incoherent with sleep deprivation - "You're looking good! You're right on pace."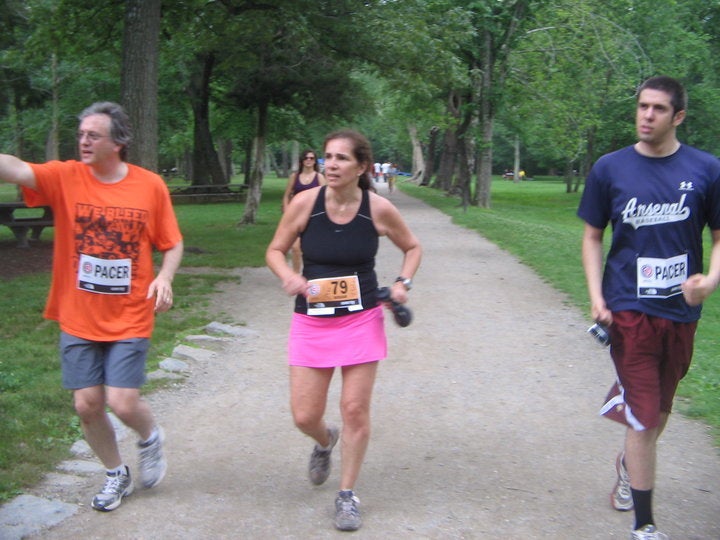 Unique and Special People
I would not have been able to finish and do as well as I have in many of my ultra events without my family.
The solitary sport of ultrarunning requires strength, endurance, patience, care, and encouragement. I have received and continue to receive these gifts from my family - from my husband at the ultras, and now that my children can't be at my ultras, in their text messages.
Pacers and crew are unique and special people. Mine are patient. They go without sleep. They have a special kind of strength and disposition. They entertain themselves to help pass the time before their runner arrives to refuel and rehydrate, to have a blister drained, to change clothes, to get cleaned up and bandaged after a tumble, and much more. They love their ultrarunner and want her to succeed.
My daughter, who is now a mother of two beautiful children and pushes them in their running stroller, sees herself more as support crew than a pacer. She is the "sunscreen lotion applier." She remembers only pacing me once - at the Tussey Mountainback 50 miler - where she paced me for three miles. She shares,"I remember having to convince you to just not walk. A super slow jog was better than a walk. And you did it!." My son shares that as a pacer he takes cues from me, leads in front of me, and reminds me to "take one step at a time." Now that he's my only pacer my husband is happiest when I run 50 milers. "The Lake Wamaraug 50 miler was the best - no pacers allowed."
Reflecting on her experience as crew, my daughter remembers "lots of changing socks, sneakers, applying sunscreen to your sweaty body, Vaseline, Tiger Balm, etc. to your feet/toes, and watching you eat turkey and cheese on bagels, drinking Pepsi, and munching on M&Ms."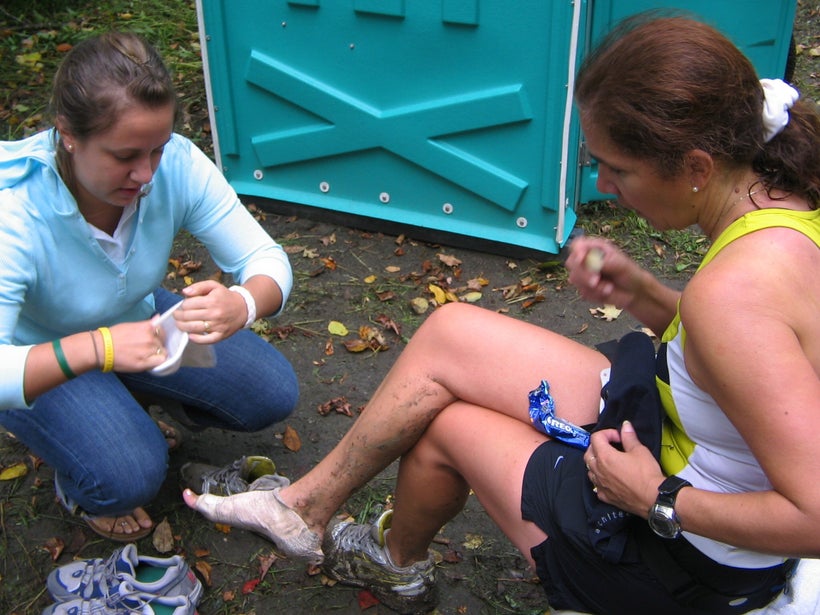 My son shares, "It's always a surprise what you will need, There's plenty of improvisation even when we think we are prepared. Good improvising on our part lends you a better and quicker "pit stop" in regards to your pacing/timing during the race." My son is encouraging and gently tough as a pacer. His words and his belief in my ability are the ammunition I need to propel my beaten feet, exhausted mind, and fatigued body.
My husband's crewing responsibilities include filling a shoe box or a clear container box with supplies - bandaids, Neosporin, a surgical blade for draining blisters, bug spray, headlamps, and duct tape. Crewing means packing the cooler with water, hydration drinks, Pepsi, ice, avocado, coconut water, dark chocolate almond milk, coconut cream, seltzer, and homemade chocolate chip almond cookies. Crewing also means helping me change running clothes, socks, and shoes during 100 milers and 24 hour ultras in all kinds of weather.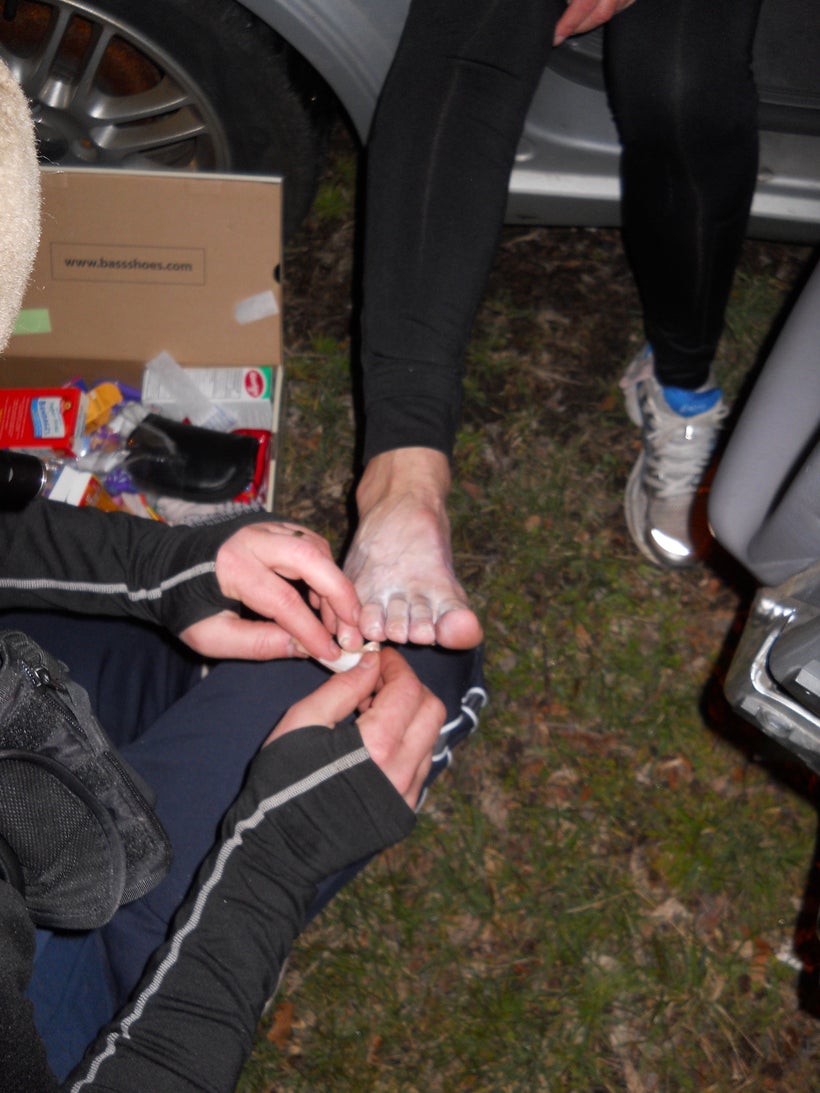 Patience
While patiently waiting for me, they have napped. They have taken lots of pictures. They have read books. My son adds, "It's time granted to me. I can sit and talk with my father and sister. We're generally outside in terrible cell service so distractions are few and far between. It's uninterrupted time to communicate with others; just as I imagine you have uninterrupted time with nature and God." Because he's now my only crew, my husband adds, "I don't do anything because I'm waiting for you. I can't go to sleep because I don't want to miss you when you come through."
It's not uncommon for pacers and crew to feel frustrated. Trying to anticipate the runner's needs can be aggravating. For my son, strategizing with me to get the most efficient food intake, clothing change, and sometimes being out of sync and striking out is frustrating. But it's not all aggravating. For my daughter, seeing me finish after doubting myself or thinking that I won't make a time cut-off, and seeing me come around the bend or through an opening in the woods with blood dripping down my knee as I begin to tell how it all happened and all while smiling and loopy, makes crewing rewarding. Seeing me finish the race is what my husband finds the most rewarding.
My family's years of pacing and crewing have taught them a bit about me, themselves, and the world of ultrarunning.
My daughter advises that to be a crew member you have to be patient. "I'm not a patient person but I have learned some patience." She adds, "But being a crew member is fun! We all share this common experience of having a crazy loved one who is running an obscene amount of miles...but we love her anyway. And we're there to support her."
My husband adds, "If you're a patient person, you are a good crew; if you're not patient, crewing will teach you patience."
For my son, who paced me for a 30 miles during a 24 hour ultra, "30 miles isn't a lot if you take your time. I understand how you can manage it despite it being seemingly unfathomable."
A Unique Bond
They have fond memories of being part of my ultrarunning events. One of Jonna's fondest memories is her first ultra crewing experience at my first ultra - the JFK 50. "It was so cold that Bash and I were wrapped in layers at the start." The JFK 50 and the Vermont 50 leave Bash with good memories. One memory is "waiting with Dad and Jonna in the mini-van listening to Dane Cook on Jonna's iPod." The other is at the Vermont 50 "pacing you in the dark along ski slopes. That was scary in a fun way." My husband's fondest memory is that of pacing me at 3 o'clock in the morning in a torrential down pour, lightening, and thunder along the Erie Canal at the Beast of Burden 100. He recalls, "It was a moment of spiritual bonding with you."
Runner and pacer, and runner and crew share a unique bond. Sometimes family members are not available to pace or crew. That's when friends and total strangers with running, pacing, and crewing experience are of great help.
There is also a special bond among the pacers and crews. They not only help their runners but also each other. My husband shares that while they wait for their runners to come through, "we talk to each other about our runners. We talk about the pride we have in our runners. We share stories. We help each other with food, batteries for headlamps, etc."
Invariably, confusion and frustration amid the wait of long miles, endless hours, and tired bodies, are par for the course during ultra events. There are times when things go great and when things go wrong. But there is joy and elation at the finish for the runner, pacer, and crew. And when things have not gone as planned and I earn a DNF (did not finish), I am never so happier to have my family with me.
I have great affection for my pacers/crew and great admiration for the pacers/crew that make ultrarunning achievable. Jonna has learned that, "ultras and ultrarunners are ridiculous in the best possible way. Everyone is so supportive - runners, crew, and race volunteers. The runners are fearless. Determined. Happily insane. Fierce. Seeing you complete as many as you have doesn't seem real. But it is! It's crazy, and cool, and inspirational." Without the support of our pacers/crew whether family or friends, our fearless, determined, and happily insane ultrarunning life would not be possible.
To learn more about pacing and crewing, I leave you with two very good articles. One provides tips and the dos and dont's of being a pacer. The second focuses on the pros and cons of crewing and pacing.
REAL LIFE. REAL NEWS. REAL VOICES.
Help us tell more of the stories that matter from voices that too often remain unheard.
This post was published on the now-closed HuffPost Contributor platform. Contributors control their own work and posted freely to our site. If you need to flag this entry as abusive,
send us an email
.