When tourists fly into New Orleans this week, they will be welcomed by a large sign at the airport exposing the condition of women in the state.
"Louisiana women are paid $.67 to every man's dollar," the sign reads. "More than 22% of women live in poverty. Louisiana doesn't guarantee ANY paid maternity or sick leave. A recent study ranks Louisiana the WORST state for women."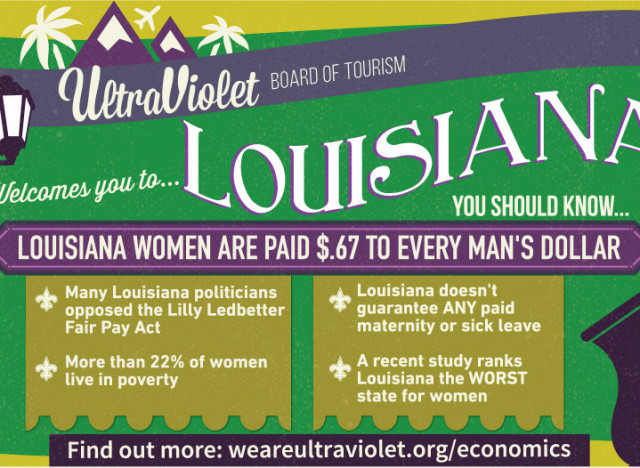 An Ultraviolet ad at an airport in Louisiana.
Similar signs will greet travelers at 10 other airports throughout the country this week-- three in Texas, two in North Carolina, three in Ohio, and an airport each in Nevada and Kentucky. One ad at a Dallas airport points out that Texas' new abortion restrictions will close 38 women's health clinics in the state. At an airport in Charlotte, North Carolina, travelers will learn that more than 20 percent of women in the state live in poverty, and that daycare there costs, on average, $2,600 more than college tuition.

If tourists are turned off by the signs, that's the point, says Nita Chaudhary, co-founder of the group sponsoring the ads. Ultraviolet, a progressive women's rights organization, launched the bold, six-figure airport campaign this week in hopes of informing voters, tourists and business owners about states' policies that negatively affect women.
"We know politicians spend a lot of time in airports, and they're trying to court businesses to set up headquarters in their states," Chaudhary told The Huffington Post. "What we're saying is, 'Welcome to Ohio, one of 31 states that allow rapists to sue women for child custody rights. This state treats women badly.'"
The hope, Chaudhary said, is that people will start asking their elected representatives questions about their support for or opposition to certain policies that affect women, including minimum wage proposals, equal pay laws, anti-abortion laws, child care assistance and paid family and maternity leave laws.
"A lot of the states in the news for their efforts to enact more and more abortion restrictions are also the places that have a horrible record on women economically, so we're trying to show people that this isn't just about one thing," Chaudhary said. "There are attacks on women happening broadly."
Ultraviolet tried to buy a similar ad at an airport in Sarasota, Florida, earlier this year, and the airport rejected the ad.
"We rejected it because it was political, and as a government entity we can't do political ads," John Schussler, director of properties at Sarasota-Bradenton International Airport, said at the time.
For this recent campaign, three airports -- in Charlotte, North Carolina; Reno, Nevada; and Louisville, Kentucky -- rejected Ultraviolet's purchase of open ad space inside the airports. As a back-up plan, Ultraviolet plans to erect billboards right outside of those airports so travelers can see them as they enter and exit. The group is still waiting to hear back from other airports on whether they will accept the ads inside the premises.
"I am literally sitting here with bated breath, waiting to see what happens," said Chaudhary.
Before You Go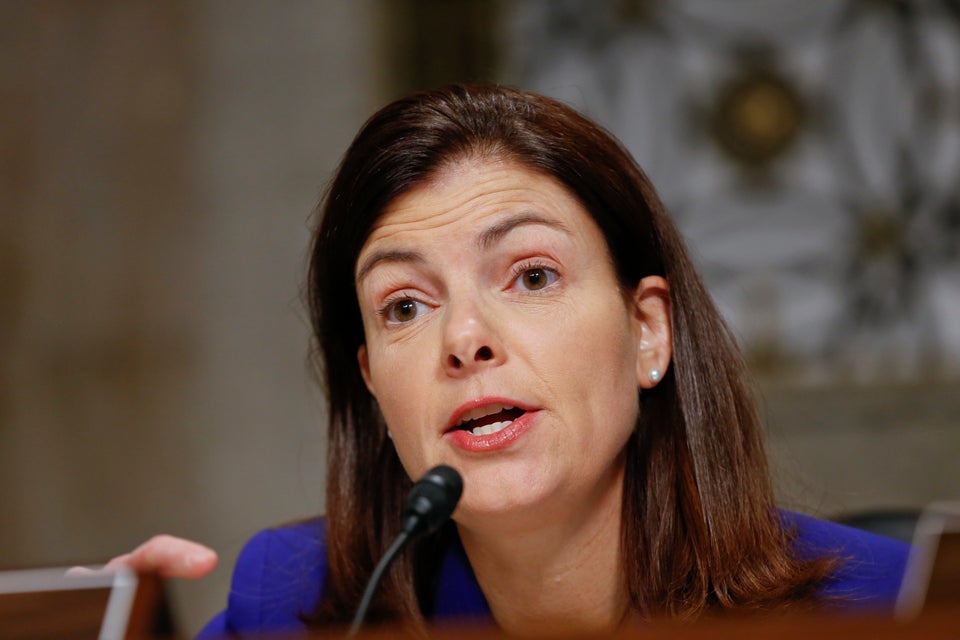 GOP Women In Congress
Popular in the Community