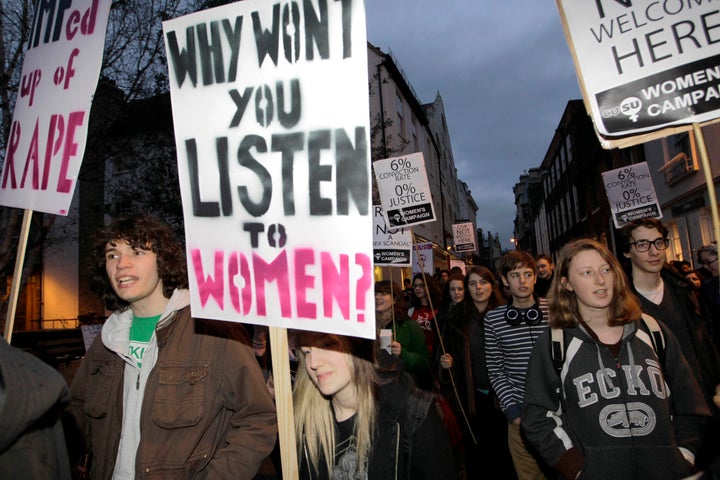 Progressive campaigners and online activists Nita Chaudhary and Shaunna Thomas had an idea for a new kind of women's rights group: one that uses cutting-edge online advertising techniques to engage more people in the fight to end sexism in politics, media and pop culture.
They were not quite ready to launch their project, called UltraViolet, and their website was not yet running when the news broke that Susan G. Komen for the Cure had pulled cancer screening grants from Planned Parenthood over abortion politics. Feeling that this could be their moment to grab women's attention, Ultraviolet leapt into action, launching its first campaign with Moveon.org to call on Komen to reverse its decision and gathering 60,000 signatures in just a few hours.
Komen reversed its decision two days later, Komen executive Karen Handel resigned, and Chaudhary and Thomas suddenly found themselves at the helm of a rapidly growing women's rights community.
"We went from a tiny organization with a few thousand members to a quarter million strong, with members in every state and congressional district," Chaudhary told Huffpost. "The right wing decided to escalate a bubbling war on women, and hundreds of thousands of people came out of the woodwork to fight back with UltraViolet."
UltraViolet, which is funded by the progressive nonprofit Citizen Engagement Lab, has already gathered 300,000 members in less than two months of existence, making it clear to the women's rights community that the days of organizing sit-ins at local courthouses and knocking on doors to gather signatures are long over. While its founders say that UltraViolet is not intended to replace the important women's advocacy groups that already exist, such as the National Organization of Women, they are using social media in new and unique ways to reach more people.
"Women needed far more vehicles for making their views heard," Thomas said. "It's a nimble, lean organization using newer online advertising tactics and rapid response to create truly in-the-moment, media-driven campaigns. Our goal isn't to replace or replicate what organizations are already doing, but to reach more people and bring more voices into the space."
Since the Komen debacle, UltraViolet has found numerous reasons to rile up its members. It was the first group to call for advertisers to ditch Rush Limbaugh's show after he called Georgetown student Sandra Fluke a "slut," and that petition collected more than 160,000 signatures. More than 40 advertisers have peeled off the show so far, including ProFlowers, which Ultraviolet singled out as an organization that primarily serves women.
Another petition circulated by UltraViolet, asking Congress not to repeal President Obama's birth control coverage mandate, received 75,000 signatures in a few hours, and 10,000 people submitted personal stories of how birth control is vital to them. And Thomas and Chaudhary are now trying to escalate a campaign to stop former director of the White House National Economic Council Larry Summers from heading the World Bank.
"We know laws and elections aren't going to end sexism alone," Thomas said. "We need to shift our fundamental culture, the products we buy, what we see on TV. Last year, we jumped on a story about how iPhone's Siri couldn't find an abortion provider in New York City and would push people to crisis pregnancy centers, and it resulted in 30,000 signatures overnight and eight major stories. A good lesson for us there is that culture matters, and that's going to be a core focus over the next year."
With so much debate in the culture around women's health issues lately, the ground is particularly fertile for an up-and-coming women's rights group to reach and engage women in all corners of the country, who otherwise wouldn't be paying attention to politics. So far, Chaudhary and Thomas are the only two people involved in Ultraviolet's day-to-day operations, but Chaudhary said they're "looking to build up pretty quickly" and become a major player in the 2012 elections.
"The GOP war on women is so horrifying, it's essentially spawned this new community of people saying, 'Wait a minute, this is 2012. We want to take action to oppose this stuff,'" Thomas said. "As awesome as the tools are and as much experience we have, it's more the environment we're launching in that's really conducive to mobilizing women."
REAL LIFE. REAL NEWS. REAL VOICES.
Help us tell more of the stories that matter from voices that too often remain unheard.
BEFORE YOU GO