In the piece, Thurman expresses her complex feelings about what happened and wrestles with feeling guilty over other women who were assaulted after her.
"I am one of the reasons that a young girl would walk into his room alone, the way I did," she said. "Quentin used Harvey as the executive producer of 'Kill Bill,' a movie that symbolizes female empowerment. And all these lambs walked into slaughter because they were convinced nobody rises to such a position who would do something illegal to you, but they do."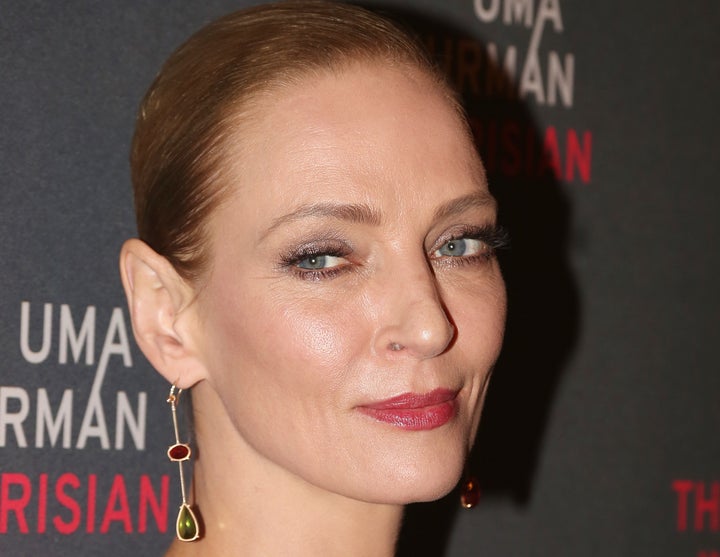 Thurman described an incident after the release of "Pulp Fiction," when she said Weinstein donned a bathrobe during a meeting in a Paris hotel room and got her to follow him into a steam room, at which point she left. At the time, she wrote it off as him being "kooky."
But on another occasion shortly thereafter, she said, Weinstein physically assaulted her, pushing her down, attempting to expose himself and doing "all kinds of unpleasant things."
When Thurman later tried to confront Weinstein, he allegedly threatened to ruin her career as an actress, her friend, Ilona Herman, told the Times.
In a statement sent to HuffPost, a Weinstein spokeswoman characterized what happened in the Paris hotel room as "an awkward pass" made by Weinstein after "misreading [Thurman's] signals." Weinstein apologized for the incident and "deeply regrets" it, according to the spokeswoman.
The statement also maintains that Weinstein never assaulted Thurman.
"Her claims about being physically assaulted are untrue," the statement reads "And this is the first time we have heard those details."
The statement included several photos of Thurman and Weinstein at events, which the spokeswoman purports demonstrate the pair had a "strong relationship."
Through the spokeswoman, Weinstein also denied that he had ever threatened Thurman's career.
"Throughout the years, Ms. Thurman was a close friend and one of Mr. Weinstein's favorite actresses to work with," the spokeswoman said.
In the Times article, Thurman also discussed being coerced into sex at age 16 by an unnamed actor, as well as an abuse of power by director Quentin Tarantino.
Thurman told Dowd that on the set of "Kill Bill," Tarantino pressured her into doing her own stunt driving in a situation where she felt unsafe. The incident ended in a crash, which left her with a "permanently damaged neck" and "screwed-up knees."
Despite all that had happened previously with Weinstein, it was the crash that truly left her feeling powerless in the industry.
"I had been through so many rings of fire by that point," she said. "I had really always felt a connection to the greater good in my work with Quentin and most of what I allowed to happen to me and what I participated in was kind of like a horrible mud wrestle with a very angry brother. But at least I had some say, you know?"
Tarantino's representatives did not immediately reply to a request for comment from HuffPost.
Thurman first spoke about Weinstein, and the Me Too movement in general, back in November.
She added, "I've been waiting to feel less angry. And when I'm ready, I'll say what I have to say."
The clip, in which Thurman's slow, ultra-controlled demeanor made her sound like she was fighting to rein in her rage, went viral.
Weeks later, she posted a foreboding message on Instagram, writing, "I feel it's important to take your time, be fair, be exact, so... Happy Thanksgiving Everyone! (Except you Harvey, and all your wicked conspirators ― I'm glad it's going slowly ― you don't deserve a bullet) ― stay tuned."
This post has been updated with comment from a Weinstein spokeswoman.