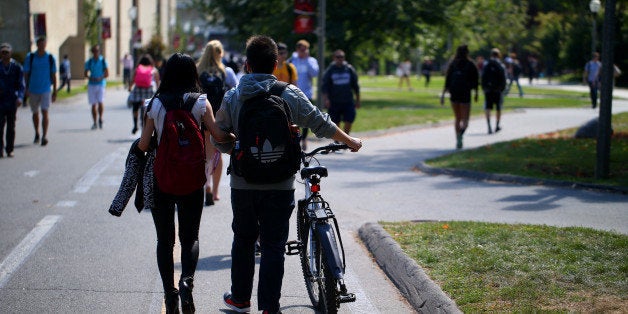 The University of Massachusetts-Amherst deleted a policy statement Friday that warned students from Iran not to apply if they plan to major in certain fields, citing U.S. sanctions against their home country.
UMass-Amherst said in a Feb. 6 policy statement sent to faculty this week that Iranian national students will not be admitted to several programs in the university's College of Engineering and the College of Natural Sciences. After the policy received criticism and circulated on Twitter Thursday evening and Friday morning, UMass removed all references to it from its website.
"We recognize that our adherence to federal law may create difficulties for our students from Iran and regard this as unfortunate," the university said in a statement to The Huffington Post. "Furthermore, the exclusion of a class of students from admission directly conflicts with our institutional values and principles. However, as with any college or university, we have no choice but to institute policies and procedure to ensure that we are in full compliance with all applicable laws."
The university blamed the policy on a 2012 Iran sanctions bill and subsequent guidance from the U.S. Department of Homeland Security. The bill bars visas to alien students who plan to study for "a career in the energy sector of Iran or in nuclear science or nuclear engineering or a related field in Iran," at the U.S. Secretary of State's discretion, and the university said it feared "significant penalties, both civil and criminal."
Iranian students on campus were "panicking" due to the policy, but have faith that the university will be able to clarify the position, said Shirin Hakim, former president of the UMass Persian Student Association. She noted the Amherst campus is a welcoming place for international students.
"If nothing is done to change it, it will impact future prospects for Iranian students who wish to study in the States and cultural exchange -- something that I find so beautiful and valuable for both the Iranian and American student community," Hakim said.
National Iranian American Council Policy Director Jamal Abdi said he hopes the university will change its position, and insisted UMass isn't required to have a policy like this in place.
"The rejection of Iranian students is based on a misinterpretation of U.S. sanctions law," Abdi said in an email. "It would not be the first time that the myriad of broad sanctions restrictions were mis-enforced or over-enforced and left unintended victims. We hope the policy is reversed so that UMass Amherst can continue to be an institution that fosters academic exchange and open communications, instead of an instrument of a harmful sanctions policy."
In a letter to the university on behalf of NIAC, Abdi wrote that the 2012 law authorizes the departments of State and Homeland Security to refuse visas to Iranian nationals pursuing certain degrees, but "does not require that universities take their own enforcement action."
An Immigration and Customs Enforcement official told HuffPost the agency is developing draft guidance "pertaining to this legislation."
This article has been updated to include Immigration and Customs Enforcement's comment.
Popular in the Community