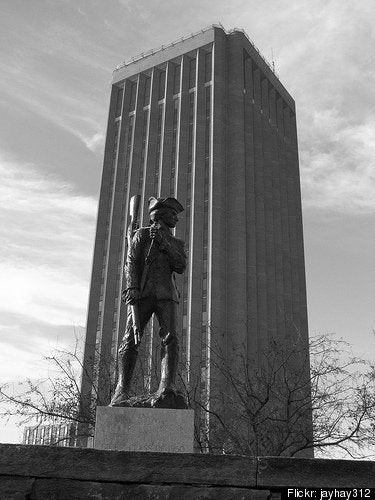 A University of Massachusetts-Amherst student who confessed to raping a woman was allowed to continue to live and study at school after receiving a warning, the Boston Globe reported today.
School officials punished the student with a deferred suspension -- essentially an advisory -- after the victim in the case reported the incident in November 2009.
Jean Kim, vice chancellor for student affairs and campus life, told the Globe that the oversight was a rare administrative error and the student's punishment could not be overturned or increased.
Such responses to sexual assault on college campuses are not rare. As the Globe reports:
Newly obtained Justice Department data show that reports of sexual assaults on college campuses rarely lead to serious sanctions. Ten New England universities and colleges provided the data as part of a campus grant program overseen by the Justice Department's Office of Violence Against Women.

Of the more than 240 alleged assaults the schools reported between 2003 and 2008, four led to expulsions. The grant recipients in Massachusetts included Salem State College, the Massachusetts Institute of Technology, Northeastern, Tufts, and UMass Amherst.
Between 2003 and 2007, 26 reports of sexual assault were brought for review by the dean of students. Eleven of those cases received sanctions - none were expelled, three were suspended - while the other 15 were dismissed due either to insuffient evidence, the victim's request, or the accused student's willful departure from the University, said [Campus Spokesperson Edward] Blaguszewski. UMass has a broad range of sanctions beyond expulsion and suspension, including probation, removal from housing, and fines, he added.
The Collegian also gauged campus reaction to the incident:
"I think this campus makes a big deal about stupid things a lot of times and not a big deal about serious things like this," said UMass sophomore Tim Miller, a natural resources conservation major. "People are getting all of these crazy suspensions for things like downloading music, and something like this happens and gets overlooked."
REAL LIFE. REAL NEWS. REAL VOICES.
Help us tell more of the stories that matter from voices that too often remain unheard.