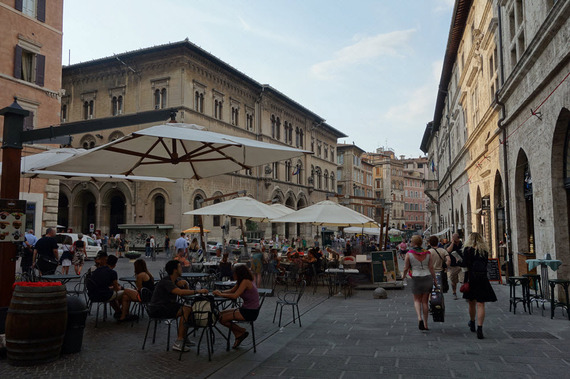 There was a lull in the city of Perugia during the week leading up to the Umbria Jazz 2016 festival before the jazz fans arrived and filled the city to the brim. A few scattered tourists milled around the Piazza IV Novembre early in the week, and the prevailing atmosphere was that of any other calm, breezy summer day in the city. By the time Friday rolled around, the same piazza was teeming with people as the festival got under way.
The program for the festival this year was as eclectic as ever with a mix of jazz styles and talented artists like Massimo Ranieri, Ezio Bosso, MIKA, Dianna Krall, George Clinton, along with a special 75th birthday celebration with Chick Corea.
There was a wide selection of free events at a variety of local venues, piazzas, cafés, and local jazz spots, including the gardens at the Giardini Carducci. There were also some great options at venues like Arena Santa Giuliana with shows available at a reasonable entrance fee, especially in the open seating section (Gradinata non numerata)
The opening weekend of the festival was packed with great music:
On Friday night the 8th of July the Pedrito Martinez Group played at the Giardini Carducci, featuring music that echoed his Cuban and Afro-Cuban roots. The beat of the music was infectious and many people danced to the rhythm. That same night there were a variety of other great performers in the garden, including Accordi Disaccordi, The Allan Harris Band, Sticky Bones, and Sammy Miller and the Congregation.
On Saturday the 9th at the Arena Santa Giuliana the well-known Canadian jazz pianist and singer Diana Krall performed on the same stage as Ona Onabule, the British-Nigerian, soul, jazz, singer-songwriter, musician and producer. After a show that clearly demonstrated her prowess as both a pianist and a singer, Diana Krall played a wonderful encore with a variety of music from different eras that she interpreted in her own unique fashion.
The warm evening afforded a pleasant atmosphere to hear the outdoor concert, including the placement of large screens around the stage, which allowed the possibility of hearing the music in the nearby garden.
The festival continues with enticing events during the entire week. It will be tempting to be in the heart of the city every evening to catch the amazing variety of shows. No doubt many attendees will do just that as they gorge themselves on the great music, excellent food, and lively atmosphere.
At the closing of the festival on Sunday, July 17th at the Arena Santa Giuliana Chick Corea will be accompanied by a wonderful group of musicians to cap the festival with the big birthday bash onstage.
REAL LIFE. REAL NEWS. REAL VOICES.
Help us tell more of the stories that matter from voices that too often remain unheard.