This story is part of a series on Muslim college students:
On Feb. 23, the Arab and Muslim American Studies program of the University of Michigan, in conjunction with the school's Muslim Student Association, the Middle East and Arab Network (MEdAN) and Students Allied for Freedom and Equality (SAFE), held a town hall "in response to the recent string of anti-Muslim and anti-Arab hate crimes." About 60 people attended.
Timeline made by HuffPost using events as described by Alsultany.
The Huffington Post spoke by phone with Fatima Chowdhury, a junior from the Bronx, and Meryem Kamil, a Ph.D. pre-candidate from California in the school's American culture department. HuffPost also corresponded with Evelyn Alsultany, a professor in the American culture department and the coordinator of the Arab and Muslim American Studies program, by email. Kamil organized the town hall with Alsultany. Chowdhury attended the event and has taken a class with Alsultany.
This is what they said about the town hall at the University of Michigan, as well as anti-Arab and anti-Muslim attacks and sentiment and the importance of having a space to talk, as told to Alexandra Svokos:
Kamil: I decided to run the town hall because some of the undergraduates had put together a vigil a few days after the Chapel Hill shooting. I'm kind of a jaded person -- of course I was upset, but I think it wasn't so shocking to me. But at the vigil I saw a lot of students looking extremely upset and scared.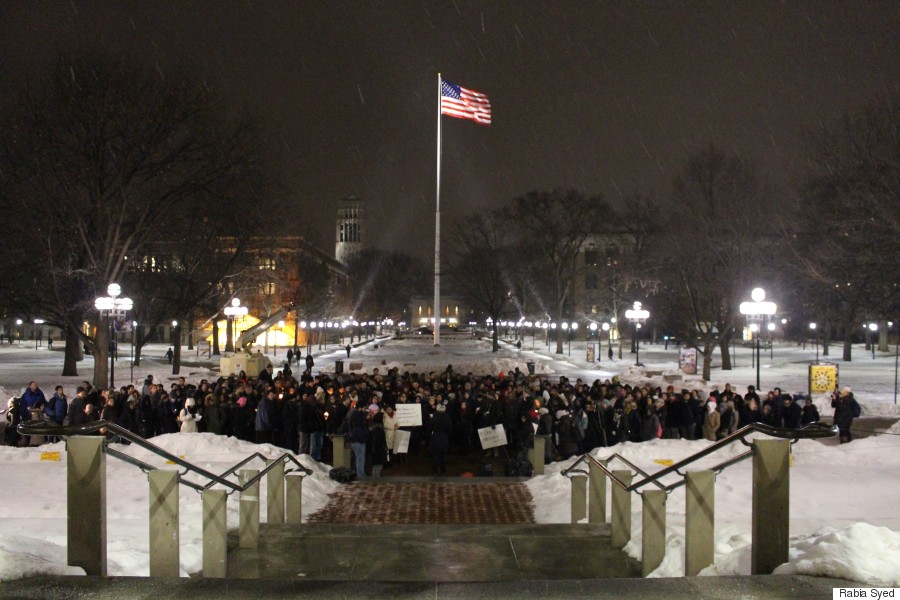 The Chapel Hill shooting vigil at the University of Michigan.
Chowdhury: The vigil was really comforting. No one had to say anything to anyone, no one had to explain why they were upset -- which had to happen all throughout the day. You had to explain why you were upset and why this was a relevant event, because a lot of people weren't understanding why Muslim and Arab students were scared and feeling attacked.
But in that space we didn't have to explain anything. We were all there for each other. It was nice to see so many different people who never come out to these kinds of events come together and stand in solidarity. It was really important for that to happen.
Alsultany: Students do come to office hours to discuss a range of issues -- from standard questions about course materials to more personal fears about the safety of their families and their own experiences of alienation on campus. The alienation often comes from being perceived as a terrorist-supporter because of their pro-Palestinian activism or experiences in class with students or faculty making passing comments that associate violence with Islam.
Kamil: That entire week, Professor Alsultany had a lot of students coming to her office hours and crying about how they were really worried for their families.
I was thinking I should take up responsibility in opening up a space for undergrads to be able to speak about this, to be able to process their grief and to understand that the way that they're feeling is not wrong.
Alsultany: The purpose of the town hall was to process and grieve for the victims of hate crimes, and to build allyship and solidarity across groups on campus that represent Muslim and/or Arab community members.
We did not have an agenda. The floor was open for students to talk about whatever was on their minds. Many students spoke about how the murder of Deah Barakat, Yusor Abu-Salha, and Razan Abu-Salha profoundly impacted them. They were highly identified with them and stated that any one of the students in the room could have been Deah, Yusor, or Razan.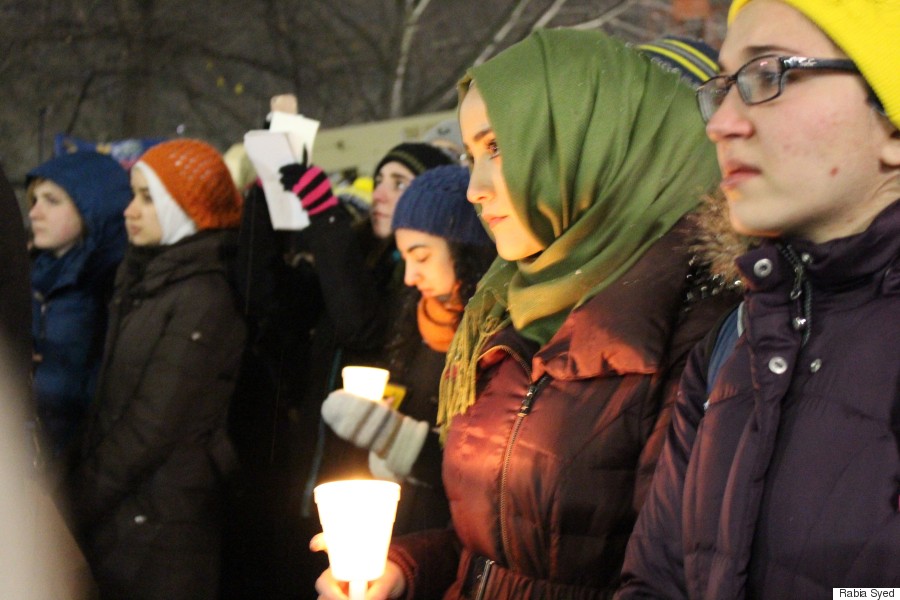 Students with candles at the Chapel Hill shooting vigil.
Chowdhury: It started out with discussion on Chapel Hill, but then people recalled other instances in which they felt isolated in that way -- even as Americans. It was kind of shocking to see how often it was occurring within the community.
Kamil: There are people who have been almost run over while they're wearing Palestinian scarves.
There's also been a lot of professors who say really problematic things. For example, a TA in an Arabic class recently asked where students were on 9/11. These are mostly Arab and Muslim kids taking this class. The TA was confronted by a student who said that was a triggering question, and it's kind of strange to be asking in an Arabic class. The TA said it wasn't triggering at all, and asked, "Why should I be sensitive? I was just asking about a life event of yours." Plus students were around [age] 5 or 6 when 9/11 happened, so that was a weird question to ask.
Chowdhury: This is kind of random, but you know Yik Yak? One of my friends was on Yik Yak looking at reactions to the shooting, and a lot of people were telling Muslims to go back to their countries, or that they deserved it. That was very startling to see, and also very isolating.
That's kind of the way it functions on campus: in microaggressions. It's not very outright all the time. I think a lot of people are not used to dealing with Muslims or people that they think are Muslim, and so when they have to deal with it, you can kind of see certain biases. Like when they talk about terrorists, for example, they'll look at you and ask you for your opinion, because they think you would have some insight.
I don't think it's necessarily from pure hatred. I think it's mostly from the media. If you're not interacting with people and you keep seeing them portrayed in one way, you think they are that way. So when you're confronted with them, you just don't know what to do, I guess. Hopefully. Hopefully that's the reason.
I don't have a single Arab or Muslim friend that hasn't expressed some sort of discrimination that they've experienced.
We have bias incident reporting. But that also doesn't change anything, you know? You report it, it's written down, but there's no... I don't know. I guess you can't really do anything about it. The person who did it can potentially get in trouble, but the likelihood of that happening is very slim.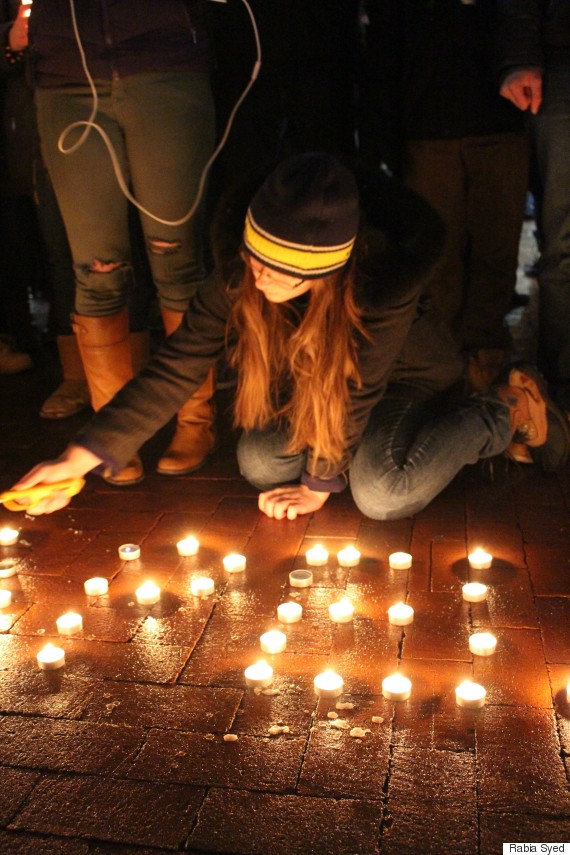 A student lights candles at the UMich Chapel Hill shooting vigil.
Kamil: At the end, we wrapped the town hall up by thinking about what we think our community needs. A lot of students wanted a place like that to be regular. They also were interested in putting together suggestions for the university's administrators to make sure that they felt safe on campus.
I really wanted people to have a place to go, other than Evelyn's office hours, so they could have one space to talk about [and] really understand that they're not the only ones feeling scared, upset and distressed.
Chowdhury: Basically we realized we have to have these much more often. We didn't realize that we could talk to each other. We needed a support system, and there was no organized way we could do that. So the town hall was the first instance in which a lot of us were able to come together and actually talk about issues that are very pertinent to our community. We realized this needs to continue.
We just got a lounge that has been in the works for a long time, called the Edward Said Lounge. It's a very small space, and it's inaccessible to anyone that's not living in that dorm building. But that's the space that we have as of now.
Alsultany: There are multiple student groups that are actively creating spaces to have difficult conversations. The student group, MeDan, just [on March 10] organized a conversation about being Arab and gay. The MultiEthnic Student Affairs office has supported students in organizing an Arab Heritage Month (this year will be the second one). Students have organized a Palestine Film Festival for later this month. The creation of the Edward Said lounge shows that the administration is listening and learning about the needs of Arab and Muslim students on campus.
Kamil: I want to support things that are organic from the students. I don't want to be promoting top-down solutions, but I also want to provide support. So we're trying to balance those things. It's going to be difficult thinking about how exactly the American culture department should continue supporting these students in a way that is productive and organic.
Chowdhury: The town hall was really important for creating a space that we could be ourselves, not have to justify our existence. We could talk about who we are and understand what happened. Like a support network.
Kamil: I wish we didn't need to have the town hall. But I think it was a valuable space for the students who were there. At least that's the feedback that I got.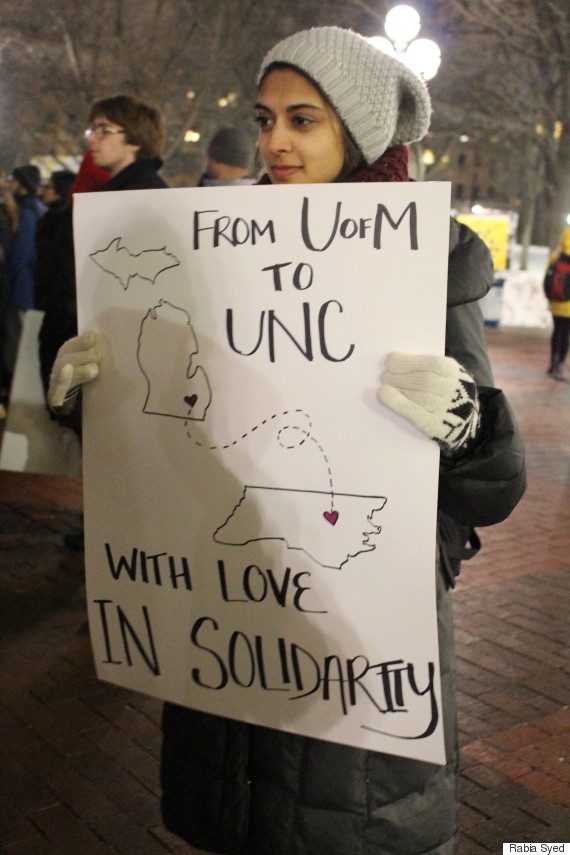 A sign at the Chapel Hill shooting vigil.
These interviews have been condensed and edited for clarity.
Related
Popular in the Community