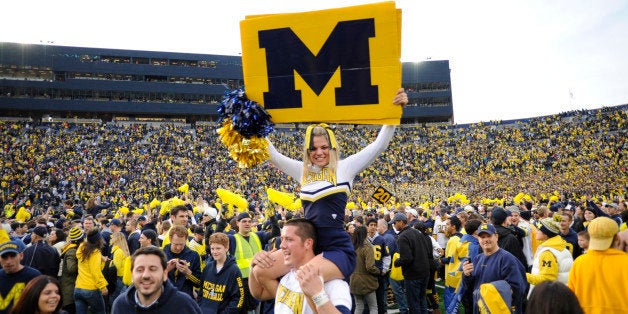 Will Heininger, a sport management major at the University of Michigan, was living what was supposed to be a dream. He was playing football for UM, a school that shapes the entire character of Ann Arbor, the city where Heininger grew up. But at 19, he found himself struggling with depression -- not that he knew to call it that, at the time. What he knew was that he had "no motivation" and could find "no pleasure in anything," as he would later describe it.
"It's wonderful to play a sport collegiately, but only if it's a positive experience in your life," Heininger told The Huffington Post last week.
Ultimately, his athletic trainer realized that Heininger was struggling and set him up with a therapist.
"My life went from 100 to zero, and then to better than ever after getting help and understanding what depression is and how common it is," Heininger said.
Heininger graduated in 2011. Three years later, he returned to UM to help develop Athletes Connected, a program that helps guide the school's athletes to any mental health resources they may need.
Athletes Connected was created this past spring after the NCAA awarded the university an Innovations in Research and Practice Grant to create a "model program for supporting the mental health of student athletes." The program is a collaboration between the university's School of Public Health, its Athletic Department and its Depression Center, which specializes in depression research.
Although college athletes tend to receive good physical care, their mental well-being is not always seen as a priority.
"It's not that student athletes have more significant issues with mental health," Barbara Hansen, a social worker in athletics at UM, told HuffPost. Rather, she said, it's that they don't take advantage of the available resources at the same rates as other students.
"There is a concern for their status on the team and their playing time. Some of them worry that if they reveal what people think of as a weakness, that might hurt their chances for playing," said Daniel Eisenberg, a researcher from the UM School of Public Health who serves as faculty principal investigator for Athletes Connected. There's a feeling, he said, that as an athlete, "it's important to be tough and figure things out on one's own."
Approximately one-third of college students experience a mental health issue at some point, according to a study led by Eisenberg and published in 2013. However, only 10 percent of student athletes with depression or anxiety take advantage of mental health resources -- as compared to 30 percent of students overall, according to a study by the Healthy Minds Network, a research group of which Eisenberg is director.
When they don't get the help they need, athletes tend to suffer on the field. In a 2014 survey by Athletes Connected, 63 percent of student athletes at UM reported that emotional or mental health issues had affected their athletic performance in the past month.
"A lot of what [Athletes Connected is] doing ... is essentially trying to disseminate information and provide education, to make sure that student athletes are aware of the services and resources they can use to address mental health, and try to help them become more comfortable discussing mental health-related issues with their peers, athletic trainers or coaches," said Eisenberg.
Athletes Connected consists of three components: presentations made to all the school's teams, with coaches present; brief videos, including one featuring Heininger; and voluntary support groups.
"As athletes, we spend our lives trying to beat the current," Kally Fayhee, a UM alum and swimmer who experienced bulimia in college, says in another video.
These personal stories are the unique cornerstone of Athletes Connected. After UM teams watch the videos, Fayhee and Heininger have a casual conversation with the athletes, answering any questions they might have.
"That was, in my opinion, the most valuable part," Heininger told HuffPost, noting that students are more comfortable opening up with him and Fayhee present.
Athletes Connected also teaches students how to identify mental issues for their classmates. And in addition to diagnosable mental illness, the program offers resources on perspective and coping mechanisms for stress and techniques for how to manage busy schedules.
So far, the group's efforts seem to be making a difference.
"I have never been so busy in this position," said Hansen, describing a recent deluge of students scheduling appointments with counselors. Just as the growing numbers of sexual assault reports nationwide isn't a sign that sexual assaults themselves are on the rise, an uptick in students meeting with mental health counselors doesn't mean that more people are suddenly having problems. It just means more people are seeking help.
Mental health among college athletes is starting to become a widely discussed topic. In 2013, the neurologist Brian Hainline became the first chief medical officer of the NCAA. Hainline suffered from depression while a student athlete at the University of Notre Dame, according to The Wall Street Journal.
This past October, Hainline distributed a booklet about student athletes and mental health to about 1,100 college athletic directors. The following month, Ohio State University football player Kosta Karageorge, 22, was found dead in a dumpster, having apparently taken his own life. Karageorge's death intensified conversations about the importance of paying attention to student athletes' mental health.
Other schools, such as Emory University and Washington State University, are also working to prioritize the mental health of student athletes. But, Eisenberg found, there is limited available data about how to effectively run a mental health program for college communities -- and less data still for programs specific to student athletes.
Somewhat unusually for a university, UM has in-house counseling staff as part of its athletic department. Hansen said this makes things more convenient and more comfortable for student athletes seeking help.
"We want [athletes] to know that this is something that happens to people," she told HuffPost. "When it happens, here's what you can do for yourself. And there doesn't have to be shame around it, because it's just like a medical injury."
In the coming year, Athletes Connected has plans to refine its program and expand on a national scale. Other colleges and high schools have already reached out to ask how they can adopt similar programs, according to Hansen and Heininger. The videos have been screened in many colleges and high schools, and Heininger also gives talks in person.
"We don't claim to have a secret formula," Heininger told HuffPost. "We just know this issue is important, and [we] want to continue to work on it."
Related
Before You Go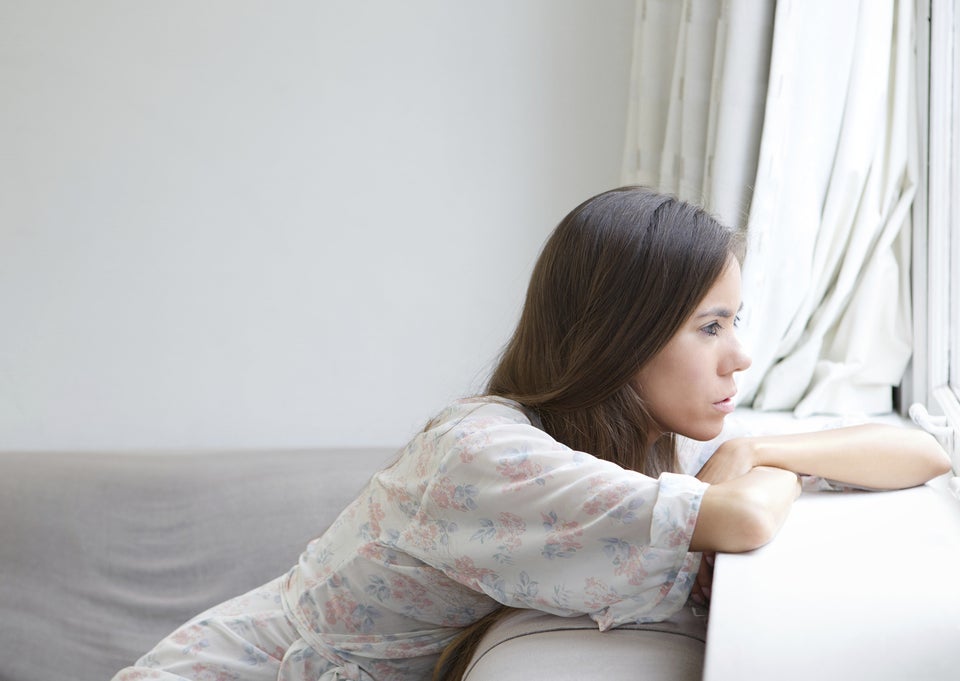 Depression Symptoms
Popular in the Community