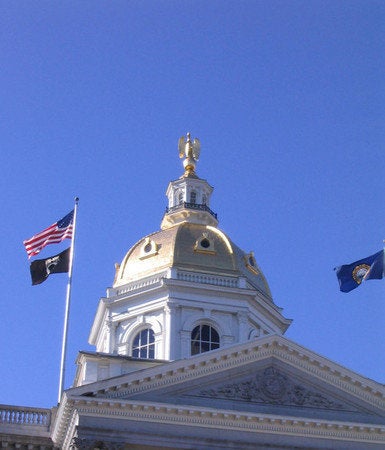 The Tea Party-controlled New Hampshire House of Representatives voted Wednesday afternoon to ban implementation of policies connected to the United Nations' Agenda 21, its program of recommended sustainability measures adopted in 1992.
The House voted 201 to 99 in favor of the ban, becoming the second state legislative body in less than a week to come out against the international compact. Agenda 21 has become a favorite program for conservatives to attack, with opponents saying it is aimed at weakening and undermining individual property rights. Agenda 21 has not been ratified by Congress and does not have the force of law in the United States.
"I know it is totally against our Constitution from reading the U.N. biodiversity assessment," Rep. Anne Cartwright (R-Alstead), the primary sponsor of the bill, told The Huffington Post. "It's through local initiative that it is being implemented in bits and pieces to erode our property rights."
The New Hampshire legislative measure would prevent local and county governments, as well as the state government, from joining the International Council for Local Environmental Initiatives, an international sustainability group trying to promote Agenda 21. Several New Hampshire communities, including the city of Portsmouth, are members of the group. Cartwright said her research shows that the international organization is trying to take away property rights through its agenda, which promotes land use planning, bike paths and parks.
"They are very slowly implementing rules and regulations that have not reached a high level yet," Cartwright told HuffPost. "They are implementing it through zoning, planning and regional planning things that impact our property rights."
Cartwright has been advocating the measure for months without success. She used a parliamentary maneuver to attach the proposal to a Senate-sponsored bill to create a new hiking trail on Mittersill Mountain so as to force its consideration by the full legislature.
This type of maneuver has beecome common in recent weeks in the New Hampshire legislature, including the placement of measure to implement a 24-hour waiting period for abortions on a bill about research-and-development tax credits. House GOP leaders have relied on this practice after moderate Senate Republicans have failed to bring up bills passed by the House, which is controlled by a Tea Party and libertarian GOP faction, according to Rep. Christopher Serlin (D-Portsmouth).

Cartwright expects the Senate on Thursday to take up the hiking trail bill, with its anti-Agenda 21 plank.
Serlin, who helped lead opposition to this anti-Agenda 21 bill in the House, noted that many of the bill's sponsors also pushed a measure to prohibit an international baccalaureate program in New Hampshire, saying that they had described it as an international takeover of schools. The Senate rejected that ban.
"Agenda 21 has become one of those issues that the far right has latched on to," Serlin told HuffPost. "It is real tinfoil hat material. It is scary people think this way."
Last week the Republican-controlled Kansas House passed a resolution condemning Agenda 21. During the debate, supporters described the international compact and the council as "trying to destroy the American way of life" by creating bike paths and parks.
Tennessee legislators passed an anti-Agenda 21 resolution, but Republican Gov. Bill Haslam declined to sign it this month.
"You have legislatures taken over by radical Tea Party representatives," Serlin said. "There is a competition between the legislatures to see who can be the wackiest."
Support HuffPost
The Stakes Have Never Been Higher
Popular in the Community