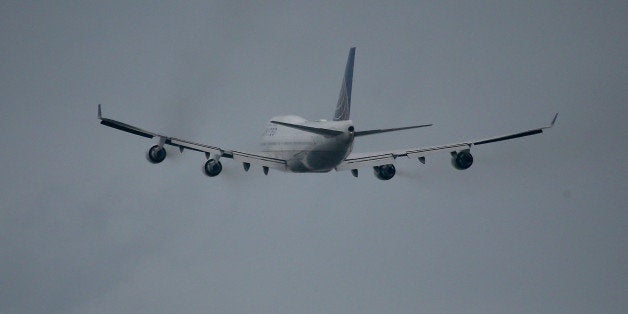 When 175 countries gathered at the UN in New York on Earth Day to sign the landmark Paris Agreement on Climate Change -- and set the record for most signatures collected on a major UN accord in a single day -- representatives from the world's shipping and aviation sectors were noticeably absent. Neither industry was explicitly referenced in the Paris Agreement nor in the pledges nations have made to date to tackle climate change yet international aviation and shipping each emit as much CO2 as the UK and Germany respectively. However, escaping mention in the Paris Agreement does not give these industries license to unravel its goals and yet, if left unmitigated, the fast growing emissions from these sectors will triple by 2050 undermining hard fought efforts in Paris to limit global warming to 2, let alone 1.5 degrees.
Two specialised UN agencies, ICAO for aviation and IMO for shipping, were charged with limiting and reducing emissions from these sectors 18 years ago since countries used the cross-border nature of these operations to side step including them in their own emissions accounting. Eighteen years later precious little progress has been made and the IMO just turned in a weak performance at its first major test post-Paris, putting off a decision to even map out the sector's fair share of emissions reductions on the very same day that countries doubled down on their intention to meet the objectives of the Paris Agreement.
The IMO will take the issue up again at its October meeting, meanwhile ICAO has a window of time in which it can outpace its sister agency, and it should. Neither organization wants the ignominious label of last to act and right now both organizations are neck and neck for last prize in the climate mitigation stakes.
If ICAO wants to outshine its laggard cousin it needs to step up its game. That's where FlightPath 1.5 comes in. FlightPath 1.5 is a global campaign comprised of leading environmental voices, urging the aviation sector to contribute its fair share to reach the world's 1.5-degree climate target.
ICAO did agree to a design standard for improving the CO2 efficiency of new aircraft earlier this year, but the standard is too weak to have any meaningful environmental impact. Both Boeing and Airbus, whose aircraft account for over 90 percent of all aviation CO2, stood right behind their respective governments to ensure the standard would not interfere with business as usual. That manoeuvre did not fast track ICAO towards climate champ status and leaves FlightPath 1.5 calling for greater action.
However, ICAO will have another shot. The organization has promised to agree to a set of rules for offsetting global aviation emissions above 2020 levels from the sector at its tri-annual assembly this fall and it is meeting the week of May 9 to review and discuss an assembly draft resolution. If ICAO agrees to strong measures it will leave IMO in its dust. But currently there is no agreement on having mandatory rules governing the variable quality of carbon offsets to be used in the scheme and some ICAO countries seem intent on a divisive race to be exempted from the scheme. Many of these same countries are waging a similar race within the IMO effectively hamstringing the organization from even discussing what the Paris agreement might mean for shipping. Member states in both these organizations need to stop competing within themselves and realize that the real competition is to not be the last stick in the mud straining against the winds of change.
As time marches on, early action at ICAO and IMO becomes more urgent lest mitigation costs skyrocket and the public, the world and both industries eventually lose. The task for shipping is relatively straightforward; press on with measures to improve ship fuel efficiency and put in place a carbon pricing mechanism (market measure).
For ICAO there are a few more twists. Some mature, slow-growing airlines and their governments continue to try and rig the system by requiring developing country fast growing carriers to share the burden unequally. That will never work. ICAO's high level meeting next week is a last chance for a reality check. As things stand today, the outcome of ICAO's October Assembly risks adopting a seriously flawed agreement that will fail the environmental test.
High doses of political will all round are needed to bridge the gaps between developed and developing states. The underlying assumption at Paris is that those who have emitted more need to do more. But all have to contribute -- including the BRICS. Industry and Governments need to inject momentum into both processes. Agreement in Paris was only forged after key countries joined together in a coalition of high ambition. That coalition is missing at ICAO and IMO, but it has recently been hinted that it might step off the side lines soon. If it does it could change the field considerably.
Right now the U.S. seems a reluctant player on shipping and Europe's ambition and early actions on aviation have been constantly frustrated by the U.S. and others. The U.S., Japan and Australia now need to come on board the IMO ship. And while the BRICS countries' calls for differentiated responsibilities in any global measures need to be heeded they shouldn't keep agreements perpetually stalled and short of being environmentally effective and inclusive. Whichever organization resolves its internal dynamics first will have a key advantage because the earlier the action the more achievable the objective. ICAO's May meetings are a ripe opportunity for it to gain ground and stake out a definitive lead over IMO: and like most races this is one where you don't want to be the last to cross the finish line.
Bill leads Transport & Environment's international aviation and shipping team in Brussels having previously worked across 5 continents at American Express Europe, Hong Kong's Cathay Pacific Airways and the Australian Foreign Service. Bill is a member of FlightPath 1.5, a global campaign of leading environmental voices that are dedicated to cutting aviation climate pollution.