 It's a quiet day in Doha -- a contemporary, sandy, yet somewhat "glitzy" city on the Persian Gulf built from oil-derived wealth. Climate change negotiators are taking Sunday off following a long week of haggling behind closed doors, pressing their own national and regional interests, and stuck with seemingly intractable positions. As the negotiating delegates prepare for the all-important second week of the conference, a less visible team sits around a table in their Le Park Hotel quarters, reflecting on events of the past week and strategizing over their plans for the coming week. This is a team of students who have traveled here from the U.S. as representatives of the American Chemical Society (ACS). Their goal is to promote climate literacy among their peers back home, via social networking technologies, in an effort to promote action to save our planet.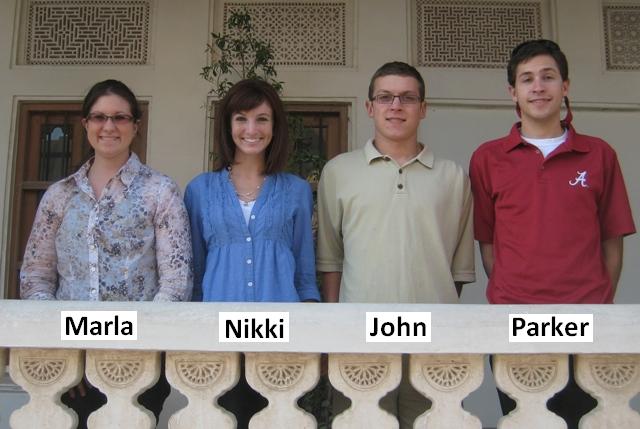 Last Monday, ACS student NGO observer Marla Bianca, a chemistry and environmental science student at Moravian College in Pennsylvania, sat on the floor with U.N. chief climate negotiator Christiana Figueres and other youth discussing the importance of youth involvement. Marla tells us that Ms. Figueres, "called us to action by encouraging us to fight for the voice we deserve, to not give up, and to push harder because one day she hopes to see us at the negotiating tables. She would like to see us -- the youth -- use our social skills and sow the seeds to take over decisions rather than the process itself." Marla emphasized, "The youth have been fighting to find our voice at the conferences. We feel like we have a lot to contribute but the negotiators are not listening." Today, Marla handed off the baton to a newly arrived group of ACS students -- green-chemistry graduate student Parker McCrary (University of Alabama) and senior chemistry majors Nikki Deluca and John Siller (York College of Pennsylvania).
These student observers are sharing insights on their "Students-on-Climate-Change" website. They invite other youth to comment or contribute their own guest-posts to the blog.
Student observer Parker stated, "The leaders of the world currently tasked with setting benchmarks for CO2 emissions will be long gone by the time these metrics are in place, leaving the youth of the world to deal with the consequences. Even now, the Arab youth are becoming empowered to act by organizing one of the first official rallies in recent Qatari history while American youth have remained relatively quiet." These remarks from Parker came after he attended the Saturday protest -- the youth demand action, but Arab leaders state that they are not ready yet to commit to specific reduction targets. Parker continued his comments referring to "a great interview I had" with ACS President Bassam Shakashiri before leaving for the conference. "I asked him about his views on youth participation in the discussions involving governmental action regarding climate change." Shakashiri counseled, "It is in youth's own self-interest as well as an ethical and moral responsibility for them to take an active role in the decision-making regarding mitigation and adaptation to climate change."
ACS -- the largest scientific organization in the world -- recognizes education as a key component of the climate change negotiating process. Climate literacy has been one of Dr. Shakashiri's Presidential signature initiatives. The Society recognizes that education is the place to start acting including the recent release of the ACS "Climate Science Toolkit."
Student observer Nikki commented on their education theme, "We know that the scientific basis of climate change is clearly documented; humans are interfering with the Earth's climate. As Americans, we must now strive to build trust between scientists and the public, as most nations have already established. Similarly, we must find a way to relate the devastating consequences of a rapidly changing climate to Americans before they are forced to face many more of them head-on, like the victims of Hurricane Sandy have recently experienced."
Marla interjected, "Students are trying to do something bigger. We want to bring the sense of urgency to youth back in the U.S." She noted how impressed she has been here in Doha with youth from around the globe -- their "level of involvement, international connections, and communities they are working with." The ACS student observers hope to catalyze this sense of urgency and action in their peers back home.
Popular in the Community