 As a member of the press attending briefings, meetings, and events throughout the day, it's hard not to feel the frustration of youth here in Doha at the UN climate conference. As adults selfishly barter the future of the planet behind closed doors, youth struggle with little success for their voice to be heard.
A correspondent posed this concern to UN Executive Secretary Christiana Figueres and COP 18 President His Excellency Mr. Abdullah Bin Hamad Al-Attiyah at a press briefing yesterday.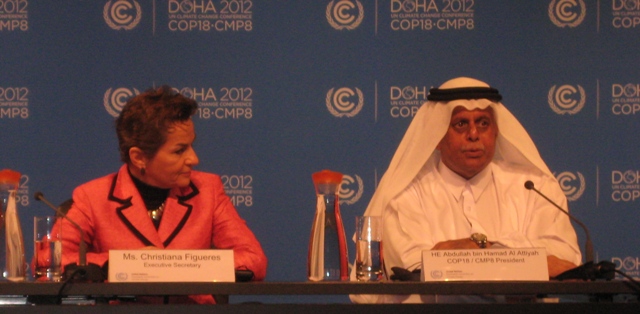 Ms. Figueres responded with empathy; "This process welcomes the impatience of youth. This is about your life. We welcome the healthy impatience of youth. At the same time, we must understand that this process will require a commitment for change of the financial structure of the world. We [negotiators and policy makers] are very far behind what the science tells us we should be doing."
By contrast, HE Al-Attiyah was surprisingly paternalistic and patronizing as he reflected on the days of his youth, "Youth want everything to move immediately... when we become older, we understand that this is a cumulative process...we need patience from the youth." These unscripted remarks validate the deep frustration felt by the youth here in Doha.
A coalition of youth NGO's called "YOUNGO" overtly expressed their frustration in a recent demonstration within the conference center. The group of 18 to 25 year olds held up signage inscribed "THANKS" to express their views to the negotiators sequestered behind closed doors. Then, out popped another large sign screaming "NO"!
The sarcastic "NO THANKS" is not new to the COP 18 youth. In a post-COP 17 op-ed, York College student Patrick Lestrange lamented, "For the younger generation, we will face this problem for the rest of our lives. Yet our voices are not part of the discussions. All we can do is scream to be heard. In 2050, I will be 60 years old. The negotiators deciding policies regarding climate change and the fate of the world will likely be gone."
Youth have been pleading for years. In 2009 at COP 15 in Copenhagen (dubbed "Hopenhagen" for the climate talks), I encountered young Gabrilla Heller from Hungary sporting her blue & gold girl-scout bandana. The logo on her orange tee-shirt shouted the message of her generation, "How Old Will You Be In 2050?" Youth continue to wait in frustration.
Here in Doha, Moravian College student Marla Bianca said, "The youth have been fighting to find our voice at these conferences and to be heard. We feel like we have a lot to contribute, but the negotiators are not listening." She and other youth brought this up during a sit-down session they had with Ms. Figueres on the first day of the COP 18 conference. "We asked Christiana how the youth can have more of a voice and be heard by negotiators. [Ms. Figueres] said that she gets this question every year and that it's the hardest to answer because of the rules and regulations in the legislation of the United Nation. Instead of being able to give us a direct answer, she encouraged the youth to take action and fight for the voice we deserve."
Maria Aroca, a student from Spain representing an international medical students' association, states the message about adverse health impacts associated with climate change have been heard and are appearing in outcome documents. "But, health issues are not be acted upon by negotiators."
Saurav Dhakal, a young adult from Nepal attending his first COP says, "There must be give-and-take. Everyone must respect the issues." When asked if negotiators are acting, he responds, "Not really. They are becoming more bureaucratic. They accept reality as a story only, not as reality."
I just returned from a hallway youth "I Am Part of the Solution. Are You?" demonstration. Youth from around the globe -- Ecuador, Bangladesh, Netherlands, Taiwan, Japan, Puerto Rico, the UK, and others -- stepped up on a podium one-by-one declaring why they were part of the solution.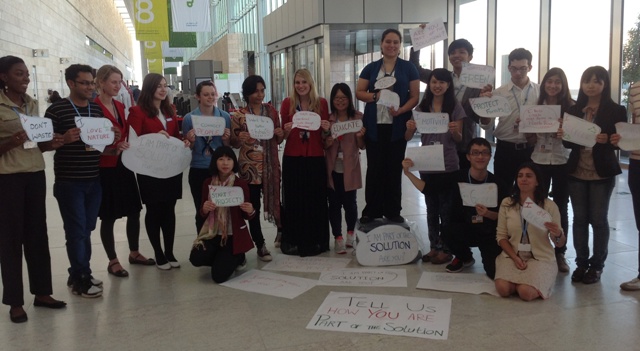 The high-level portion of the COP begins today. Youth -- half the worlds' population -- must wait outside the negotiating rooms to see what future reality awaits them.
Popular in the Community