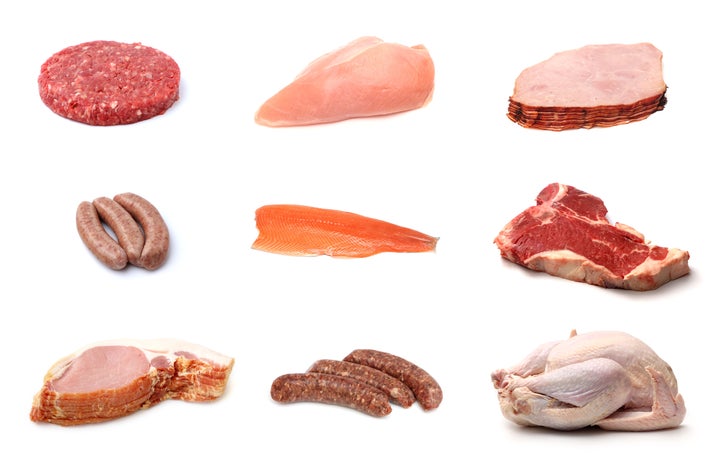 The dinner menu was a feast of meat: beef with smoked bacon and sauerkraut, dumplings with fried pork and beef, and cheeseburgers.
Meat and dairy production represents 14.5 percent of all man-made greenhouse gas emissions. Unless we cut back on our overconsumption of meat in rich countries, it will be almost impossible, climate analysts say, to prevent global warming from bringing temperatures up by a dangerous 2 degrees Celsius (3.6 degrees Fahrenheit).
"The meat-laden menu at COP24 is an insult to the work of the conference," said Stephanie Feldstein, director of the population and sustainability program at the Center for Biological Diversity. "We can't afford to be serving up cheeseburgers at climate conferences if we're going to have an honest conversation about the role of food in the climate crisis."
Between 2010 and 2050, global meat and dairy consumption is on course to increase by nearly 70 percent, according to data published by the World Resources Institute. Shifting the diets of higher-income consumers toward plant-based foods is vital, climate researchers say, to prevent runaway climate change.
"I kept asking myself, what's Al Gore eating? Turns out he took a packed lunch with him from his hotel each day."
If the U.N. conference organizers had replaced the beef burgers with plant-based ones, it would have cut the climate emissions associated with each burger by 82 percent, campaigners pointed out.
"While meat doesn't need to be entirely eliminated from global diets in order to meet climate goals, the conference menu should reflect the way forward, which means mostly plant-based dishes and smaller portions of meat and dairy when they are used," Feldstein said. "Meat and dairy can no longer be the default."
It was only in October that the U.N.'s own climate advisers listed dietary changes as an effective strategy for tackling climate change. But delegates and campaigners say food is still treated as an afterthought in U.N. climate talks.
"Coming from civil society in Sweden, where vegetarian food is the norm in most NGOs no matter their focus, I think it is shocking," said Lotta Velin, Sweden's youth delegate to the U.N. climate talks.
"I'm not hugely surprised that the menu at COP24 is meat- and dairy-heavy, but it sends a strange and unhelpful message nonetheless," said Mia MacDonald, executive director of Brighter Green, a public policy organization. "At the Paris climate talks it was really hard to eat as a vegan. I kept asking myself, what's Al Gore eating? Turns out he took a packed lunch with him from his hotel each day!"
MacDonald said the big and "deeply problematic" issue is not the meaty menu at the U.N. talks, but the lack of concrete policies to reduce emissions from livestock production and consumption and the failure to promote more plant-based alternatives.
That lack of progress is because governments are wary of trying to tell people what to eat, says Richard Waite, a food specialist at WRI. "There's been more attention about how to mitigate the impact on agriculture, but not dietary change and consumers. So even though awareness of diet and climate link is growing, there is still this cognitive dissonance," he said.
What can make a difference for now, WRI says, is encouraging more companies and restaurants to improve the availability of plant-based alternatives.
U.S. retail sales of plant-based meats have risen 17 percent over the past year, with 39 percent of American consumers working to incorporate more plant-based foods in their diets. The catering company Sodexo has launched 200 plant-based and plant-rich recipes in the U.S. The fast-food chain Max Burgers has set a goal that by 2022, half of all meals it sells at its 120 restaurants worldwide will be made of foods other than beef.
"In the future, a lot of progress will depend on whether we really have substitutes that are close to the experience of meat and cheaper," said Tim Searchinger, a lecturer at Princeton University and fellow at WRI. "And we are seeing that with the enormously tastier plant-based burgers coming on the market. Over time, they are going to be cheaper. In the long run, a lot of these things will be determined by availability and price."
This story has been amended to correct an earlier mistranscription of Waite's comments.
For more content and to be part of the "This New World" community, follow our Facebook page.
HuffPost's "This New World" series is funded by Partners for a New Economy and the Kendeda Fund. All content is editorially independent, with no influence or input from the foundations. If you have an idea or tip for the editorial series, send an email to thisnewworld@huffpost.com.
Related
Popular in the Community