For two weeks last month, women's groups from across the world met in New York to discuss what 21st century international development has done for women at the 58th session of the United Nations Commission on the Status of Women (CSW). In one of the lighter moments of the discussions, the CSW Twitter feed joined in with social media trend of "throwback Thursday," sharing wonderful images of the inspirational women who have attended these meetings since they began in 1946. For many of us delegates, this nostalgia was bittersweet, feeling as we did that far too much effort was being spent fighting battles we thought our predecessors had already won.
The session took as its theme reflection on the challenges and achievements in the implementation of the Millennium Development Goals (MDGs), the eight headings that have defined the vocabulary of international development over the first 15 years of the new century. Sadly, a consistent thread throughout the event was an unholy alliance of conservative countries trying to undo the progressive consensus on women's rights that the UN, governments and NGOs have worked towards through the MDGs, trying to chip away at everything from health and reproductive rights to the universal nature of women's rights.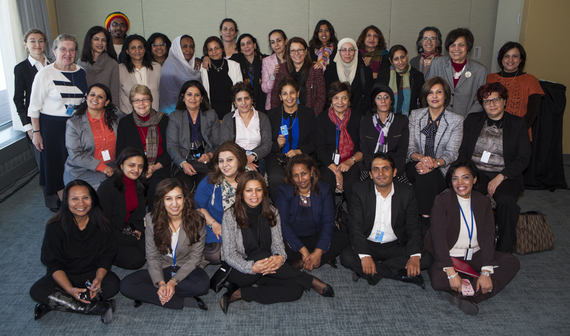 Members of Karama's delegation to CSW58
Nations with little else in common but an acute cultural and religious conservatism -- including countries such as Iran, Malta, Pakistan, Djibouti and the Holy See -- frequently took it upon themselves to attempt to water down resolutions and talk down the role that women's movements have played in promoting gender equality.
The final document, while lauded for reaffirming the gains women made at 1995's UN conference in Beijing, was also limited by countries expressing reservations on a number of issues. Malta, Pakistan, Qatar and the Holy See all noted their reservations with regard to the conclusions on sex education, while the Qataris also quibbled on the wording of a call to eliminate early marriage. Several conservative African nations argued that women's rights should be replaced with the terms "women's empowerment," arguing that the Millennium Development Goals are a development issue, not a human rights issue.
Despite this -- often painful -- process many delegates distinguished themselves in the negotiations. I pay particular tribute to tireless work of Phumzile Mlambo-Ngcuka and her colleagues at UN Women. Their work made sure that we saw a positive outcome for the Agreed Conclusions.
I came to New York with a delegation of 27 women from Egypt, Libya, Morocco, Sudan, Syria and Yemen, all of whom are dedicated to improving the place and participation of women in society in their home countries, but who can give first hand accounts of their continuing struggles to make progress. They have experienced terrible challenges and witnessed deeply frustrating reversals in the wake of the Arab uprisings and continued internal instability.
Inspiration for them and many others in attendance came from Mervat Tallawy of the Egyptian delegation when she said:
We will never give in to the prevailing web of conservatism against women in all regions of the world... We shall not allow fundamentalists and extreme groups to disarm women from their rights.
As we work toward a post-MDG framework for international development, we must continue to place great value on the promotion of gender equality across the globe. Despite the huge boost to the profile of international development that the MDGs provided and the unquestionable progress that has been made in many areas since 2000, acute threats to that progress are still very real, and there is much still left to do. Top of that list is to understand how MDGs can be turned into implemented actions, and how those who fail to do so -- both on the ground and in our own governments and international bodies -- can be held accountable. What the CSW session in New York also showed is that the progress we feel we have made cannot taken for granted, we must be prepared at all times to defend women's rights from opponents who wish to turn the clock back.