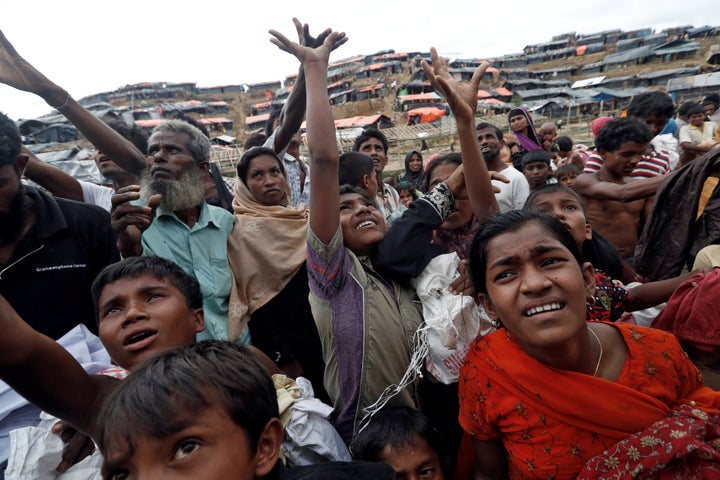 The threat from North Korea will be the topic number one at the United Nations General Assembly this week. But there is an urgency to deal with the desperation of Muslims fleeing Myanmar to escape what U.N. leaders call a campaign of ethnic cleansing by the military.
Missing from this year's General Assembly is Aung San Suu Kyi, the Nobel Peace Prize winner, who lived under house arrest for 15 years. She said recently that the crisis was fueled by a "huge iceberg of misinformation".
But she has announced she would speak early on Tuesday, apparently reacting to international criticism. She serves as the de facto leader of Myanmar and its foreign minister. But the military controls defense and border affairs as well as the police.
Suu Kyi had asked Kofi Annan, the former UN secretary-general, to head a commission. He has produced a report, which has been ignored. "Unless current challenges are addressed promptly, further radicalization within both communities is a real risk," the nine-member commission said in its report. It described the Rohingya as "the single biggest stateless community in the world".
Myranmar officials told to stop it On Monday British Foreign Minister Boris Johnson chaired a closed meeting of Myanmar officials, and others, including US Ambassador Nikki Haley. Johnson, in a statement said the group pressed for a stop to the violence and to "open up immediate humanitarian access."
At the meeting were Burma's National Security Advisor and Deputy Foreign Minister and ministers from Bangladesh, Indonesia, Turkey, Australia, Canada, Sweden and Denmark.
Sweden's deputy ambassador, Carl Skau, told this reporter the Burmese officials were subject to heavy criticism from their neighbors and given a clear message "that the violence must stop" and that there had to be access to the disaster areas.
But the UN Security Council, the most powerful UN body, has not scheduled an open meeting. Nor has the General Assembly.
Security Council speaks, but barely The Council broke its silence last Wednesday when it issued a press statement, which does not carry the weight of international law compared to a resolution.
The statement expressed "deep concern" about the violence in Rakhine state where more than 400,000 people have climbed hills and waded through waters to reach Bangladesh. (see photo below)
It also expressed concern about report of excessive violence and called for immediate steps to establish law and order and ensure the protection of civilians. But it did not call for an end to military operations. China, which has defended the Myanmar government, would not allow it, diplomats said.
What happened in Myanmar? Myanmar is bordered by India and Bangladesh to its west, Thailand and Laos to its east and China to its north and northeast. To its south, is the Bay;of Bengal and the Andaman Sea. It has an estimated 51 million people, mostly Buddhists, with some 2 million identified a Muslims, according to a 2014 census.
The latest onslaught occurred on August 25th, when insurgents attacked police posts and an army base. The reaction was collective punishment. At least 1,000 people were murdered and homes were burned to the ground. The government has not permitted UN agencies to enter Rakhine state.
Myanmar's military has said it is fighting Rohingya militants and denies it is targeting civilians.
Some 415,000 people have crossed into Bangladesh since August 15, UN spokesman Stephane Dujarric said. More than 170,000 refugees have no access to health care and nearly 300,000 people, including 154,000 children under the age of fiveand nearly 55,000 pregnant women, do not have enough to eat.
UN aid workers are supplying food, plastic sheets, water and other supplies. The first 15 of 35 scheduled trucks of aid provided by the UN refugee agency ([UNHCR]) arrived in Bangladesh over the weekend. The World Health Organization is vaccinating children against polio and measles and the UN Population Fund (UFPA), (whose US funding has been eliminated for spurious reasons) is sending midwives and maternity kits.
Text book ethnic cleansing Zeid bin Ra'ad Zeid al-Hussein, the U.N. high commissioner for human rights, called the situation a "text book example of ethnic cleansing." UN Secretary-General António Guterres took the unusual step of asking the Security Council to take up the issue. Questioned about Zeid's comment, he told reporters: "When one-third of the Rohingya population has got to flee the country, can you find a better word to describe it?"
Since independence in 1948, successive governments in Burma, renamed Myanmar in 1989, have refuted the Rohingya's historical claims and denied the group recognition as one of the country's 135 ethnic groups, reports the Council on Foreign Relations. The Rohingya are largely considered illegal immigrants from Bangladesh, even though many trace their roots in Myanmar back centuries. The government refuses to grant them citizenship.
In a press conference last week, Human Rights Watch and Amnesty International delivered scathing reports on the fate of the Rohingya.
"The situation in Myanmar's northern Rakhine state was totally predictable," said Louis Charbonneau, the UN representative for Human Rights Watch. "The U.N. Security Council should have seen this coming long ago. We got a taste of it last year, on a smaller scale: killings, burnings of villages," adding that "it is now much worse."
Tiran Hassan, Amnesty's emergencies director, spoke by video from Cox's Bazaar in southeastern Bangladesh where the Rohingya have landed in what she called "a sea of human misery." She said every day there were more horrors.
Calling all HuffPost superfans!
Sign up for membership to become a founding member and help shape HuffPost's next chapter
BEFORE YOU GO