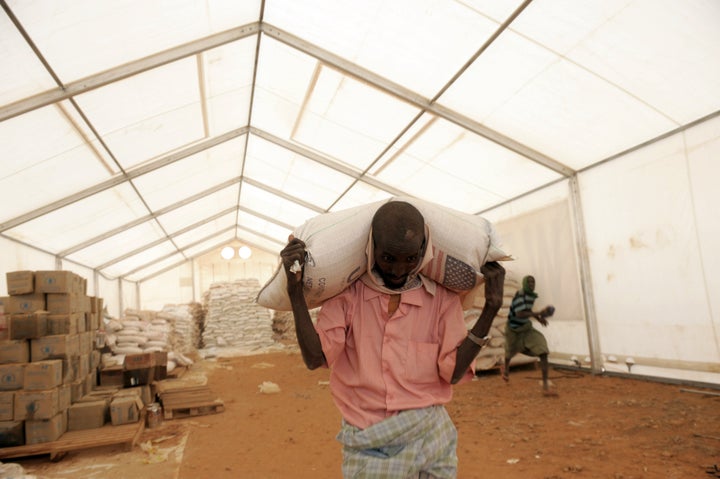 "If we don't act now, famine will spread to all eight regions of southern Somalia within two months, due to poor harvests and infectious disease outbreaks," said Mark Bowden, the UN's Humanitarian Coordinator for Somalia, in a statement. "We still do not have all the resources for food, clean water, shelter and health services to save the lives of hundreds of thousands of Somalis in desperate need."
Despite the fact that it is commonly used to refer to widespread hunger situations, famine is actually a carefully used term of art in the humanitarian world, indicating that hunger-related deaths have reached 2 per 10,000 per day and acute malnutrition rates are at 30%.
The UN said today that in some of the most-affected parts of Somalia the acute malnutrition rate has reached fifty percent, and 5 children per 10,000 die every day from lack of food.
In a statement released early this morning, Secretary of State Hillary Clinton said she was "deeply concerned by the humanitarian emergency in the Horn of Africa" and pointed to the more than $400 million in aid delivered to the region by the United States.
"But it is not enough," she went on. "The need is only expected to increase and more must be done by the United States and the international community."
There are currently more than 11 million people in need of food aid in the Horn of Africa, where the most severe drought in half a century occurred this spring, nearly wiping out crops that were already depleted.
Rajiv Shah, the head of the US Agency for International Development, visited a refugee camp in Kenya on Wednesday, where thousands of Somalis arrive every day seeking food. He reported horrible conditions among the refugees, especially children.
Popular in the Community