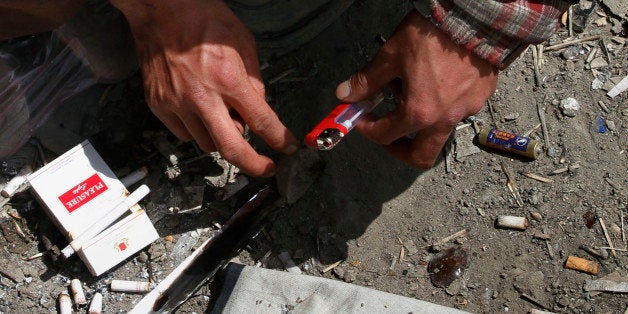 My name is Murtaza Majeed, I come from Afghanistan. Gretchen Burns Bergman is from the US. We both have family members who suffered -- or died -- because of their heroin use and both of us will be protesting, with 50 other families from around the world, outside the United Nations HQ in New York this afternoon -- calling for an end to the global war on drugs. We want our leaders to put in place peaceful solutions that will protect, not harm, families' health and wellbeing.
I grew up in a poor family - like most Afghans during the civil war. Opium and heroin were widely available on our streets. Most of my friends started to use while we were in school, and yet there was no education on drugs. The only message we heard was, "Drugs are bad and it is forbidden" ('haram' in Islam). But it is drug criminalisation and harsh laws that have caused drug users to face immense stigma and open hatred in Afghanistan.
Families shun their own children because of the stigma. I am sad to say that because of this, we too automatically started building an attitude of abuse and stigma towards people who use drugs. I had a cousin who used heroin, but because we had no information about drugs, we tried to lock him up and beat him to make him quit. Until one day we found him dead, covered with blood, a needle in his groin. I also lost my closest friends during this period due to overdose, or imprisonment for just having small amounts of drugs. But despite all this, and the US spending billions of dollars on eradication, the number of people using heroin in Afghanistan has grown six-fold in the past three years to three million, and my country now produces 90 percent of the world's illicit opium.
I will always carry the burden of losing my cousin and friends, and it motivates me to stop the unjustifiable deaths of others who use drugs. Our generation -- all over the world -- is living in the midst of a catastrophic drug war which can never be won, that only makes things worse.
This war, that has wrecked our families and our communities, is the link that binds all the families protesting here today. It has brought violence and insecurity to Latin America, corruption and underdevelopment to swathes of Africa and Asia, and ill health and over incarceration to the U.S. and Europe. But we, and those we have lost, are the very real people who sit behind the numbers -- the 240 million users, the $100 billion-a-year global drug war, and the $320 billion-a-year illegal drug trade it has created.
Our stories are the human reality underlining that, by signing the UN drug treaties which underpin that war, heads of state effectively signed the death warrants of many of their own and other countries' citizens. Between us we have lost children, brothers, sisters, cousins, parents, wives and husbands to the terrible impacts not of drugs, but of the drug war.
Gretchen's two sons were-long term heroin users, one caught in the criminal justice system for ten years, Maricela from Mexico, lost two sons and a son-in-law to drug gang kidnapping and violence, Tina from Kenya was orphaned when her mother was killed in a drug raid, Grace from the Philippines' brother was murdered when in prison on a drugs charge, Anne-Marie from the UK's only daughter died from an ecstasy overdose, Karen from the US's identical twins were imprisoned for decades on mandatory minimum sentences, Donna from Canada's mentally ill daughter died from drug use. But for every one of our families there are millions of similar stories, spread across every community in the world, that no one will ever hear. We hope to be a voice for them too.
We are here now because UN member states are gathering for the biggest drug policy summit in a generation. Our presence will mirror their proceedings inside, as we represent every continent. Rubbing salt into our wounds, their conference slogan is "A better tomorrow for the world's youth." For many of our lost ones there will be no tomorrow at all, let alone a better one.
The tragic irony is that although the UN was formed to maintain global peace and security, it is in charge of fighting this worldwide drug war. That is why we are calling on our leaders to end what has become a 60-year-long violation of the UN charter, and return it to delivering its mandate for peace, not war.
Our movement is the result of a partnership between two campaigns, Anyone's Child: Families for Safer Drug Control in the UK and Moms United to End the War on Drugs in the U.S., which have brought us together under the banner of Families for Safer Drug Policy. We are under no illusions that reform will happen quickly. But if there is no real change here, we will not go away.
Too many families have been destroyed already, but many more will be wrecked before the drug war ends. So the protest this afternoon isn't the end of our journey, it is just the beginning. We will return home to challenge our politicians in our national governments. And next time we will return in bigger numbers with louder voices, to tell the world that the UN's global drug war is destroying families, not protecting them. Because people with drug problems need support not punishment, and drugs need to be controlled by governments not gangsters.
But today we also want to warn other families that if they are worried about drugs, they should be terrified about the drug war.
Murtaza Majeed is a supporter of Families for Safer Drug Policy. He studied at Kabul University, and worked for Médecins du Monde, and the National AIDS Control Program in Afghanistan, where he helped open the first methadone clinic. He is currently International Coordinator for Youth RISE.
Gretchen Burns Bergman is the Co-Founder & Executive Director of A New PATH (Parents for
Addiction Treatment & Healing). Moms United to End the War on Drugs campaign is a project of A New PATH.
Calling all HuffPost superfans!
Sign up for membership to become a founding member and help shape HuffPost's next chapter