Two recently-released reports show that global drug policy is in the dark ages, and that the UN shares the blame for it.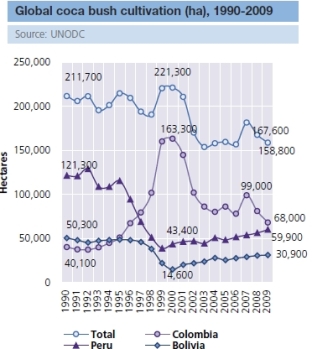 One was the UN's own World Drug Report, an annual product of the UN Office on Drugs and Crime (UNODC), analyzing illicit drug use, production, and trafficking. One of the phenomena discussed by UNODC each year, of course, is cultivation of coca, the plant from which cocaine gets derived. Coca is grown in the Andean nations of Bolivia, Colombia and Peru.
The big news -- sort of -- was that Peruvian coca cultivation has surpassed Colombian growing for the first time since 1997. This happened because Peruvian growing has increased the last several years, while Colombian has decreased. UN drug chief Antonio Maria Costa had this to say about the Colombians: "The drug control policies adopted by the Colombian government over the past few years -- combining security and development -- are paying off."
But paying off for exactly whom? For Peruvians in the coca business, among others. Because once again, the main effect of the coca fight has not been to reduce the size of the crop -- total growing only declined by five percent last year, an amount easily accounted for by changes in demand or other fluctuations -- but to shift it from place to place.
The uploaded graph here tells the story. From roughly 1990 to 2000, coca cultivation in Bolivia and Peru dropped dramatically. But Colombian growing increased just as dramatically. Demonstrating that supply will fill demand, when the kind of money is available to be made as the cocaine trade has to offer, total world growing of coca stayed roughly constant despite enormous shifts from country to country. The years 2003 to 2009 in a more gradual way show the same thing in reverse. And even the apparent drop shown from 2000 to 2003 is not what it seems, as 2001 saw the introduction of new, high-yield coca seeds. As the report noted, "[D]espite radical changes within countries, total cocaine output has been fairly stable over the last decade."
Of course it was: Prohibition doesn't work. We'll put the illicit drug trade out of business when we legalize drugs; in the meantime we won't.
The other report was written by colleagues of mine at the International Harm Reduction Association (IHRA). The report, about which my own organization published a feature story in our own newsletter last week, details the continued resort to the death penalty for nonviolent drug offenses -- in some countries, like Iran, a phenomenon on the increase. While it is Asian and Arab countries that are doing this, as IHRA noted and as I have on occasion, at the UN and in western nations we effectively have some of the blood on our hands too, through the funding our governments provide to their law enforcement agencies, and through the intelligence sharing and other cooperation our own agencies have with them. Our money and police power indirectly contribute to sending some number of nonviolent offenders to other countries' executioners.
UNODC had favorable comments to make about the report, telling Britain's Guardian newspaper it raised "legitimate concerns" about how global drug prohibition enforcement "may indirectly result in increased convictions and the possible application of the death penalty," and that UNODC had taken "concrete steps" to include human rights assessments as part of "all drug enforcement activities."
But while those words may have been meant by the people who spoke them, what officials at the UN and in relatively rights-respecting countries around the world have yet to say is that they are going to stop funding governments to track down nonviolent drug offenders if they subsequently might kill them. And the problem is by no means new news. China, for example, has for years marked the UN's International Day Against Drug Abuse and Illicit Trafficking with mass public trials and executions. Yet the UN continues to hold this annual "Day" despite seeing year after year the bloodshed it is prompting by some governments.
I submit that the UNODC's "human rights assessments" are not coming close to getting the job done. And I submit that a program which merely moves production and trafficking of drugs from place to place is not a program that actually helps people. UN drug policy needs to move out from the dark ages, and for that to happen, officials need to start facing not only facts, but the implications for policy that those facts have.
Calling all HuffPost superfans!
Sign up for membership to become a founding member and help shape HuffPost's next chapter