UNITED NATIONS – Texas, Florida, Mexico and the Caribbean are among the areas experiencing intense damaging hurricanes that UN Secretary-General António Guterres called "the new normal."
He spoke to reporters before leaving on Saturday to Antigua and Barbuda and Dominica, islands in the eastern Caribbean, reeling from back to back hurricanes.
Although one cannot link any single event with climate change, Guterres said "scientists are clear that such extreme weather is precisely what their models predict."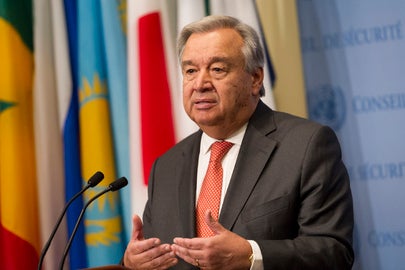 "And they predict it will be the new normal of a warming world."
For example, Irma's winds reached 300 kilometers per hour for 37 hours -- the longest on record at that intensity. Hurricanes Harvey and Irma marked the first time that two Category 4 storms made landfall in the United States in the same year.
"And, of course, they were followed by Hurricane Maria, which decimated Dominica and had severe impacts across Puerto Rico," Guterres said.
Sea levels have risen more than 10 inches since 1870. Over the past 30 years, the number of annual weather-related disasters has nearly tripled, and economic losses have quintupled.
Climate change is warming the seas. This, in turn, means more water vapor in the atmosphere. When storms come, they bring more rain. A warmer climate turbo charges the intensity of hurricanes. Instead of dissipating, they pick up fuel as they move across the ocean.
The melting of glaciers, and the thermal expansion of the seas, means bigger storm surges. Scientific models have long predicted an increase in the number of Category 4 and 5 hurricanes. This is precisely what is happening – and even sooner than anticipated.
As expected, Guterres said the 2015 Paris Agreement on climate change was the world's best hope even though it did not go far enough in reducing temperatures but it was a good foundation. President Donald Trump has withdrawn from the agreement, approved by every country but Syria.
China and the United States account for 40 percent of the world's pollution.
In the United States, Trump, the GOP and the Environment Protection Agency head, Scott Pruitt, behave like tobacco companies did in maintaining smoking did not damage your health and then hiring charlatan scientists to prove it.
Seeking to undo what former President Barak Obama instituted, the new administration, wants to repeal pollution guidelines in waterways, delay caps on leaks of methane, a greenhouse gas from oil wells, delay adherence to prevent spills at chemical plants and reverse a ban on the use of a pesticide linked to damage for children's nervous systems.
Funds for scientific research on climate change is cut or greatly reduced.
And there is relief for polluting fossil fuel companies, oil, gas and coal as well as opening federal wilderness reserves to exploitation.
Funds for scientific research on climate change is cut or greatly reduced. A classic case of denial, like believing the earth is flat.
Asked about the United States, Guterres pointed to former New York mayor, Michael Bloomberg, who believes governors, mayors and business leaders will operate independently from Washington.
Most recently General Motors, despite the administration having lifted pollution standards for cars, announced it was moving towards an all-electric zero-emissions future with 20 models by 2023. Some businesses are looking at stricter standards or risk competition from Europe or China.
But whether this will offset the fossil fuel lobbyists is debatable.
The U.N. is delivering a variety of humanitarian aid to the eastern Caribbean and Guterres will see what else the United Nations could do. Stephen O'Malley, the resident coordinator, told reporters that the recovery could reach $1 billion. Hardest hit were Dominica, Barbuda, Turks and Caicos, the British Virgin Islands and Anguilla.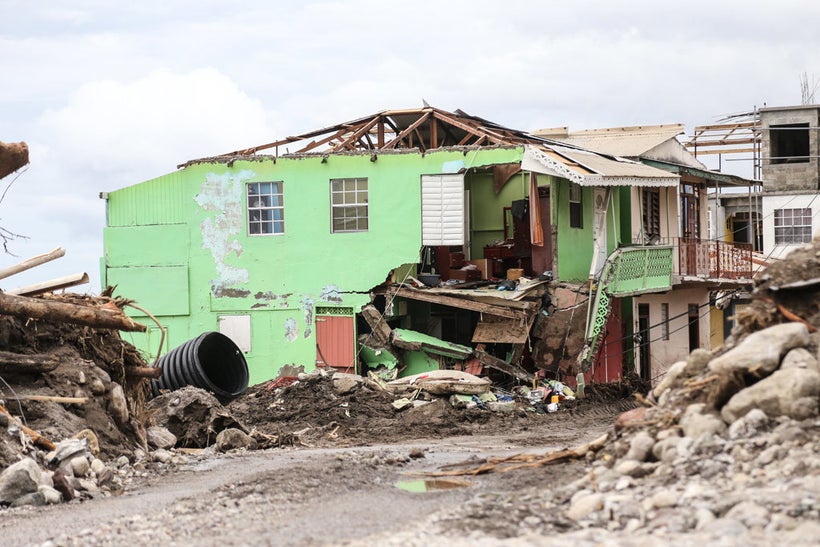 REAL LIFE. REAL NEWS. REAL VOICES.
Help us tell more of the stories that matter from voices that too often remain unheard.
This post was published on the now-closed HuffPost Contributor platform. Contributors control their own work and posted freely to our site. If you need to flag this entry as abusive,
send us an email
.