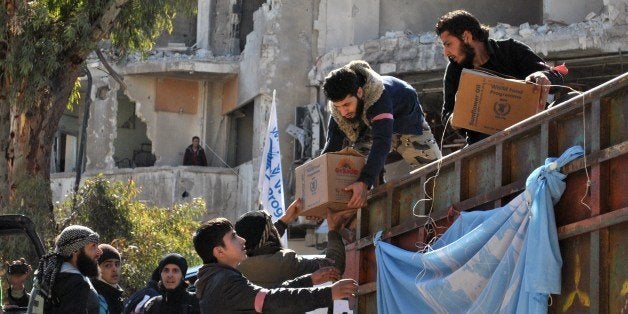 Nearly 6 million Syrians affected by the country's civil war rely on WFP for their basic food needs, but that support will be significantly reduced as early as next month both for people in Syria and refugees in neighboring countries because the group hasn't been getting the contributions it needs to support its programming, the organization said in a statement on Thursday.
The agency made laudable progress recently in reaching Syrians in besieged areas, and helped a record 4.1 million Syrians in August. But those efforts have been hampered because WFP depends entirely on government, private sector and individual donations, and those funds have been drying up.
Part of the problem, Hadi said, is that Syria is competing for donors who are drawn to other international emergencies, including the Ebola outbreak in West Africa and the Iraqi refugee crisis.
But the situation in Syria is just as grave as ever, experts say.
More than 190,000 people have died in the three-year conflict, more than 6 million people within the country have been displaced and more than 3 million people have sought safety abroad.
Next month, WFP will continue to provide food to more than 4 million people in Syria, but the food rations will be smaller, providing less than 60 percent of the nutritional value recommended in emergencies, the group said.
Refugees in surrounding areas will also see cuts, particularly to its electronic voucher program, which provides refugees with monthly E-cards that function like debit cards. They are preloaded with a set amount of money and can be used at local markets.
The E-cards give refugees a sense of dignity and independence, and an added level of convenience since they don't have to retrieve packaged meals with paper vouchers.
In Lebanon, for example, the value of the monthly electronic voucher will be reduced from $30 to $20 per person in October. The group will no longer provide food parcels to new arrivals or vouchers to Palestinian refugees. In Egypt, only the most vulnerable people will be helped and the caseload will drop to 43,000 from 100,000 people.
But the vouchers have become so much more than a perk, they're a life source for most refugees who use them.
And with the severe cuts coinciding with winter setting in, the consequences will be that much more devastating.
"We will find humanitarian agencies cutting down on aid deliveries when aid is needed more than ever," John Ging, director of operations at the U.N. Office for Coordination of Humanitarian Affairs, told Reuters. "It is not just food, it is vital shelter material, clothing and supplies for water and sanitation."
Find out how you can support the World Food Program's hunger relief programs here.
BEFORE YOU GO
PHOTO GALLERY
PHOTOS: Refugees With Their Most Important Thing