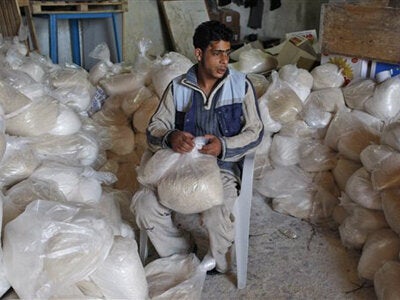 The UN Relief and and Works agency announced today that is is suspending shipments of aid to Gaza. Citing interference from the militant Hamas organization, the agency made its decision following the second intercepted shipment this week.
Yedioth Ahronot newspaper describes the most recent seizure of aid by Hamas:
According to the agency's press release the recent looting involved hundreds of tons of food. "During the night of February fifth 10 truckloads of flour and rice were taken from the Palestinian side of the Kerem Shalom Crossing into Gaza," the statement from spokesman Christopher Gunness said. He said the food "had been imported from Egypt for collection by UNRWA today," but was "taken away by trucks contracted by the Ministry of Social Affairs." The ministry is run by Hamas.
According to The Telegraph aid will be reinstated once the UN is certain it lands in the right hands:
The UN said that all deliveries would stop "until the aid is returned and the agency is given credible assurances from the Hamas government in Gaza that there will be no repeat of these thefts".
CNN explains the UN agency's protocol and how the Hamas interception was discovered:
"UNRWA has a strict system of monitoring aid delivery and ensuring that its assistance reaches only the intended beneficiaries," the agency said Tuesday. "Our officials were on the ground overseeing the delivery of our aid and taking all possible steps to avoid its diversion."
AP reports on Hamas' response to the UNRWA decision:
In Gaza, Hamas spokesman Fawzi Barhoum called UNRWA's decision "unjustified."

He said Hamas supports UNRWA's work but believes the agency gives some of its aid to groups attached to Hamas' rivals.

He urged UNRWA "to put an end to using aid for political means, and to distribute it to all the needy equally."
REAL LIFE. REAL NEWS. REAL VOICES.
Help us tell more of the stories that matter from voices that too often remain unheard.