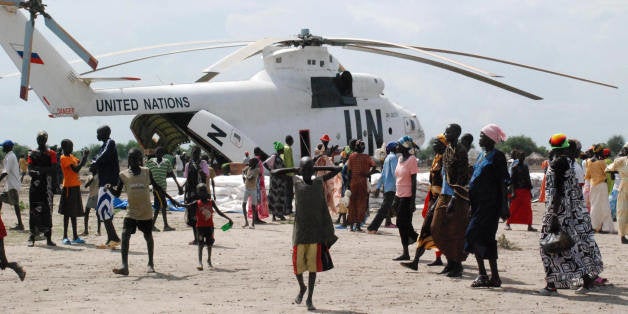 Humanitarian organizations like Concern Worldwide are grappling with what it means for our work and the people we serve if aircrafts carrying relief supplies are shot down from the sky with disregard for the lives on board and the people they were traveling to help.
This has already been a dangerous crisis for those trying to help affected civilians. In addition to the three crew members of the peacekeeping helicopter killed in the helicopter crash, six humanitarian workers were killed last month month by a local militia in Maban County in Upper Nile State, prompting the UN and humanitarian organizations to begin withdrawing staff.
Since the start of the war in December, unrestricted access for humanitarian organizations to reach affected populations has been touted by both parties around the negotiating table, but has never materialized on the ground. The human consequences of this failure are immense -- 1.7 million people are displaced from their homes and four million people are on the precipice of famine.
Concern is working alongside other organizations on the UN base in Bentiu, the capital of Unity State, where some 47,000 people are seeking refuge from the fighting. They are currently living in sub-human conditions, their makeshift shelters knee-deep in water after heavy rains brought flooding. Despite this, they have little to no prospect of leaving the base any time soon, as the battle continues for who controls the capital of the oil-producing state.
Our water and sanitation, nutrition, and shelter teams are working ceaselessly to deliver life-saving assistance. Their efforts -- and that of all humanitarian organizations there -- cannot continue if we are not able to bring staff and supplies safely to Bentiu by air, which this tragedy threatened.
We are already unable to reach the majority of people in South Sudan who need humanitarian assistance because they are not living on UN bases like the one in Juba. Most of them are in Jonglei, Upper Nile, and Unity -- the three states where fighting continues and poor security makes humanitarian work difficult to impossible. The only way to avert complete disaster is a ceasefire signed by both parties.
Just one day before the helicopter was shot down, a ceasefire was signed in Addis Ababa. It was the fourth to fall through. Sporadic fighting continues in Bentiu.
REAL LIFE. REAL NEWS. REAL VOICES.
Help us tell more of the stories that matter from voices that too often remain unheard.