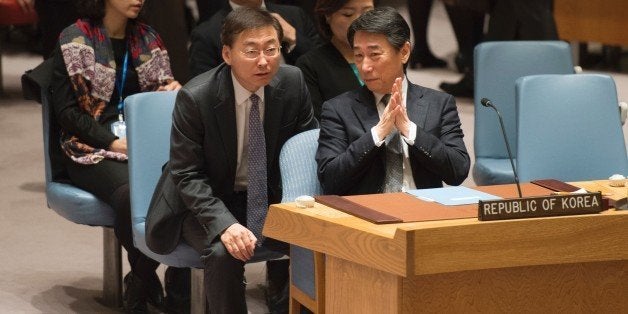 The new sanctions against North Korea, just adopted by United Nations Security Council, are a critical part of efforts to contain that nation's nuclear weapons program. But they are not enough.
The successful effort that rolled back and contained Iran's nuclear program offers a key lesson. "Sanctions," said Amb. Ryan Crocker, "played an instrumental role in bringing Iran to the negotiating table, but economic pressure is only effective if it is part of a larger strategy. Without negotiations, sanctions do little to slow Iran's nuclear program." He wrote that two years ago during the debate over the Iran Deal. He was right. It was the negotiations, not the sanctions, that ultimately stopped Iran's program.
This principle applies today to North Korea.
The scope of these sanctions goes far beyond past efforts. With China's backing, North Korea will now face a complete weapons embargo. Countries will be required to thoroughly inspect every piece of cargo entering or leaving the country. There is a new, comprehensive ban on luxury goods, and several dozen high-ranking individuals and organizations have been blacklisted. The UN banned the supply of jet fuel as well as critical materials that have supported North Korea's development of nuclear weapons.
"Irrespective of whether they change their calculus tomorrow, it's going to be a lot harder for them to access the technology, the know-how and the money they've used to fuel their nuclear program," said US Ambassador Samantha Power, "This is really going to dramatically increase the isolation of the regime, and increase the cost of maintaining this program."
But sanctions alone have never compelled a nation to abandon a nuclear program. They are only effective if coupled with negotiations. With this larger stick, the United States, its regional partners, China and Russia could entice North Korea to engage in new talks without preconditions. And, now that the threat of deploying US anti-missile weapons in South Korea have had the desired outcome of convincing China to take tougher measures, these deployment plans can be slow-rolled, thus increasing the incentive for China to cooperate.
It's difficult, it is time-consuming, and there is no guarantee of success. But as the Iran deal proves: sanctions, plus global cooperation, plus negotiations can yield a solution to even the most difficult national security challenges.
Calling all HuffPost superfans!
Sign up for membership to become a founding member and help shape HuffPost's next chapter