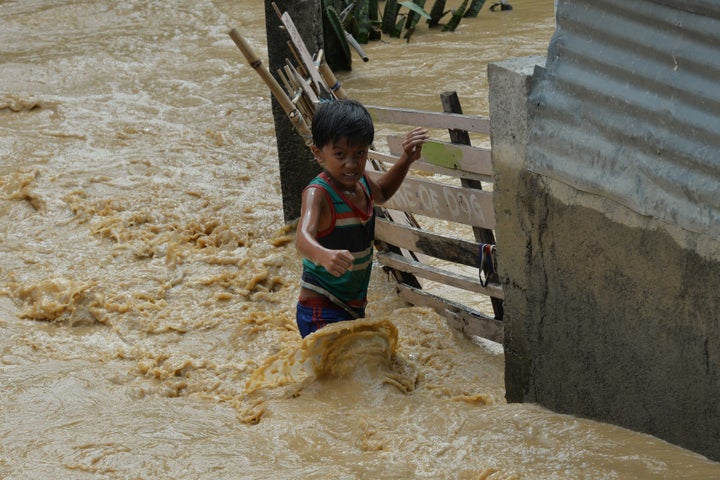 MANILA, Oct 19 (Thomson Reuters Foundation) - The United Nations children's agency (UNICEF) on Monday launched a $2.8 million appeal to help children affected by a typhoon that tore across the northern Philippines over the weekend, forcing thousands from their homes.
At least nine people were killed as Typhoon Koppu brought torrential rain and strong winds, causing floods, landslides, power outages and damaged roads and bridges.
More than 65,000 people were evacuated from low-lying and landslide-prone areas, the country's disaster agency said.
Officials fear the death toll may rise after the typhoon ripped across the main island of Luzon on Sunday leaving several remote towns and villages isolated due to flash floods and toppled trees and boulders blocking roads. Power was down in many areas, Reuters reported.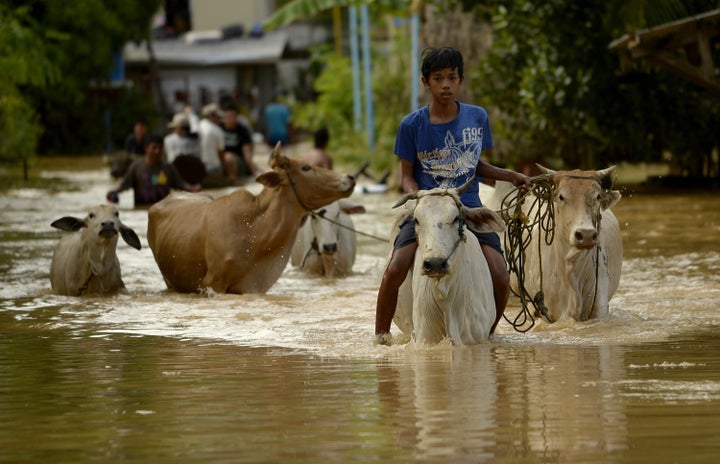 UNICEF said more than 12,000 families were staying in evacuation centres and children may be particularly at risk.
"Children face risks from contaminated water sources, lack of food, epidemics such as cholera, hypothermia, diarrhoea and pneumonia," UNICEF Philippines Representative Lotta Sylwander said.
"Typhoon Koppu's slow moving path includes mountainous and hard-to-reach areas, and we are concerned about the wellbeing of all affected children," she said.
Aid agency Save the Children estimated that more than 4.5 million children could be affected by the typhoon.
Restoring safe water supply for flooded areas is crucial to minimising health risks, along with nutrition aid including support for breastfeeding mothers and new-born children, UNICEF said.
Many schools were closed on Monday and the extent of damage to education facilities was not yet known.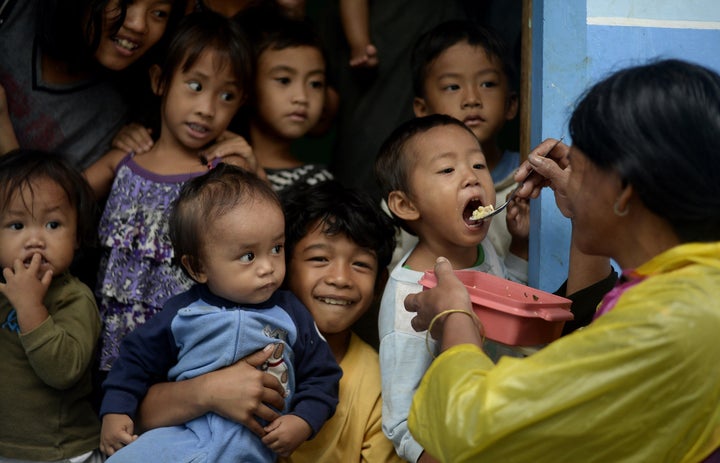 "From our own experience responding to other storms in the Philippines we know that children are always the most vulnerable in a disaster," said Save the Children's country director in the Philippines, Ned Olney. "In the coming days we will determine what support they will need."
The Philippines typically experiences more than 20 typhoons per year. In 2013, the devastating super typhoon Haiyan struck the central Philippines, killing more than 6,300 people and leaving millions homeless.
Many international aid agencies have emergency supplies in place, such as tarpaulins, basic household items, hygiene and water kits to get to the survivors should the government require international assistance.
UNICEF said it had supplies for about 12,000 families, including water purification tablets, hygiene kits, medicines, school supplies, food, tents and generators.
A assessment of the damage caused to plantations of bananas, coconuts, rice and corn in the worst affected areas, will establish the full extent of survivor's livelihood needs.
"The rising floodwaters are the most immediate concern but beyond that many people will have to rebuild their livelihoods once the water recedes," International Federation of the Red Cross spokeswoman Kate Marshall said by phone from Isabela province in the east of Luzon.
Marshall said evacuated villagers often rush back to their homes after disasters to salvage whatever may have survived the floods, which could expose them to mudslides and flash floods.
Mike Bruce, spokesman for Plan International, said the typhoon had hit many poor communities that would struggle to rebuild their livelihoods without assistance.
"These communities were already quite vulnerable before the storm and it will be hard for them to rebuild their livelihoods," he said.
(Reporting by Astrid Zweynert; Editing by Ros Russell; Please credit the Thomson Reuters Foundation, the charitable arm of Thomson Reuters, which covers humanitarian news, women's rights, trafficking, corruption and climate change. Visit www.trust.org to see more stories)
Related