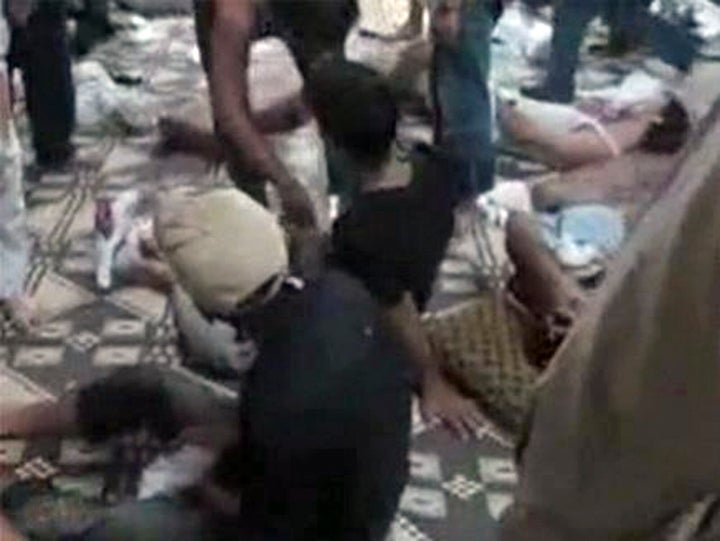 BEIRUT, June 8 (Reuters) - United Nations monitors entered the Syrian hamlet of Mazraat al-Qubeir on Friday, where opposition activists say at least 78 people were massacred, a U.N. source said.
The U.N. observers had been trying to reach the tiny farming village of about 150 people since Thursday but had been shot at and turned back by both security forces and residents.
Some 300 U.N. observers are in Syria to monitor a ceasefire between President Bashar al-Assad's forces and rebels that was declared by envoy Kofi Annan on April 12 but never implemented.
A correspondent for the BBC, Paul Danahar, said he was with the U.N. team and described the first traces of a violent scene in the village using his Twitter account.
"In front of me there is a piece of brain, in the corner there is a mass of congealed blood ... The largest of the two houses on the hilltop in Qubeir has been gutted by fire. The stench of flesh is still strong," he wrote. "Inside the buildings are gutted. The U.N. have not found any people yet."
Syria's 15-month-old revolt has grown increasingly bloody. If confirmed, the killings in Mazraat al-Qubeir would be the second massacre of civilians within two weeks.
The Syrian government condemned the May 25 killings in Houla and the Wednesday attack on Mazraat al-Qubeir but blamed both on "terrorists," who Assad has said are being steered from abroad to stir unrest in the country.
U.N. monitors previously visited the town of Houla where security forces and pro-Assad militia men killed 108 people, nearly half of them children, according to anti-Assad activists.
U.N. monitors tried to enter Mazraat al-Qubeir, 20 km (13 miles) northwest of the city of Hama, on Thursday but were stopped at army checkpoints and by civilians in the area.
One U.N. observer told Reuters by telephone that villagers had surrounded the team's cars to block their passage, but said their motives were not clear.
Activists say army tanks shelled Mazraat al-Qubeir and then stormed in with plainclothes gunmen, killing more than half of the village's 150 residents and burning many of their bodies.
Syrian state television, apparently reporting from Mazraat al-Qubeir on Thursday before the monitors' arrival, interviewed several people who covered their faces and said 500 rebels had attacked the hamlet.
Syria TV showed footage of a concrete building gashed with bullet holes and what appeared to be mortar or shell fire.
"They slaughtered men, women and children," a woman swathed in black shouted. "This is horrible." (Reporting by Erika Solomon; Editing by Mark Heinrich)
REAL LIFE. REAL NEWS. REAL VOICES.
Help us tell more of the stories that matter from voices that too often remain unheard.