NEW YORK ― If the United States withdraws from the Paris Agreement, rivals such as China, Russia and Iran will fill the void left in the clean energy economy and climate action, United Nations Secretary-General António Guterres warned on Tuesday.
In a speech at New York University, Guterres, who became the ninth U.N. chief in January, said countries that isolate themselves and fail to address climate change make their citizens less safe in an age when conflicts are increasingly global. He pointed to terrorism like the bombing in Manchester, England, this month as an example of such conflicts.
"If one country decides to leave a void, I can guarantee someone else will occupy it," Guterres said. "If you leave a void for others to occupy, you might be creating a problem to your own internal security."
"It's not only the Russias and the Chinas that are occupying the ground, you get the Saudi Arabias, the Turkeys, the Irans," he added. "The regional powers in many parts of the world, when the big powers leave some space, they will occupy it, which means sometimes absence has consequences."
President Donald Trump vowed to pull out of the accord during his campaign last year, and appears to be leaning toward an exit. On Saturday, he announced on Twitter that he would make a final decision this week after completing his first summit with the Group of 7 most industrialized nations, Canada, France, Germany, Italy, Japan and the United Kingdom. White House officials stressed that, despite having months to deliberate, the president had not yet decided.
But on Saturday night, Axios reported that the president told confidants he was preparing to pull out of the accord. Trump met with Environmental Protection Agency Administrator Scott Pruitt, a staunch advocate of leaving the accord, on Tuesday to discuss his plans, signaling yet another death knell for U.S. participation.
Quitting the pact would make the U.S. one of just three countries, including Syria and Nicaragua, outside the agreement.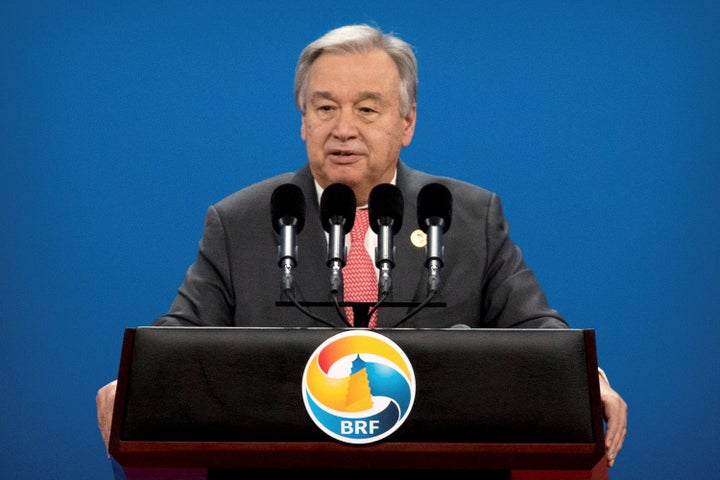 Still, Guterres called on U.S. cities, states and companies to "remain engaged with the Paris Agreement." More than 400 U.S. cities, 37 states, 800 universities and nearly half of all Fortune 500 companies have already set their own clean energy and emissions targets. And the pact has strong public support in the U.S. Sixty-one percent of Americans said the country should remain in the deal, while just 17 percent support withdrawing and 21 percent weren't sure, according to a HuffPost/YouGov poll conducted this month.
"It's very clear that governments are not everything," Guterres said.
Oil, gas and coal giants support remaining in the Paris Agreement. Even U.S. oil major Exxon Mobil Corp. strongly backed the deal, despite its own intransigence on climate change.
They have a big stake in the accord. Guterres noted that natural gas, extracted by the controversial technique known as hydraulic fracturing, or fracking, burns cleaner than oil or coal, and will likely play a much bigger role in the evolving global energy economy in years to come.
Yet he called on the fossil fuel behemoths to invest more actively in renewable energy over the next decade, even if the current U.S. administration aggressively promotes drilling and mining.
"A company like IBM today is totally different from what IBM was when mainframe computers were dominant in the computer industry," he said. "These companies have the resources to invest and adapt themselves to a changing environment."
Guterres said the White House retreat from its climate commitments cedes to China the mantle of world leadership on a risk the World Economic Forum deemed the greatest threat to the global economy. China remains the world's biggest polluter, and its cities are infamously choked by smog from coal-fired factories and power plants. But the country set aside $360 billion for renewable energy investment over the next four years and, in January, canceled plans for 103 new coal-fired power plants.
"China is probably today the only big country in the world that has a clear, long-term strategy."
"China is probably today the only big country in the world that has a clear, long-term strategy," Guterres said, noting that China's coal-producing regions are now facing labor issues as miners lose their jobs. "China, a few years ago, was betting on the gray economy. All of a sudden there was a shift, and they are betting on the green economy."
Weeks after the Trump administration moved to cut funding to a U.N.-administered fund to help poorer countries build up clean energy infrastructure, China stepped in. In a sweeping foreign policy speech this month, Chinese President Xi Jinping pledged to spend $900 billion on infrastructure abroad and invest heavily in clean energy projects in developing countries.
"We propose the establishment of an international coalition for green development on the Belt and Road, and we will provide support to related countries in adapting to climate change," Xi said at the inaugural Belt and Road Forum, a gathering of 130 nations with which China hopes to build a massive trade network. The conference drew 29 heads of state and established what CNN called the makings of "China's new world order."
China already has made an enormous imprint on developing nations in Africa, where the country set up a $60 billion fund for investing in infrastructure. Western-led globalization often meant the U.S. and Europe cleaned up their environments while encouraging polluting in the emerging economies, which became manufacturing and mineral-mining hubs for the global supply chain, Guterres said. As the once-isolated superpower emerges on the world stage, China should expand its internal push for sustainable energy to other countries, he said.
"They are now able to translate that internal concern of greening its economy in its external relations," he said. "In some areas in the past, there was a certain trend to export dirt. It's very important that China doesn't do that, and applies to its international cooperation the same strategy China applies to its own economy."
This article has been updated to include more of Guterres's speech.
Support HuffPost
The Stakes Have Never Been Higher
Before You Go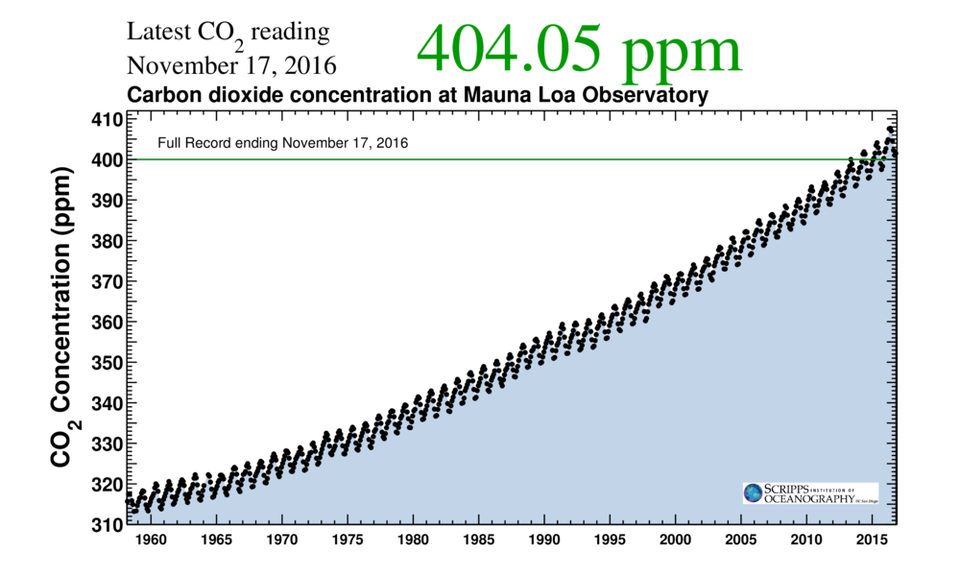 Climate Visuals For The Climate Change Denier In Your Life
Popular in the Community