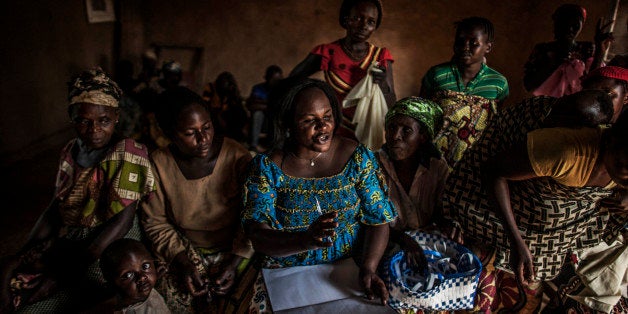 As we mark this year's 16 Days of Activism Against Gender Violence, many activists and organizations across the world are urging their leaders to make good on a now 15-year-old commitment to create equal space for women at peace and security tables.
Adopted in October of 2000, United Nations Security Council Resolution 1325 set a bold new global agenda affirming women's essential role in peace building and calling for women's equal participation in peace and security efforts worldwide. A decade and a half later, women around the world are still waiting for meaningful implementation.
Julienne Lusenge, the Director of the Congolese Women's Fund and President of Congolese women's rights organization SOFEPADI, spoke before the Security Council as it marked the 15th anniversary of U.N. SCR 1325 this October. There she stated that "almost nothing has changed in critical situations for women in the Democratic Republic of the Congo," since the resolution came into being.
Congolese women and girls continue to be left out of national and local peace and political processes, while being subject to sexual violence in alarming numbers. Survivors of sexual violence face incredible stigma and generally cannot rely on their justice system, which still permits perpetrators to operate with impunity. Documentation of sexual violence crimes remains extremely challenging, especially in remote areas. And for the few survivors who are awarded reparations, payment often never comes. These are but a few of the challenges facing women and girls in Democratic Republic of Congo.
"If you want real security and world peace, you must commit seriously from this moment on, to finally include women in all parts of the peace process; whether at the village or government level," said Lusenge in her address to the Security Council.
"It is the women who maintain and build peace, so women must be actively included in negotiations for the sustainable peace that benefits everyone."
Julienne Lusenge on how Congolese women are mobilizing to support survivors of sexual violence in conflict (video by Artefact Creative for the Beauty in the Middle: Women of Congo Speak Out multimedia exhibit):
Although the last 15 years of U.N. SCR 1325 implementation have been slow, there has been some progress, as evidenced by the National Action Plan Democratic Republic of Congo created and adopted in 2010. Grassroots organizers like Lusenge mobilized to implement the action plan and U.N. SCR 1325 locally. But as Lusenge shared with world leaders at the UN, these advances are far from enough.
As an international organization working locally in eastern Democratic Republic of Congo, Physicians for Human Rights sees the effects of non-implementation of U.N. SCR 1325 through its first responders: doctors, nurses and police officers who witness human rights violations against women and their communities daily. The dearth of proper resources, political infrastructure, coordination, and training to tackle these crimes leaves our Congolese partners in despair. It also leaves survivors of sexual violence without the medical, psychosocial and legal support they need to rebuild their lives.
Women-led organizations such as Lusenge's SOFEPADI work tirelessly, and without the sustained support called for in U.N. SCR 1325, to provide survivors of sexual violence with the full range of care they require. Full implementation of the resolution -- recognition and support for the essential work done by women organizers locally, regionally and internationally, as well as an end to impunity for gender violence -- is key to building sustainable peace in DRC and around the world. Are our leaders ready to turn 15 years of promises into realities?
PHOTO GALLERY
Congolese Women Activists Mobilize For Change
This post is part of a series produced by The Huffington Post and members of the International Campaign to Stop Rape & Gender Violence in Conflict in conjunction with 16 Days of Activism Against Gender Violence. To learn more about global activism to end sexual violence in conflict, visit here. To read all posts in the series, visit here.
REAL LIFE. REAL NEWS. REAL VOICES.
Help us tell more of the stories that matter from voices that too often remain unheard.