Excitement about Cuba continues to grow. There's the culture, the rum, the cigars, the incredible warmth of its people. And of course, there is this sense that Cuba has been a forbidden fruit for so long, and everyone wants a taste. As the CEO of a Cuba tour operator I find myself in Havana frequently for work rather than play. No matter how many meetings I have, though, I can't resist sinking in and immersing myself. Likewise, Americans traveling on a people to people license are required to have a full schedule of educational activities, leaving little downtime. But with all the go-go-go, you will never really "feel" the place until you slow down and soak up the atmosphere. With that in mind, here are my favorite ways to enjoy a little downtime during my busy days in Havana. And yes, even on a people to people tour you can make time to stop and smell the rum.
1. People Watch: The Malecon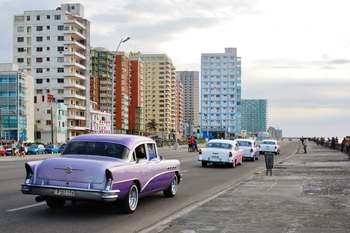 Havana's Malecon is the place where lovers come to meet, where political debates are hashed out, and where hundreds of Cubans mingle each night, the sun setting on the span of sea that stretches between Havana and Miami. To stroll the Malecon is to wade into a sea of Cuban culture and swim with all facets of life there. People from every walk of life show up on this sidewalk edging the sea, each for their own reasons. Without many other forms of entertainment or open gathering places, Havana's families use the Malecon as a sort of community center and a way to escape the tropical heat in their apartments. Fisherman cast lines, and girls flirt with passersby. It is the city center in some ways, and yet it stretches the outer edge of Havana, like a bracelet of stone.
When I visit Havana I come here to watch the sunset and set my pace along with the rest of Cuba. Classic cars, crumbling colorful buildings, and watching the world go by make this one of my favorite authentic spots to just be.
2. Chill Out: Patio at the Hotel Nacional
The service may be slow, but there is no better place to kick back on a shaded couch overlooking the Atlantic, sip a mojito, and smoke a cigar. Once the haunt of Frank Sinatra and Ava Gardner, Nat King Cole and Marlon Brando, this is the place where Havana's stylish movers and shakers mix amongst tourists smartly outfitted in the latest adventure wear.
Getting a reservation to stay at the Hotel Nacional these days is not an easy task. If you aren't staying at this iconic hotel, do make a plan to unwind one late afternoon on the patio. Take a break from the heat and enjoy the scene, as Havana's worldly future evokes sophisticated and sultry days gone by.
3. Eat: HM7, Atelier and La Guarida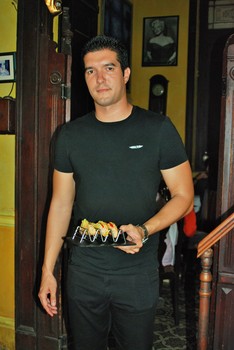 Until the mid-1990s privately owned restaurants were banned, leaving only subpar state-run eateries, which lacked both supplies and creativity. With the birth of the paladar, Cuba has unleashed decades of pent up culinary innovation and each day that passes brings more to the table. Some of my favorites are Habana Mia 7 (HM7), Atelier and the famed La Guarida. The atmosphere rivals the food in these upscale paladares, making them great places to relax and enjoy. HM7's sleek, modern lines, open kitchen and outdoor patio feels young and fresh, like their gazpacho and tuna tartare. Atelier is sophisticated and breezy, with patio dining and plantation shutters. The seafood salad is worthy of a repeat visit, as is the friendly service. La Guarida epitomizes shabby chic, and the food is innovative and exciting. Reservations are highly recommended at all three restaurants.
4. Get Around: Take a Coco Taxi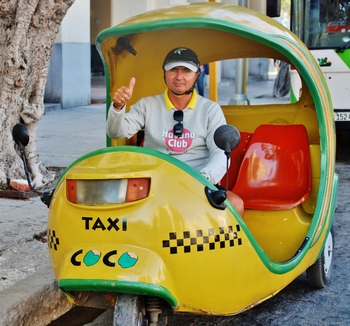 While the lure of a classic car is something that brings many to Havana's streets, I enjoy getting around Havana by Coco Taxi. These bright yellow, partially covered scooters will swing you through the city's busy streets while the wind blows through your hair. Rather than experiencing the streets of Havana through the glass windows of a car, why not enjoy the sights and sounds of Havana up close? Be part of the action, with the added benefit of a little breeze to wash away the humidity. A bonus: Coco Taxis are metered, so you don't have to endure an intimidating fare negotiation.
5. Wander: Make New Friends
In Cuba people are so open and warm that acquaintances quickly turn into friends and friends into family. Tuck away your introverted inclinations and open your heart to some irregular stops, like a game of soccer in the middle of a city street, or dinner at a local's home. Now THAT is true people to people travel!

Tamar Lowell is CEO of Access Trips, a culinary tour company operating licensed people-to-people tours in Cuba.
All images courtesy of Access Trips.