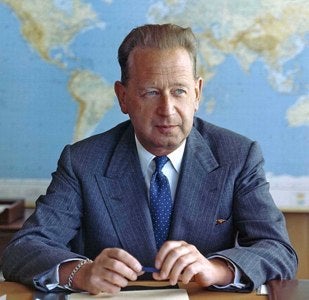 UNITED NATIONS – Dag Hammarskjøld, the second secretary-general of the United Nations, may have been the target of an assassination when his aircraft was downed by an "external attack or threat" killing him and 15 others aboard, according to a new UN report.
The report said the investigators could not come to a definitive conclusion but emphasized that big powers in the area were probably withholding relevant information.
Hammarskjøld was on a mission to the Congo in 1961 and was flying to neighboring Ndola, in colonial Northern Rhodesia (now Zambia), to negotiate an end to the civil war, caused mainly by the province of Katanga fighting for secession.
Western powers, including the United States, supported Katanga, and exported cobalt and tantalum used in the aerospace industry. Uranium mines were also key.
Hammarskjøld's death has never been accepted as accidental or pilot error, as first posited. An off and on inquiry has been ongoing for years, a painful coda to his demise for the United Nations and especially for his native Sweden. He was considered thoughtful, creative and not intimidated by the big powers of his day, which were not among his admirers.
The report was commissioned by the UN General Assembly and the secretary-general. The team, led by Judge Mohamed Chande Othman of Tanzania, was asked to analyze old and new information and attempt to interview the few remaining eyewitnesses, who been largely ignored in earlier reports.
"Based on the totality of the information that we have at hand, it appears plausible that an external attack or threat may have been a cause of the crash, whether by way of a direct attack…or causing a momentary distraction of the pilots," the report said. The secretary-general was flying in a SE-BDY, a Douglas DC-6.
The authors of the report said there was a "significant amount of evidence from eyewitnesses" that they observed more than one aircraft in the air and that the other aircraft may have been a jet, possibly flown by Katanga forces. The SE-BDY was said by some witnesses to have been on fire before the crash. It may have been fired upon and/or engaged by another aircraft.
"In its totality this evidence is not easily dismissed," the report said
Are the big powers withholding evidence?
Over the years, Britain, the colonial power in Rhodesia, and Belgium, which has just ended its disastrous rule over the Congo, as well as the United States, were thought to have more information about the crash than they had revealed.
Judge Othman said that before arriving at a definitive conclusion one had to be certain that all of the evidence had been viewed.
"This has not been done." he said.
Countries that may have pertinent information should review their records and at least confirm the existence of relevant material. Or, he said, they should make an "explicit and unequivocal statement to this effect."
The "burden of proof has now shifted to member states to show that they have conducted a full review of records and archives in their custody or possession, including those that remain classified for potentially relevant information," the judge wrote.
The new report said that information had been received from Belgium, Canada, France, Germany, Britain, Russia and the United States, which submitted a "large amount of relevant information."
Judge Othman also disclosed that for the first time he received information from the United States regarding the presence of between one and three Dakota aircraft in Ndola. Britain also contributed new information.
"Such (US) aircraft had sophisticated communications equipment which allowed them to intercept, transmit and receive communications over long distances, including intercontinentally." he said.
Othman said that although such information "strongly suggests that further relevant information, including potentially concerning the cause or causes of the crash, is likely to be available in the intelligence, security and defense archives" of UN member states.
Secretary-General António Guterres, introducing the report, said the findings were still "insufficient to come to conclusions." But he also warned that "it seems likely that important additional information exists."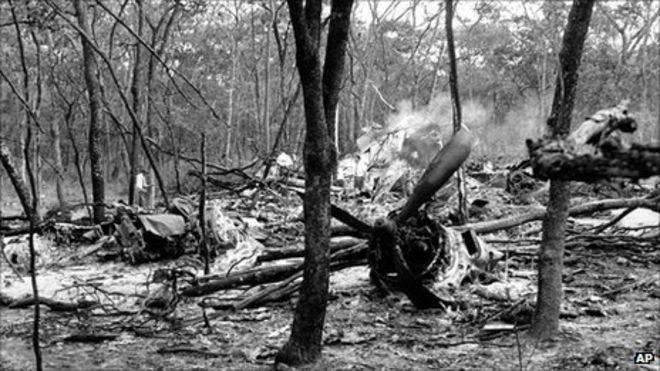 REAL LIFE. REAL NEWS. REAL VOICES.
Help us tell more of the stories that matter from voices that too often remain unheard.
This post was published on the now-closed HuffPost Contributor platform. Contributors control their own work and posted freely to our site. If you need to flag this entry as abusive,
send us an email
.