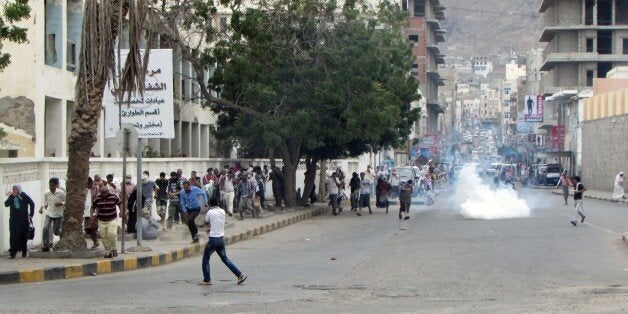 UNITED NATIONS, Feb 15 (Reuters) - The United Nations Security Council was on Sunday set to demand Iranian-backed Houthi militia in Yemen withdraw from government institutions, call for an end to foreign interference and threaten "further steps" if the violence does not stop, diplomats said.
The United Nations has warned that Yemen is collapsing. Shi'ite Muslim Houthi fighters have sidelined the central government after seizing the capital Sanaa in September and expanding across Yemen, which borders oil giant Saudi Arabia.
Al Qaeda and other Sunni Muslim militants have since stepped up attacks. Yemen is home to Al Qaeda in the Arabian Peninsula, one of the global network's most active arms, which has carried out attacks abroad.
The 15-nation Security Council is set to adopt a British- and Jordanian-drafted resolution later on Sunday, diplomats said.
The Gulf Cooperation Council, a six-nation bloc comprising energy-rich Gulf states, had urged the Security Council to adopt a resolution under Chapter 7 of the U.N. Charter, which allows decisions to be enforced with economic sanctions or force. The draft U.N. resolution set to be approved is not under Chapter 7.
The draft text, obtained by Reuters, declares the council's readiness to take "further steps" if the resolution is not implemented by parties in Yemen. In November, the council imposed sanctions on Yemen's former president, Ali Abdullah Saleh, and two Houthi leaders.
The text "deplores actions taken by the Houthis to dissolve parliament and take over Yemen's government institutions, including acts of violence."
It demands the Houthis engage in good faith in U.N.-brokered negotiations on a political settlement, withdraw their forces from government institutions, release Yemen's president, prime minister and other cabinet members from house arrest and stop undermining the political transition and the security of Yemen.
The Houthis started off as a revivalist group for Yemen's Zaydi Shi'ite Muslim sect in the north of the country, before morphing over the past decade into a revolutionary movement with national ambitions, and an ally of Iran.
The draft resolution "calls on all member states to refrain from external interference which seeks to foment conflict and instability and instead to support the political transition."
The text "demands that all parties in Yemen, cease all armed hostilities against the people and the legitimate authorities of Yemen and relinquish the arms seized from Yemen's military and security institutions."
Tens of thousands of Yemenis demonstrated in several cities on Saturday against the rule of the Houthi movement as clashes between Houthis and Sunnis in a southern mountainous region left 26 dead.
The draft text calls on all parties to ensure the security of diplomats and diplomatic premises. Saudi Arabia, the United States and other western countries have closed embassies due to fears of worsening violence. (Reporting by Michelle Nichols; Editing by Stephen Powell)
Calling all HuffPost superfans!
Sign up for membership to become a founding member and help shape HuffPost's next chapter